A look back at 2016 travels: April – California's Central Coast (Oxnard and Morro Bay)
Springtime is a glorious time of year to visit California's central coast. I spent the first nine days of April 2016 in a roughly 200-mile area within Ventura and San Luis Obispo Counties, venturing as far south as Simi Valley, the location of the Ronald Reagan Presidential Library and Museum, and as far north as Paso Robles and nearby San Simeon, overlooking the coast, where I toured Hearst Castle, the hilltop estate of publishing magnate, William Randolph Hearst.
The reason for my visit to California was to attend the annual conference of NATJA (North American Travel Journalist Association) in Oxnard, a coastal city about an hour north of Los Angeles and near the Channel Islands. In my last post (A look back at 2016 travels: April – California's Central Coast (Paso Robles), I covered several days I spent with a group of my fellow travel journalists in the Paso Robles area.
Oxnard
We then traveled 150 miles south to Oxnard, where we were based at the lovely beachside Embassy Suites Mandalay Beach Hotel for the conference.

This slideshow requires JavaScript.
The Embassy Suites Mandalay Beach Hotel is a AAA 4 Diamond all-suites hotel. Even the standard two-room suites (like the one I stayed in) are a spacious 600 sq. ft. with a separate bedroom and living area with a fridg, microwave and wet bar. Even though it was just me, I loved having a king-size bed. The queen-size sofa bed in the living room and extra bathroom went unused, but would be the perfect accommodation for a couple with a child or two.
Oxnard is also located on the edge of the Oxnard plain and is known as an agricultural center, in addition to its tourism attractions and coastal location. Strawberries, lettuce, artichokes, and most of the celery produced in California are grown here.
Reagan Presidential Library & Museum
Afternoon excursions throughout the week were part of the conference schedule. My favorite was our visit to the Ronald Reagan Presidential Library & Museum in adjacent Simi Valley, perched atop a hill with sweeping mountain views. Before touring the library itself, which encompasses 12,500 square feet of exhibit space consisting of galleries containing historic documents, films, audiotapes and artifacts, we were treated to a delicious lunch sitting underneath the actual Air Force One plane used during Reagan's presidency. We were also able to walk through Air Force One, then spend time outside where the graves of both President and Mrs. Reagan are located. A section of the Berlin Wall is also located on the back lawn. I would love to return to spend several more hours here. Plan on a minimum of four hours to really take it all in. (A special Titanic exhibit will be at the Museum from May 27, 2017-January 7, 2018. Check hours and ticket prices on the website's Home Page.
This slideshow requires JavaScript.
Channel Islands Cruise
Another exciting afternoon excursion included a whale-watching cruise with Island Packers Cruises to the Channel Islands, which departed from the Ventura Harbor Village. After sighting several pilot whales, we cruised around Anacapa Island, one of five making up the Channel Islands National Park and the closest island to the mainland.  We cruised past rugged sea cliffs, caves carved by sea erosion, and forty-foot-high Arch Rock, most recognizable symbol of the Channel Islands.
This slideshow requires JavaScript.
Morro Bay
When the conference ended, I headed back to San Luis Obispo County with several other writers for a post-conference trip, based in Morro Bay, a fishing village located about halfway between San Francisco and Los Angeles and near Hearst Castle in San Simeon, which we visited on the last morning of our trip.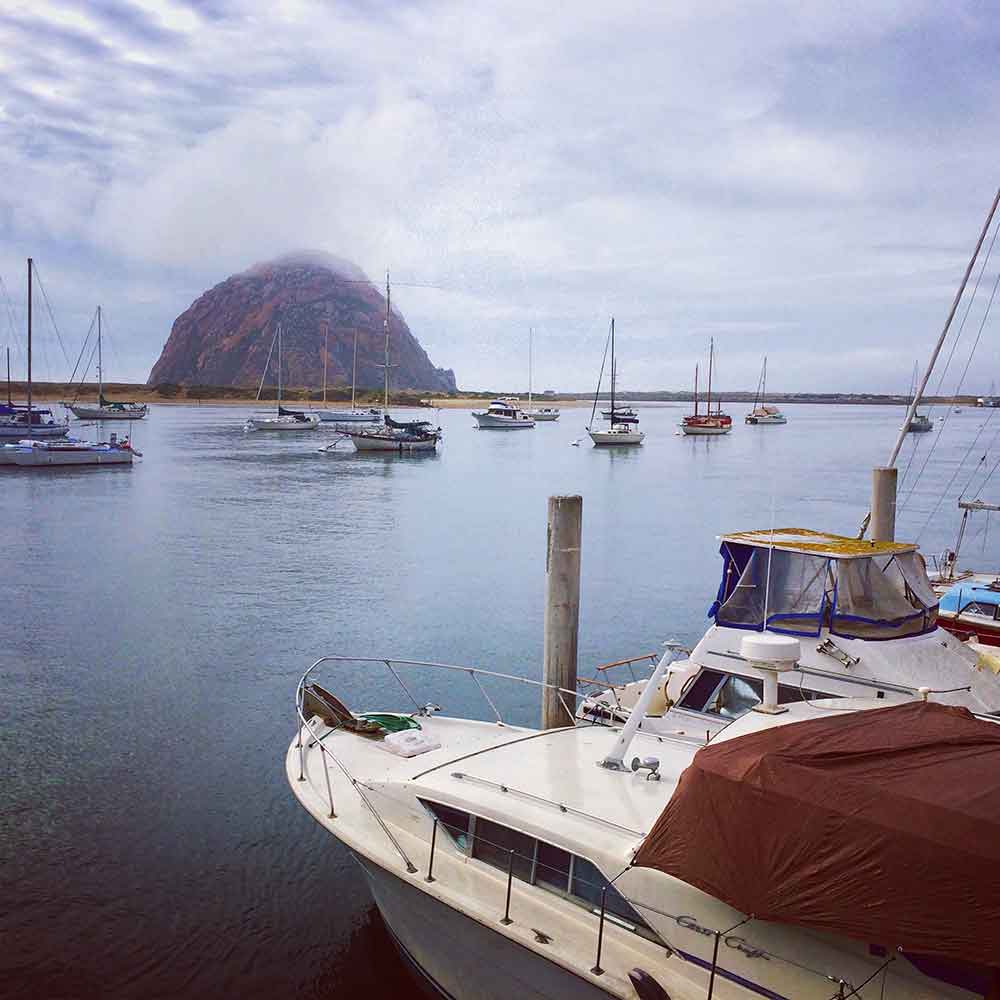 Morro Rock, a 581-foot volcanic rock often called the Gibraltar of the Pacific, is its most famous landmark. While the area surrounding it can be visited, it is a protected area and it is unlawful to climb on the rock or disturb the bird life.
During our stay, we were based at Ascot Suites – Inn at the Rock, a boutique all-suites hotel located one block up from Morro Bay's waterfront on the Embarcadero.
This slideshow requires JavaScript.
Each of 32 suites is is decorated in a cozy, comfortable English style. All rooms come with free Internet, refrigerators, coffee makers, iron and ironing boards; some are accented with sofa beds and fireplaces. A complimentary hot breakfast is included.
The highlight of my time in Morro Bay was being able to take a narrated tour of Morro Bay aboard Sub Sea Tours' 21-passenger vessel, the SSV Seaview.  During our 45-minute tour, we were able to observe and photograph sea otters, sometimes referred to as "clowns of the sea," as well as sea lions, which are in abundance in the bay area.
This slideshow requires JavaScript.
Pismo Beach and Pismo Preserve
We traveled 25 miles south of Morro Bay the following day to Pismo Beach, a classic California beach town popular with surfers. (In fact, they've announced its first professional competition, the Pismo Beach Open, is scheduled for November 17-19, 2017.) From there, we were fortunate to be able to get an advance look at and Pismo Preserve, a project of the Land Conservancy of San Luis Obispo County. More than 900 acres are in the process of being developed for a multitude of recreational opportunities for outdoor enthusiasts. WHen completed, visitors will be able to enjoy over 10 miles of existing ranch roads and trails that meander throughout the property for hiking, mountain biking, and horseback riding. Docent-led hikes, mountain bike rides and equestrian rides are now open to all members of the general public and can be booked by visiting the Preserve's Events Calendar.
This slideshow requires JavaScript.
Halter Ranch Vineyard
A tour of Halter Ranch Vineyard, located in Paso Robles' west side Adelaida district, was on our afternoon agenda. Following a meandering driving tour of the vineyards, we entered the wine storage caves that provide 20,000 sq. ft. of space for the 100% estate grown wines to barrel age at a stable 55 degrees Fahrenheit. We were able to do a barrel tasting, then moved to the tasting room to sample several of its very drinkable vintages, including Cabernet Sauvignon, Syrah, CDP (a Rhône style, Grenache-based blend), Grenache Blanc, its Estate Reserve, Ancestor, and a Grenache-based Rosé, which was my personal favorite. (Complimentary one-hour winery and cave tours may be arranged by emailing tours@halterranch.com. Barrel tasting tours ($30/person) and a three-hour Excursion tour ($45/person) may also be arranged.)
This slideshow requires JavaScript.
Hearst Castle
Our last morning was spent at Hearst Castle, the hilltop mansion of publishing magnate, William Randolph Hearst, located on Highway 1 above the village of San Simeon on what has been called "the Enchanted Hill." He and architect Julia Morgan began its creation in 1919 and continued for nearly three decades. By 1947, the 127-acre estate included its twin-towered main building, Casa Grande—68,500 sq. ft. with 38 bedrooms—three guesthouses, and 127 acres of terraced gardens, fountains, and two pools. Read more of its history here or download a free Hearst Castle app: for iPhone and iPad, or for Android.
At the Visitor Center, you can stay to view a short movie about the Hearst family and legacy at the theatre, or go directly to the mansion aboard the Hearst Castle bus. During the five-mile climb to the top of the Enchanted Hill, you will listen to a little introduction narrated by Jeopardy!'s Alex Trebek.
While the outdoor Neptune Pool had been drained for renovation the day we visited (as part of several projects on the grounds undertaken by California State Parks), the magnificent indoor Roman Pool, the gardens in full bloom and a tour of the main castle's (called Casa Grande) rooms left me awestruck. I'd like to return to take one of the more in-depth tours that can be arranged of the grand rooms, upstairs suites, cottages & kitchen, including an evening tour.
(Open daily, 9 a.m., Closed Thanksgiving Day, Christmas Day, New Year's Day; Tickets start at $25/adults, $12/children – under 5 free.)
This slideshow requires JavaScript.
San Luis Obispo Airport
My California visit was ending… I've given you the highlights but there was much more we saw and experienced during my 9-night stay. It was my first time to explore Central California but it won't be my last! I flew out of the small and delightful San Luis Obispo Airport and had time to enjoy a relaxing meal at the Spirit of San Luis restaurant. Great food, wine and service!
This slideshow requires JavaScript.
A big thanks goes to NATJA (North American Travel Journalist Assn.) and our afternoon tour hosts during the annual conference, in Oxnard who did so much to make our stay memorable.
Post-trip hosts, other than those mentioned above, included Chablis Cruises, which provided us with a relaxing dinner cruise aboard its 50-foot, two-story riverboat on Morro Bay; the city of Atascadero, which hosted us for lunch at Guest House Grill and gave us a tour of its historic City Hall, and SLO Provisions, our host for dinner on our last evening in San Luis Obispo.
Kudos to Visit San Luis Obispo County for arranging it for us!
All photos © Debbra Dunning Brouillette
Posted earlier in this series:
Still to come:
• Athens and the Greek Isles on a Windstar Cruise (June)
• The Florida Keys, from Key West to Key Largo (July)
• Indiana Dunes State Park and National Lakeshore (August)
• Petit St. Vincent private island and the Tobago Cays, St. Vincent and the Grenadines (November)