A look back at 2016 travels: April – California's Central Coast (Paso Robles)
Springtime is a glorious time of year to visit California's central coast. I spent the first nine days of April 2016 in a roughly 200-mile area within Ventura and San Luis Obispo Counties, venturing as far south as Simi Valley, the location of the Ronald Reagan Presidential Library and Museum, and as far north as Paso Robles and nearby San Simeon, overlooking the coast, where I toured Hearst Castle, the hilltop estate of publishing magnate, William Randolph Hearst.
The reason for my visit to California was to attend the annual conference of NATJA (North American Travel Journalist Association) in Oxnard, but first I met up with several of my fellow journalists to explore the Paso Robles area, including its food, wine, and accommodations.
Paso Robles
Located halfway between San Francisco and Los Angeles, Paso Robles was the base for the first two nights of my central coast tour. After flying into San Luis Obispo (SBP) airport on American Airlines, I was transported to Allegretto Vineyard Resort & Spa in Paso Robles, a luxury resort opened in October 2015. Built among 20 acres of vineyards and olive and fruit trees, it features 171 guest rooms and suites with many unique amenities, including the "microbe-free" television remote. It is also filled with art and artifacts collected by owner and world traveler, Doug Ayres. I was able to enjoy breakfasts and lunch in Cello, its Mediterranean-inspired restaurant, and even found time for a massage in the Spa. I would love to return for a longer stay.
This slideshow requires JavaScript.
Paso Robles is for Wine-lovers!
Paso Robles is California's fastest growing wine region, which now includes more than 250 wineries covering in excess of 26,000 acres of vineyards. It is hard to believe that only 20 wineries existed in Paso Robles as recently as 1990!
Tablas Creek Vineyard
Within the short time we had, our group fit in a tour and tasting at Tablas Creek Vineyard, a 120-acre organic estate vineyard (20 acres for their herd of sheep, alpacas and two guard donkeys). Their very tasty wines are made from nine Rhône Valley French varietals of grapes.
This slideshow requires JavaScript.
Dunning Vineyards Estate Winery
I also arranged a special visit to Dunning Vineyards, a small estate vineyard (16 acres of vines on 40 acres, producing under 3,000 cases) I was interested in visiting since my maiden name is Dunning. Long-lost relatives, perhaps? (I plan to do a separate blog post on Dunning Vineyards at a later date.)
This slideshow requires JavaScript.
We also tasted wines at a downtown Paso Robles venue, Taste in the Alley, where 500 wines are offered by the glass.
This slideshow requires JavaScript.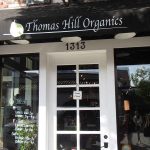 Thomas Hill Organics Bistro hosted us for an amazing brunch the following morning before we arrived at Rancho Dos Amantes, a farm stay Bed & Breakfast located a 25-mile drive away from downtown Paso Robles on a 40 acre ranch.
Rancho Dos Amantes – FARMsteadED
We participated in a FARMsteadEd class. which gave us a closer look at the agricultural riches of the area, including locally grown and produced products — The Groves on 41 olive oil, The Chocolate Stache, and Re:Find hand-crafted spirits, We also toured the farm and were served a true farm-to-table lunch.
This slideshow requires JavaScript.
Save
Save
Save
Windrose Farm and The Ddekka Bus
Windrose Farm was the location for our evening meal, which was served to us aboard a real double-decker bus, the kind you think of as being on the streets of London. The Ddekka Bus, as it is called, has been retrofitted to serve as a kitchen and restaurant on wheels. Besides enjoying the organic, three-course meal aboard the bus, I loved observing the horses, cows, and especially the little lambs we walked by on the way to the bus.
This slideshow requires JavaScript.
Paso Robles Inn
I was also able to briefly visit Paso Robles Inn in the heart of downtown. A member of the Historic Hotels of America, it first opened as a hotel in 1864, featuring a hot mineral springs bath house.
Four years later, in 1868, the hotel received two infamous visitors, Frank and Jesse James, whose uncle Drury James was part-owner of the hotel. I was especially interested since my paternal grandfather told one of my older cousins of a time when the James boys spent the night with his family in Kentucky when he was a small boy, and they put their horses in the barn to hide them. They weren't scared of them, according to his story "because they were kin." (His grandmother's maiden name was James, so the story sounds plausible although we are still trying to confirm the connection. Is it strange that I think it would be kind of exciting to be related to one of America's most infamous outlaws?)
This slideshow requires JavaScript.
When I went into the hotel and told the desk clerk that I was possibly related to Jesse James, I was given a book, "The History of Paso Robles Inn" by Ann Martin Bowler, that is also given to all hotel guests, which includes more information about their time there, including this passage:
"1868 – Two infamous outlaws, Frank and Jesse James, were busy robbing trains and getting themselves on the Most Wanted list. Then Jesse got shot and his lung wasn't healing properly. In the spring of 1868, the duo headed to California to 'cool off' and give Jesse a chance to heal. Frank made the overland journey by train and stage. Jesse, too weak for the overland journey, took a steam around the horn to San Francisco, and then traveled by stage to San Luis Obispo County where they sought refuge with their uncle. The hot springs in Paso Robles helped Jesse heal from his gunshot wounds and he and his brother were soon restless. The very next summer, their uncle bought them steamship tickets back to New York."
The hotel was expanded and reopened in 1891. For the next half-century, it was visited by many other notables, including actors Clark Gable, Bob Hope, and even President Theodore Roosevelt. After a fire in 1940, a new hotel was built on site. Present-day guests can still choose to stay in one of 18 mineral spa rooms, which attracted guests to the hotel from its inception.
---
For more information: http://www.travelpaso.com/ or http://www.visitsanluisobispocounty.com/
All photos © Debbra Dunning Brouillette
I can't believe we covered all that and more just during our pre-trip before the annual NATJA conference in Oxnard, but there was much more to come. I'll cover the rest in my next post… including our stay at the Embassy Suites Mandalay Beach Hotel in Oxnard, afternoon excursions during the conference, including a memorable visit to the Ronald Reagan Presidential Library in Simi Valley, and a trip after the conference to Morro Bay, Pismo Beach Preserve, Halter Ranch Winery, ending with a visit to Hearst Castle in San Simeon.

I started with a look back at January's trip to Sanibel Island, Florida:
Still to come:
• California's Central Coast – Oxnard and Morro Bay (April)
• Athens and the Greek Isles on a Windstar Cruise (June)
• The Florida Keys, from Key West to Key Largo (July)
• Indiana Dunes State Park and National Lakeshore (August)
• Petit St. Vincent private island and the Tobago Cays, St. Vincent and the Grenadines (November)
Save
Save
Save
Save
Save
Save
Save
Save
Save
Save
Save
Save
Save
Save
Save
Save
Save
Save
Save
Save
Save
Save