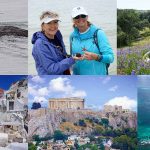 Debbra : January 8, 2017 4:08 pm :
Beaches
,
Birding
,
Blog
,
Florida
,
Home news
,
Homepage
,
Sand and shell collecting
,
slider
,
Uncategorized
For those of us who love to travel, looking back at the memories we've made in places outside our home territory is a way to extend the pleasure of the experiences we've had. It also helps to reinvigorate the sense of wanderlust we feel for seeking out new destinations to explore in the year to come. I hope you'll enjoy this retrospective of my travels in the past year.
more »