Four Seasons Nevis – Dive and Dine experience: from ocean to table
First, there are the Dives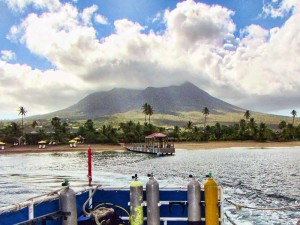 If you're a certified scuba diver and a lobster lover, boy, do I have an experience for you! On a recent trip to Nevis, while staying at the Four Seasons resort, I accompanied Jason Adams, who took a break from his duties as Executive Chef, on a quest to lasso a lobster, with the expert assistance of Scuba Safaris dive staff.
Before entering the water, I was introduced to the handmade lasso, attached to a pole by Douce, one of Scuba Safaris' divemasters. Once a lobster is found, it is coaxed from under the ledge or out of the hole in which it has been hiding. The designated hunter tries to slip the lasso over the lobster's body, then quickly pull it taut so the captured crustacean can't get away.
Like a cowgirl trying to wrangle her first calf, I attempted twice to capture my lunch. The second time I was beginning to get the hang of it, but it jerked its way out of my lasso and disappeared into its hole. That's when I decided to leave the lobster hunt to the pros, who were a delight to watch, and assured that I would be enjoying a lunch fit for a queen once we returned to shore.
The Dive and Dine experience included a two-tank dive on a healthy coral reef, Monkey Shoals. We not only encountered many Caribbean spiny lobsters, but several nurse sharks, parrotfish, barracuda, snapper, butterflyfish, surgeonfish, parrotfish, white-spotted filefish, trumpetfish, a large porcupine fish, a spotted moray eel, Southern stingray, sea urchins, sea cucumber, Christmas tree worms and huge barrel sponges, along with bright purple and yellow tube sponges. Being able to see all this and more on two dives is amazing!
This slideshow requires JavaScript.
And then there were the lionfish!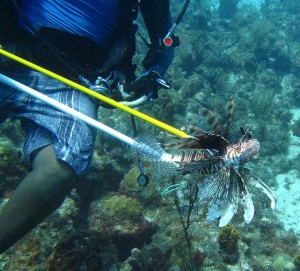 Two of these beautiful fish, which sport venomous spiky tentacles, were speared and became part of our luncheon feast. Lionfish are an invasive species accidentally introduced into Atlantic waters in the mid-80's that are now found throughout the Caribbean, decimating the coral reefs. I have admired their beauty in saltwater aquariums, but this was my first time to see them while diving.
But the Caribbean spiny lobster was the star of this show, and the Dive portion of the experience, was only the beginning. Next, we Dine!
Then, there is the Dine!
After a brief return to my room to shower, I returned to the private Beach House, just steps from the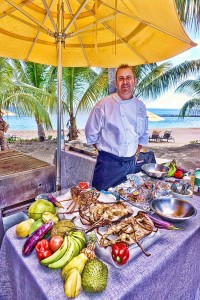 water's edge, which had been reserved for the Dine portion of the experience. My non-diver friend and travel companion for the trip, Nancy Schretter, was able to join me for this next phase of the Dive and Dine.
We sipped wine while observing Chef Jason Adams (who had been with me on the dives) prepare our lobster feast. Our first course was similar to a lobster taco, but wrapped in a small roti shell, followed by an amazing ceviche made with parrotfish (bet you won't find that on a menu!) that had been marinated in lime and orange juice, finished with coconut milk.
This slideshow requires JavaScript.
Our main course (this was lunch, remember…) was an entire half lobster, simply grilled to perfection, served with rice and beans and a tropical slaw that included coconut milk as the "secret" ingredient. Another half lobster waited on a platter to be consumed, while the other half was sent to the kitchen where it was incorporated into a tropical salad to start off our evening meal. (I still can't believe we ate another bite that day!)
As our lunch was being prepared, we learned more about our chef. Before joining the Four Seasons Nevis as Executive Chef in November 2013, Jason, who received his culinary training in London, England (his home country), spent 14 years employed by various Ritz-Carlton hotels throughout the Caribbean and U.S. He met his wife, Jennifer, a California native, while working in Grand Cayman. That's where he became a certified diver. They've now settled into island life on Nevis with their four-year-old son, Jax, and their Nevisian born four-month-old son, Jake.
Jason is always ready to "get wet" when a Dive and Dine is scheduled, normally around twice a month. The experience can be booked for 2-8 people, and is currently the only such program of its kind.
After the dine
The Beach House part of the experience follows the lunch. It is yours to use for the rest of the afternoon. Stay to relax, read, or catch up on your email, since the beach houses are Wi-Fi ready. Your own beach butler attends to your needs for drinks, snacks, or arranging for snorkeling gear.
What more perfect day could you imagine than this? If you are planning a stay at Four Seasons Nevis and are a certified diver, add this to your list of bucket list experiences.
Check out Four Seasons Nevis special offers here. If you book, inquire about the Dive and Dine experience. If you are not yet a certified diver, you can arrange to become one while you are there. Or, get your certification prior to your trip so you'll be ready to do the Dive and Dine, as well as schedule other dives with Scuba Safaris Nevis during your vacation.