Indoor Oceans: North Carolina Aquarium at Pine Knoll Shores
As a SCUBA diver for more than two decades, one of my favorite places to be is underwater exploring a coral reef, swimming among colorful schools of fish. When that's not possible, visiting an aquarium like the North Carolina Aquarium at Pine Knoll Shores is an excellent alternative.
Located just a few miles from Atlantic Beach on the southern Outer Banks, the North Carolina Aquarium at Pine Knoll Shores is the largest in the state, covering 96,000 square feet, with the largest ocean habitat.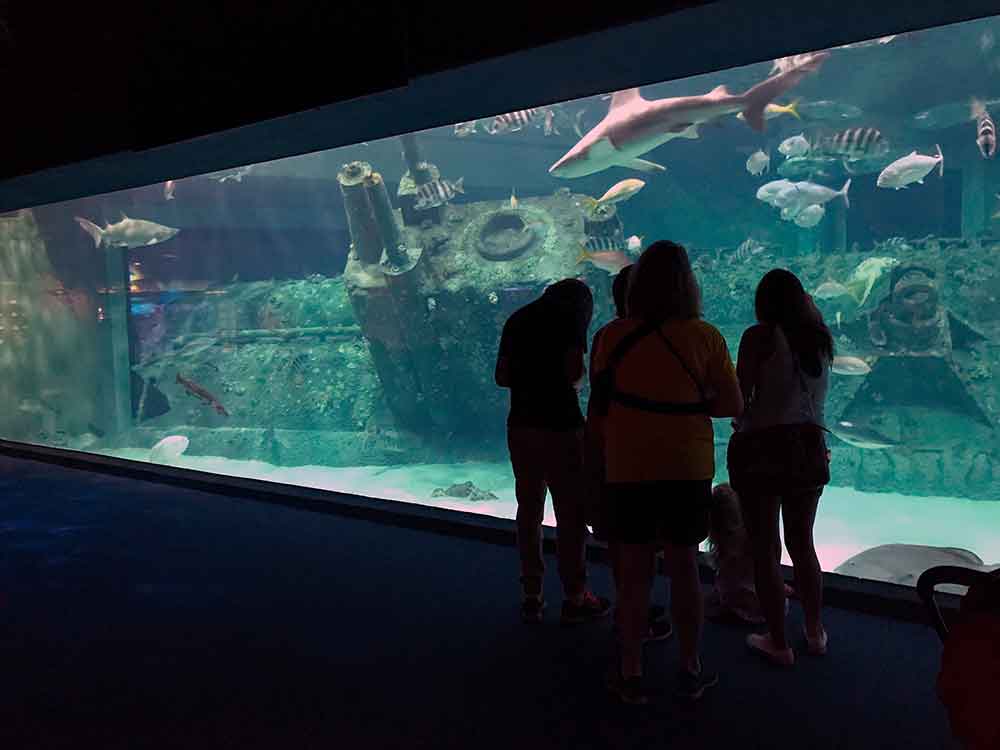 The stars of its Living Shipwreck exhibit, which holds more than 300,000 gallons of salt water, are the sharks. A sandbar shark, sand tiger shark and nurse shark apparently live peacefully with the habitat's other inhabitants which swim around a replica of the U-352, a famous World War II shipwreck., including a green sea turtle, a Goliath grouper, and a variety of other fish—tarpon, yellowtail snapper, sheepshead, and horse-eye and crevalle jacks.
Volunteer SCUBA divers help visitors learn assist with underwater programs, help care for the animals and maintain the exhibits.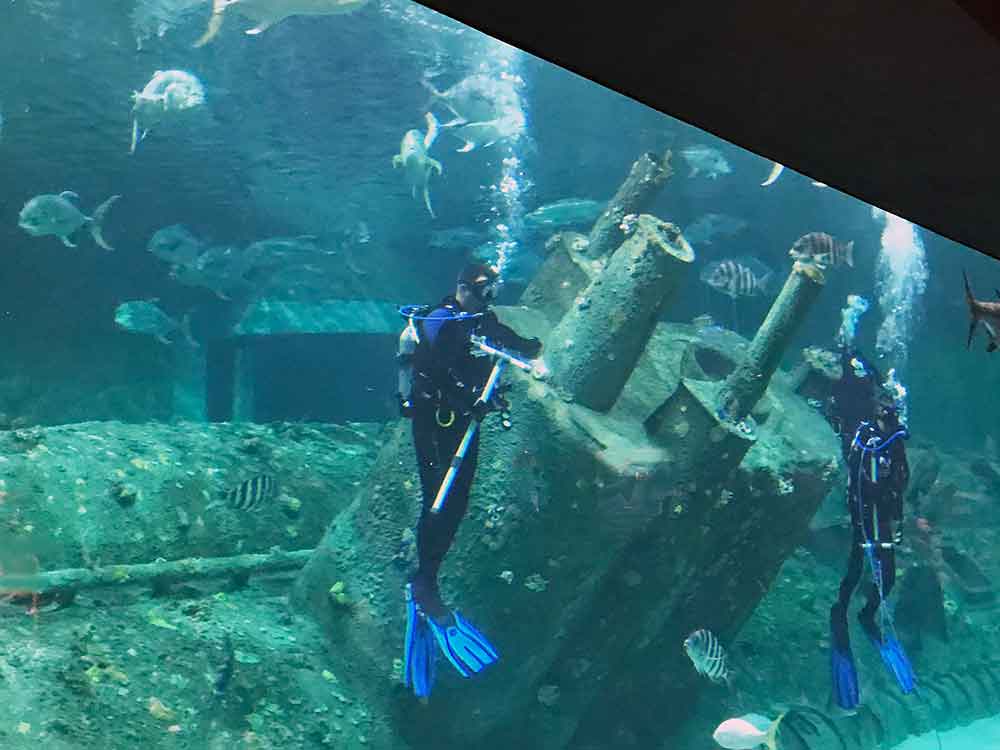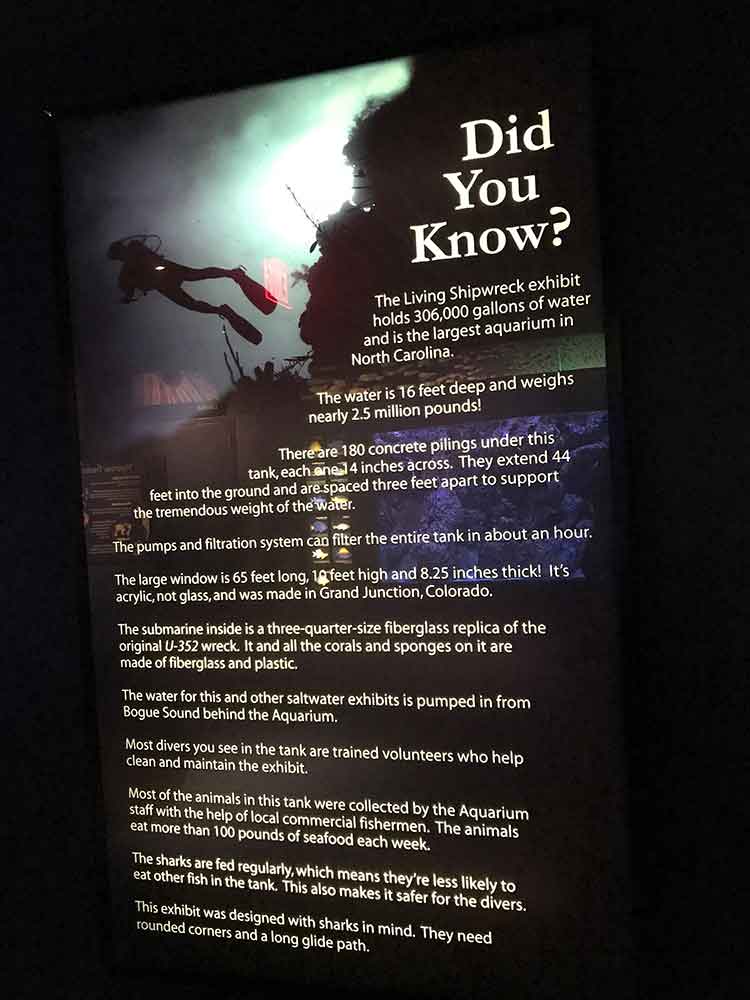 Water is pumped directly from Bogue Sound, the body of water behind the Aquarium, into holding containers for use in the Living Shipwreck and its other salt water habitats. The water used is returned so there is a constant water supply coming to and from Bogue Sound and the Aquarium.
Opposite the Living Shipwreck is a colorful habitat called Wreck of the Caribsea, filled with reef fish, including my favorite, a balloonfish, a type of pufferfish. (Following the Slideshow is a short video of the reef fish in this exhibit…so relaxing!)
This slideshow requires JavaScript.
A large cylinder tank, where the fish swim around and around in a circle, is nearby, while jellyfish are in a blacklight habitat to make their clear bodies show up.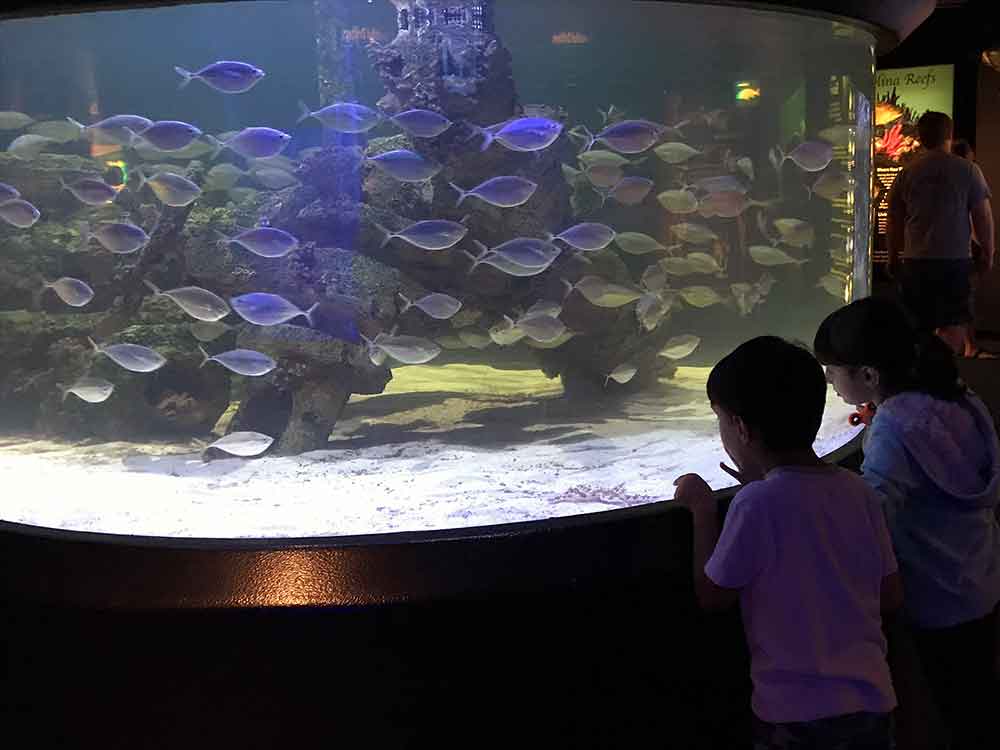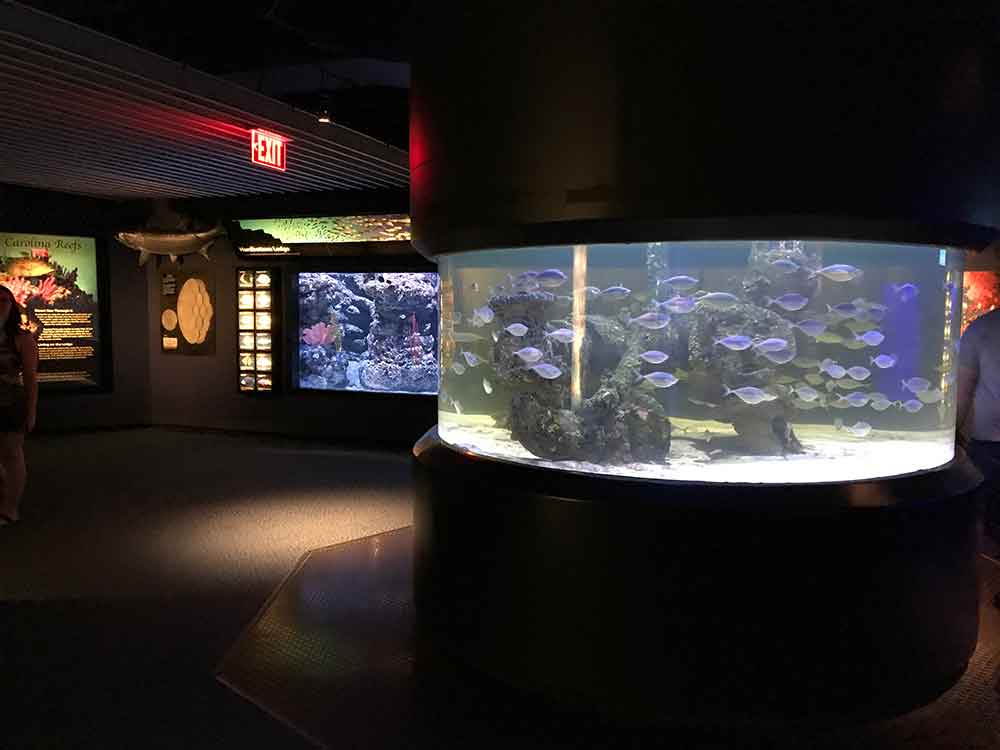 This slideshow requires JavaScript.
In addition to the Ocean Gallery, other exhibits cover the Tidal Waters, Coast Plains, and Mountains.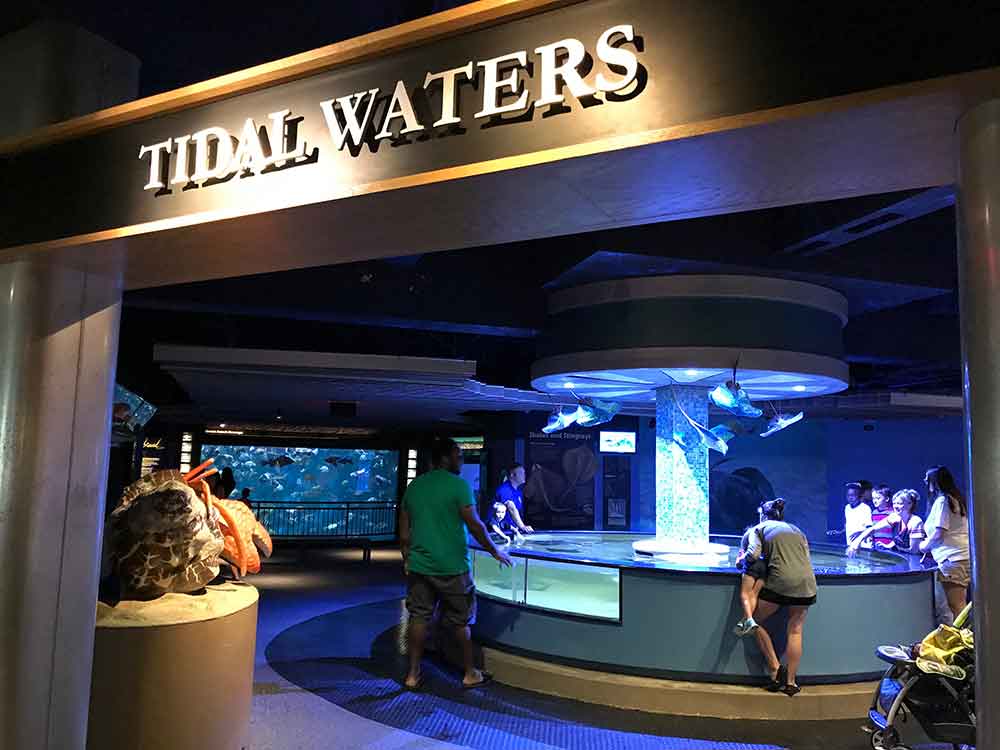 The Touch Tank where stingrays can safely be touched as they glide by is a popular spot for children and their parents.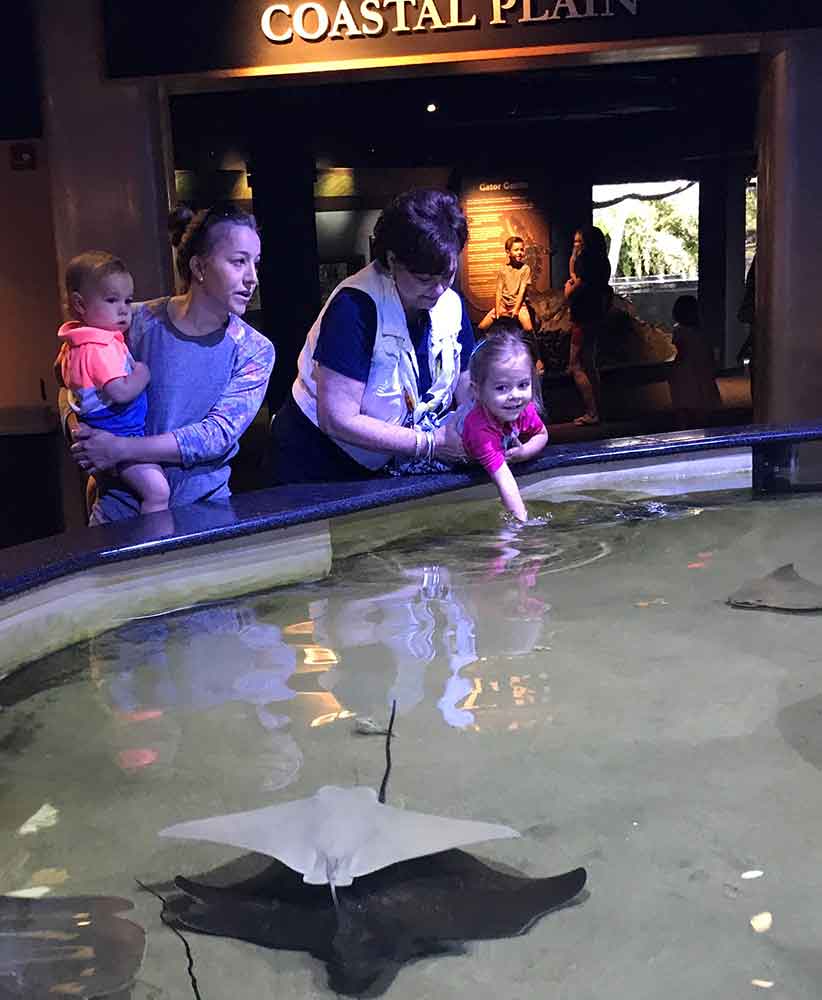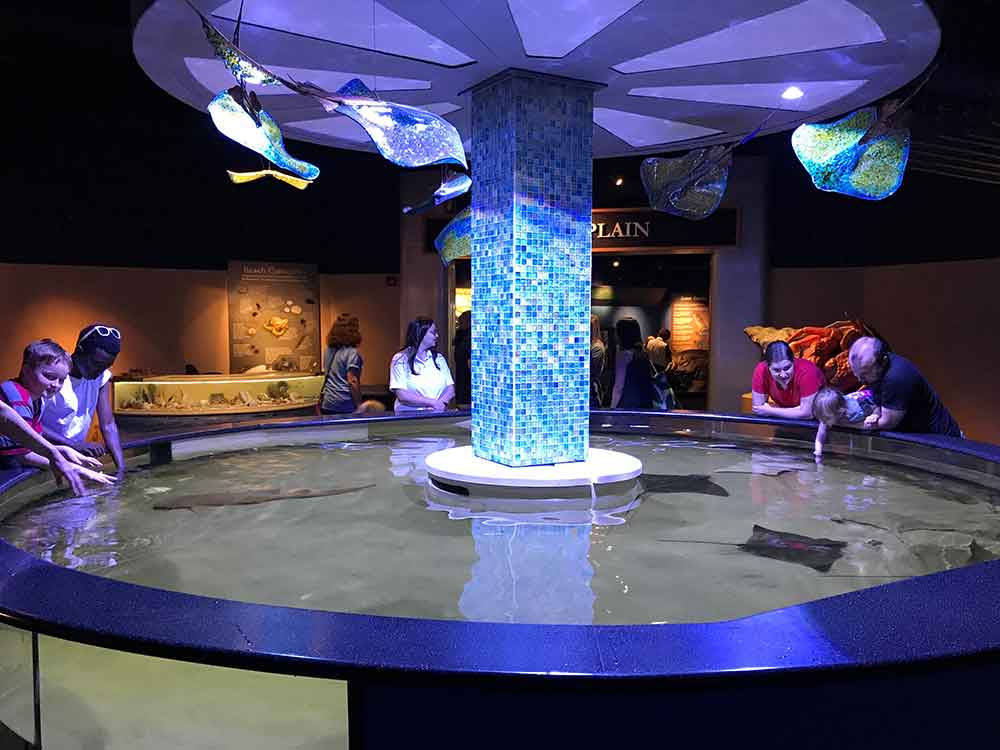 The seahorse exhibit was one of my favorites. I always love seeing them while SCUBA diving. One of their unique characteristics is that the males carry their young in a pouch on their stomach. Breeding seahorses in captivity is difficult since the babies are so tiny, but the North Carolina Aquarium at Pine Knoll Shores has a seahorse holding tank that we were able to see on a behind-the-scenes tour.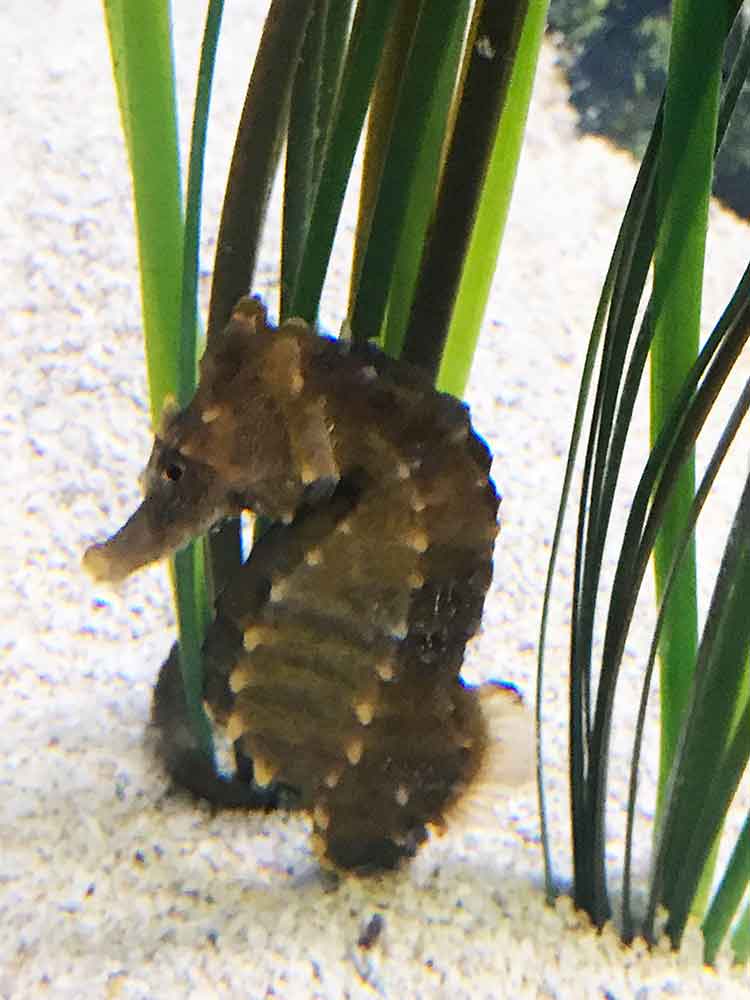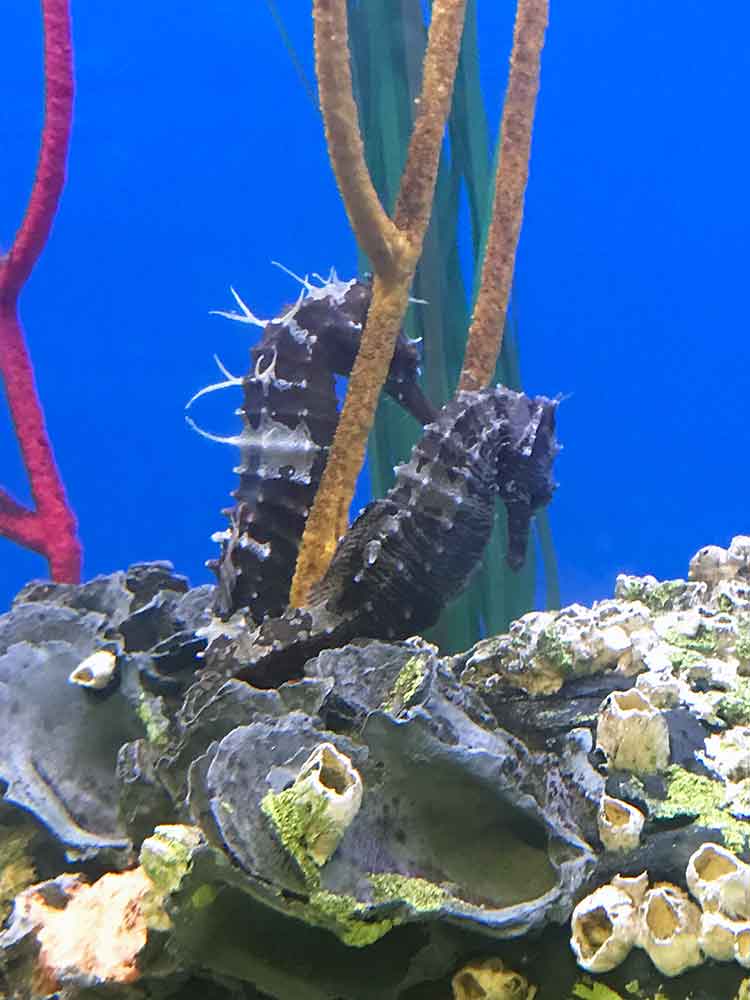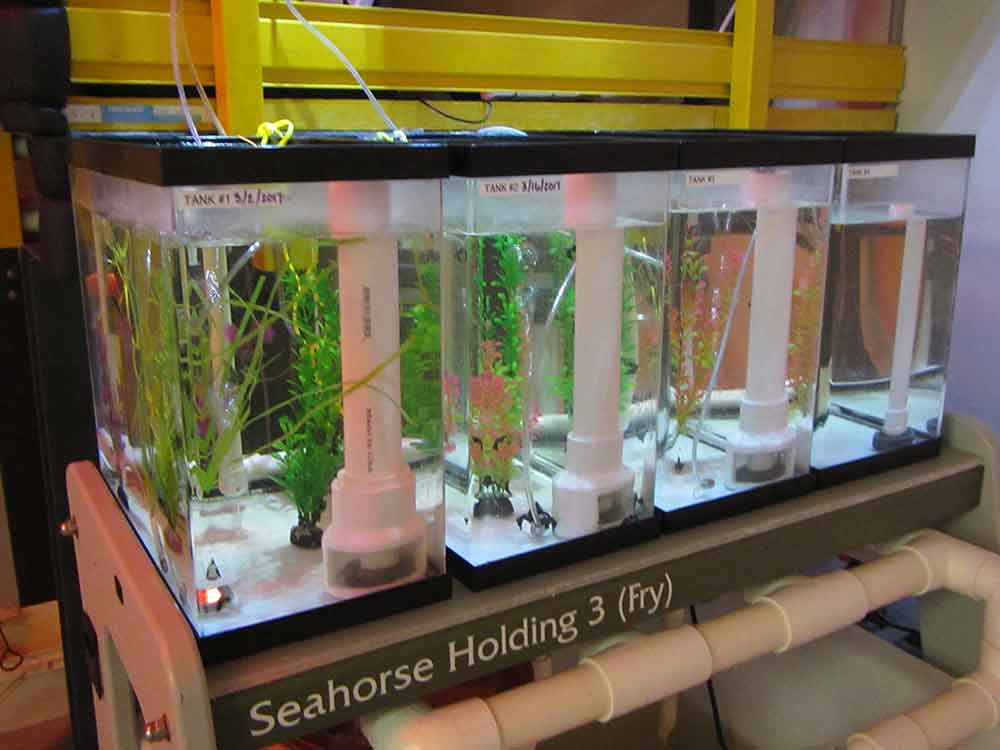 Behind the scenes tours are available for a small extra fee, like the one we took with Blaise, a Special Activities Instructor, who walked us through the areas where turtles are being rehabilitated and sea life, including seahorses and jellyfish are being breeded and raised to a size that can be on display.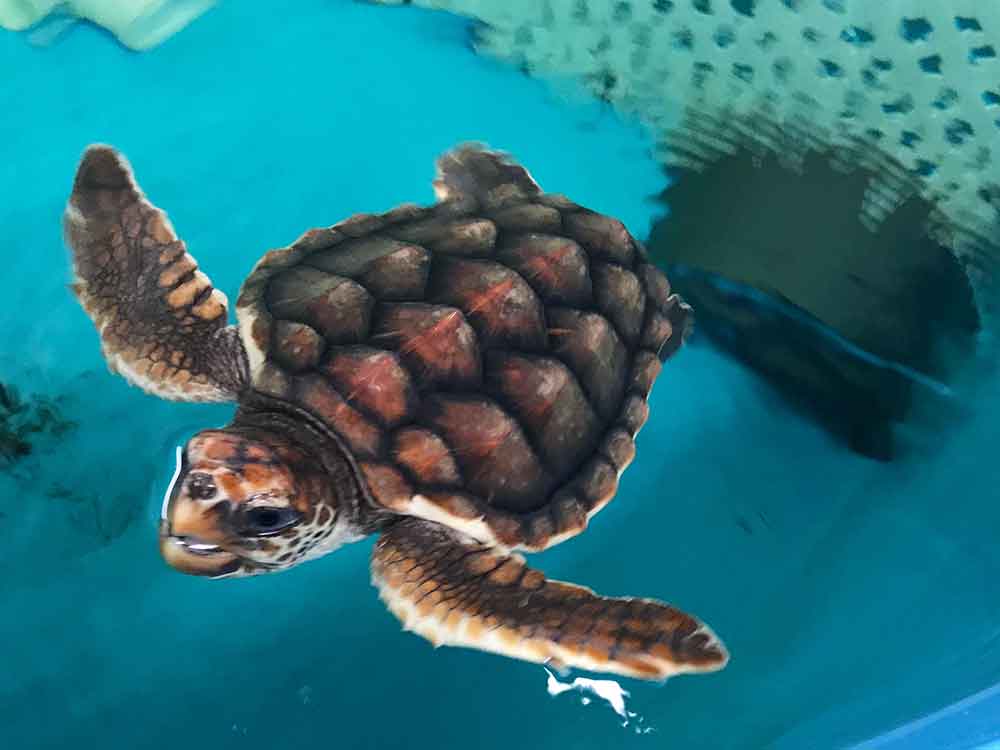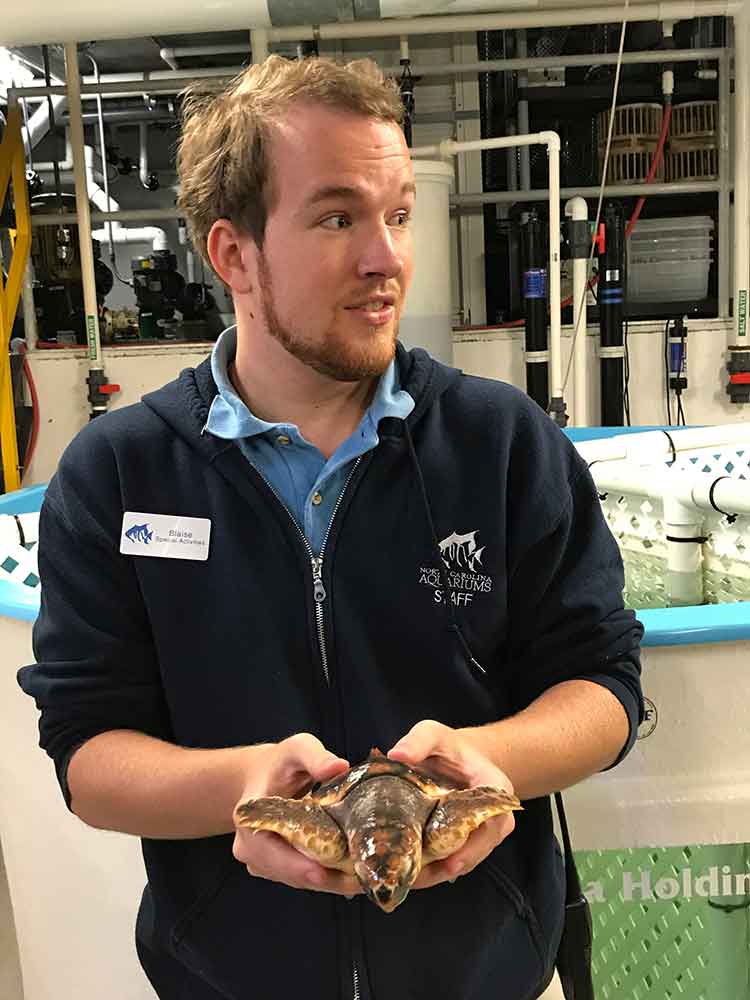 While the number of rescued sea turtles varies from year to year, on average, staff members at the North Carolina Aquarium at Pine Knoll Shores care for 200 sea turtles annually from hatchlings to those in the sub-adult stage.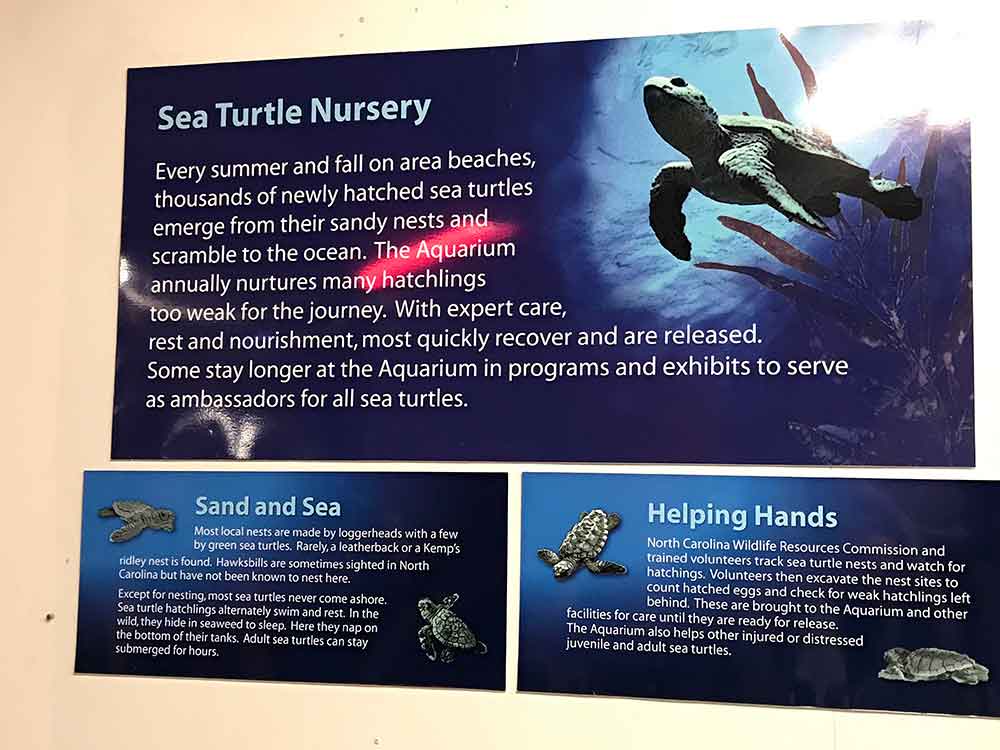 A lionfish holding tank was spotted, too, for containing this invasive species that damages coral but is gaining popularity as a tasty fish to eat.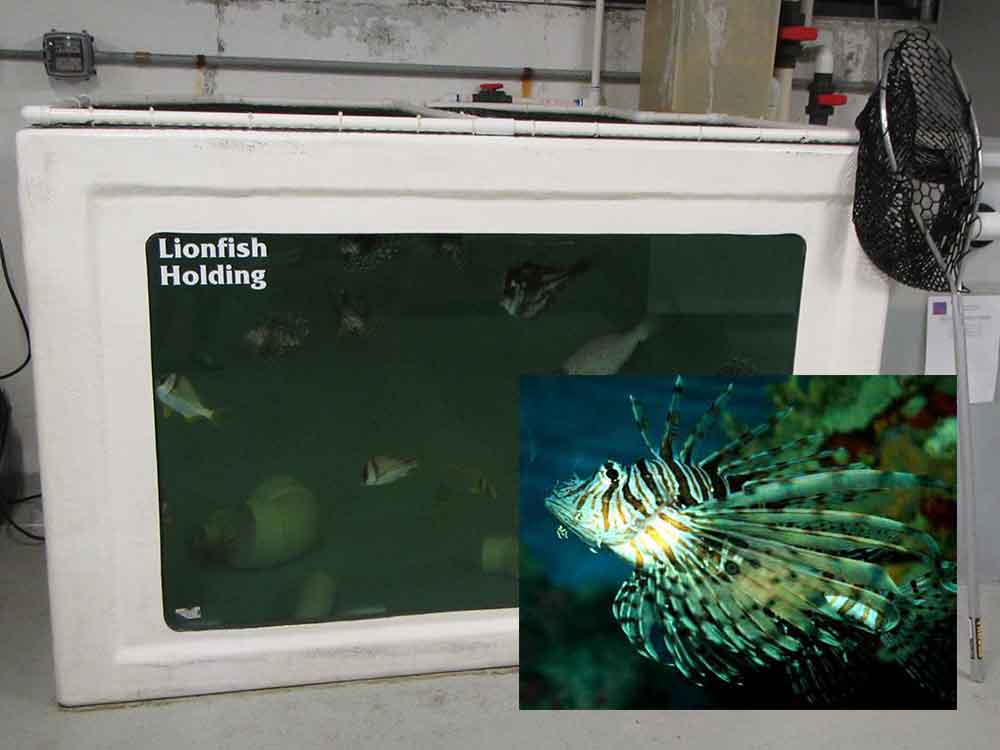 Click here to access a full list and description of these programs.
The Aquarium also hosts outdoor programs in the summer months, including marsh exploration, paddleboarding, kayaking and canoeing.
Don't miss the opportunity to stop by the Gift Shop on your way out to find a book, t-shirt, or other souvenir from your time at the Aquarium.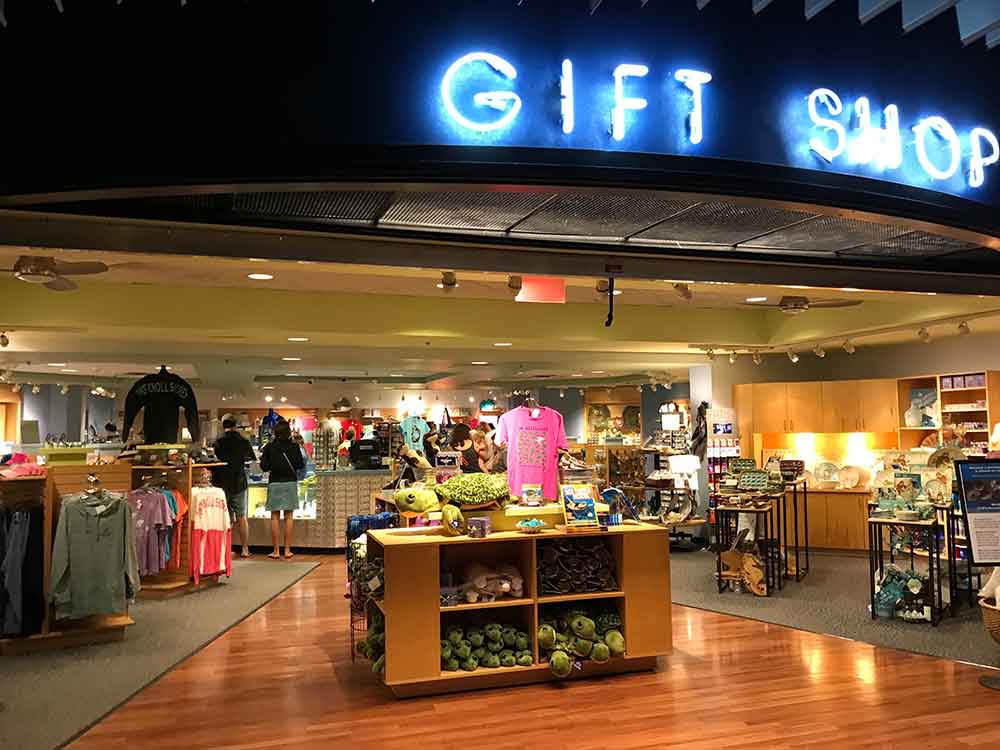 More than 11 million people have visited the North Carolina Aquarium at Pine Knoll Shores since opening in 1976. It closed in late 2003 for a major renovation that tripled its size and reopened in May 2006. It is open daily 9 a.m. to 5 p.m. including most holidays. Find ticket information at this link: Pine Knoll Shores Tickets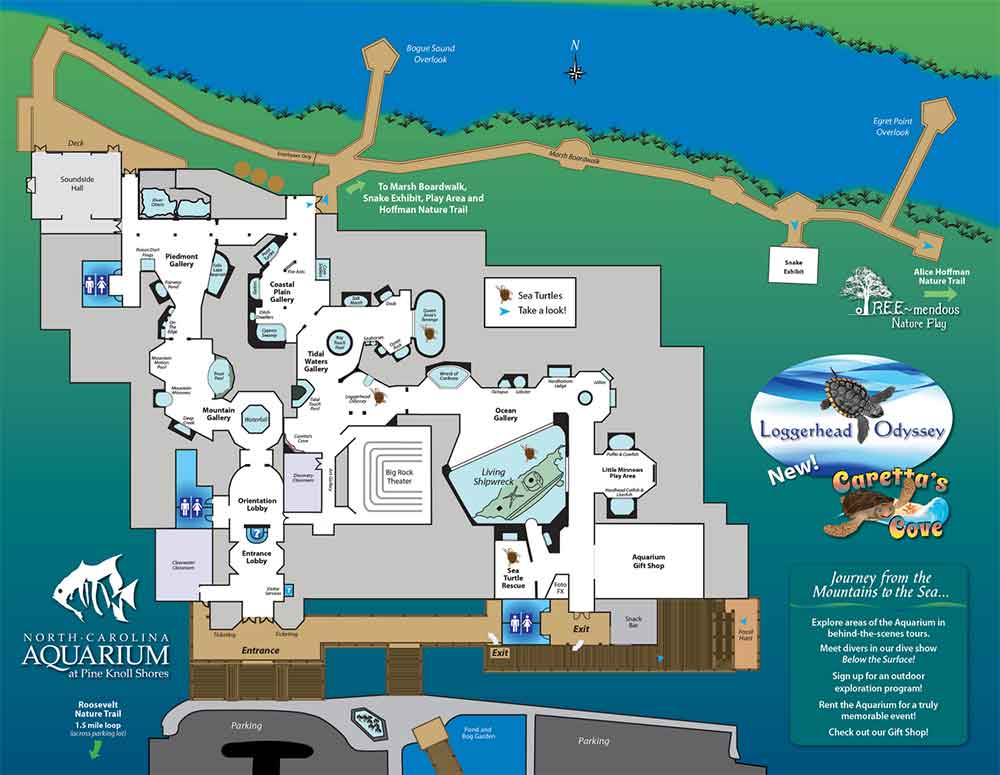 Three other North Carolina Aquariums are located along its coast:
North Carolina Aquarium, Fort Fisher, Kure Beach (Second largest, near Wilmington)
North Carolina Aquarium on Roanoke Island, Manteo (Recently renovated)
Jennette's Pier at Nag's Head (A fishing pier with ocean habitats)
---
Thanks to the North Carolina Aquarium at Pine Knoll Shores for welcoming me and other writers visiting as part of our weekend on the Crystal Coast, following the annual conference of the North American Travel Journalist Assn. (NATJA) conference in Chapel Hill. Our weekend host: www.crystalcoastnc.org  Special thanks to Shannon Kemp, Assistant Public Relations Coordinator, for her assistance with information for this post.
Photos and Video © Debbra Dunning Brouillette
Also on the Blog: North Carolina's Crystal Coast: Cape Lookout National Seashore and Lighthouse
Save
Save
Save
Save
Save
Save
Save
Save
Save
Save
Save
Save
Save
Save
Save