Indoor Oceans: The Aquarium at Moody Gardens, Galveston Island, Texas
I've visited lots of aquariums, or as I like to call them — indoor oceans — but never one located inside a bright turquoise glass-windowed pyramid! A total of 1.5 million gallons of saltwater exhibits are contained within the 10-story aquarium, including ocean life from the Atlantic, Pacific and Caribbean. It is the largest aquarium in Texas and houses seals, sea lions, sharks, thousands of fish and more than 90 penguins.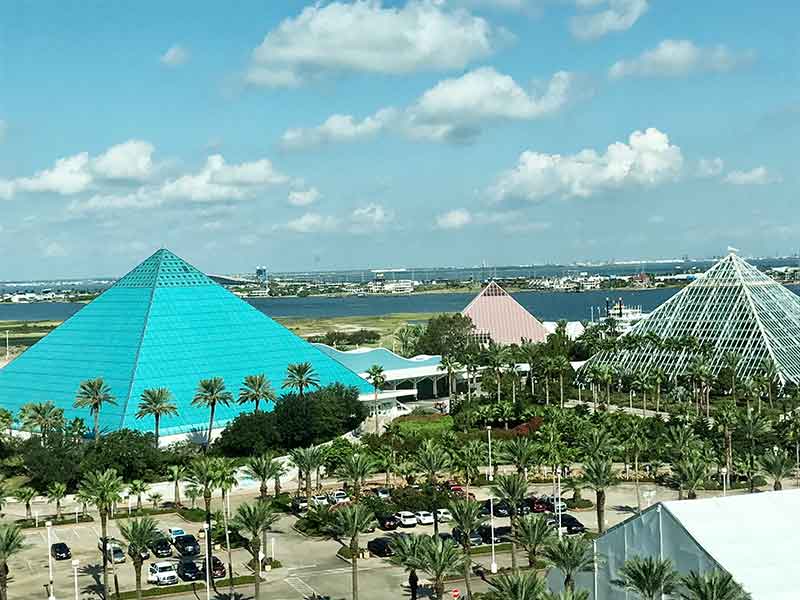 The 10-story high turquoise Aquarium Pyramid was the first to open in 1999. It is part of the 242-acre Moody Gardens resort complex overlooking Galveston Bay that includes two other pyramids.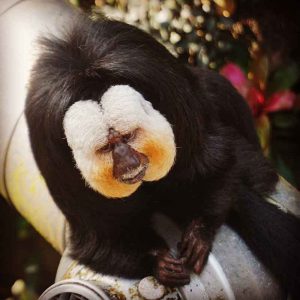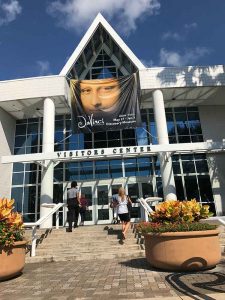 A clear glass Rainforest Pyramid contains areas recreating the rainforests of Asia, Africa and the Americas. Home to more than 1,000 species of plants and animals, it received a $25 million enhancement in 2011. Free-roaming tropical birds and animals including cotton-top tamarins and saki monkeys are among the creatures visitors can look for as they walk through the rainforest.
Inside the pink Discovery Pyramid is an Audience Recognition Theater featuring the SpongeBob SubPants Adventure. 3D and 4D movie theaters are located inside the Visitors Center.
Now…let's enter the Aquarium…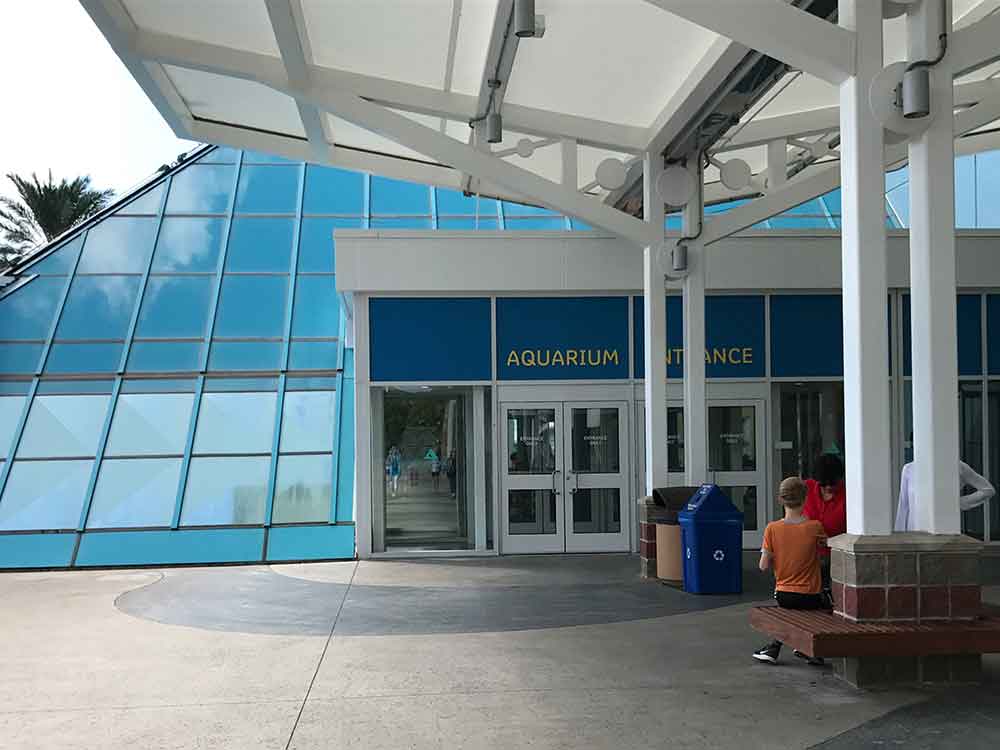 One of my favorite features of the Aquarium is the tunnel which guests walk through as part of the Caribbean exhibit. You can stand and watch sharks, rays and myriad tropical fish species swim overhead and on either side, simulating the sense of what it's like to be underwater with these creatures of the deep.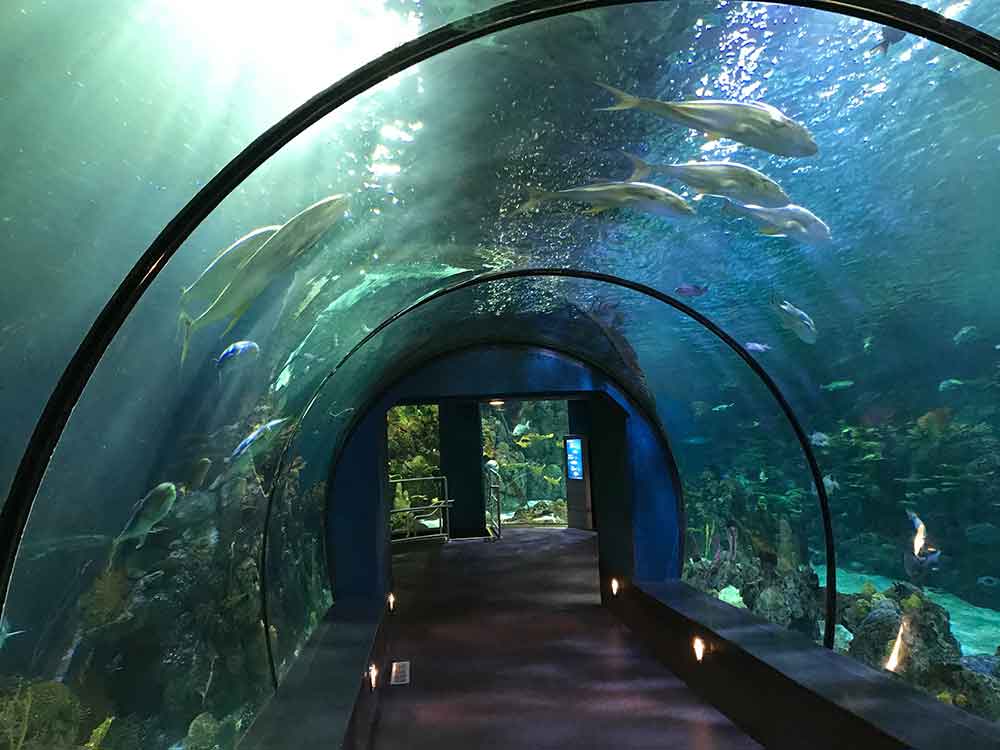 A $37 million renovation project was completed in late May 2017, which included a new jellyfish exhibit, the addition of tropical penguins, a Mangrove Lagoon touch tank that is home to stingrays and sharks, and a two-story 30,000 gallon aquarium topped by a 23-foot scale model of an oil production platform. An interactive dive program has been added, too, so visitors can ask questions of divers about the underwater world.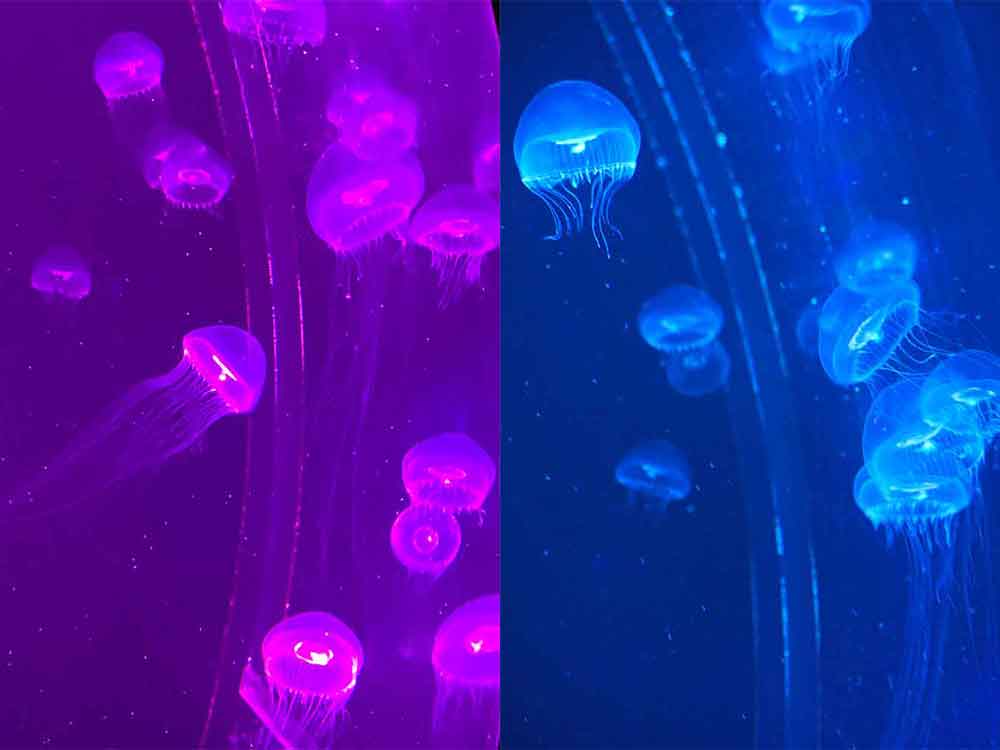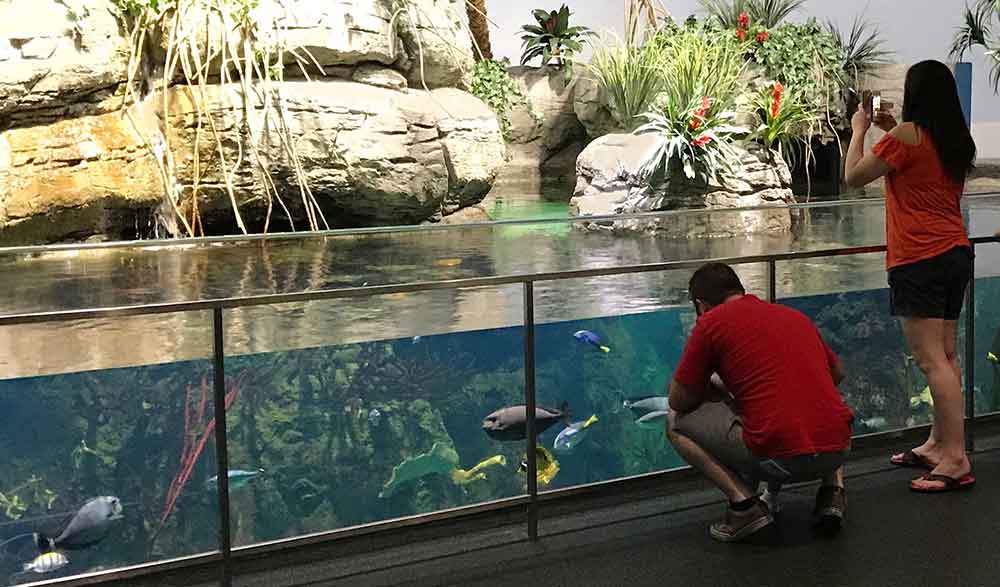 SLIDESHOW: Slow down and watch more scenes from the Aquarium…You can also click on any other photo in this post and it will start a slideshow. Enjoy!
This slideshow requires JavaScript.
Both warm climate and cold climate penguins are on display at the aquarium in separate habitats. The new Humbolt (warm-climate) Penguin Habitat is home to banded penguins that live in the coastal areas of Chile and Peru in South America.
King, Gentoo, Chinstrap, Rockhopper and Macaroni penguins that live in chilly climates are at home here, too, thanks to the aquarium staff who control their environment to emulate the cold waters of the south Atlantic.
VIDEO: Short video of the penguins below…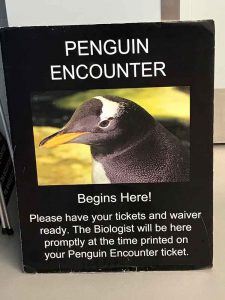 Special private behind-the-scenes "animal encounter" experiences are also offered for small groups and individuals, including encounters with giant river otters, penguins, and seals. (Proceeds from animal encounters are used to fund conservation efforts.)
We were able to meet Hendrix, a Southern Rockhopper penguin in the penguin food preparation kitchen and also received a piece of penguin art.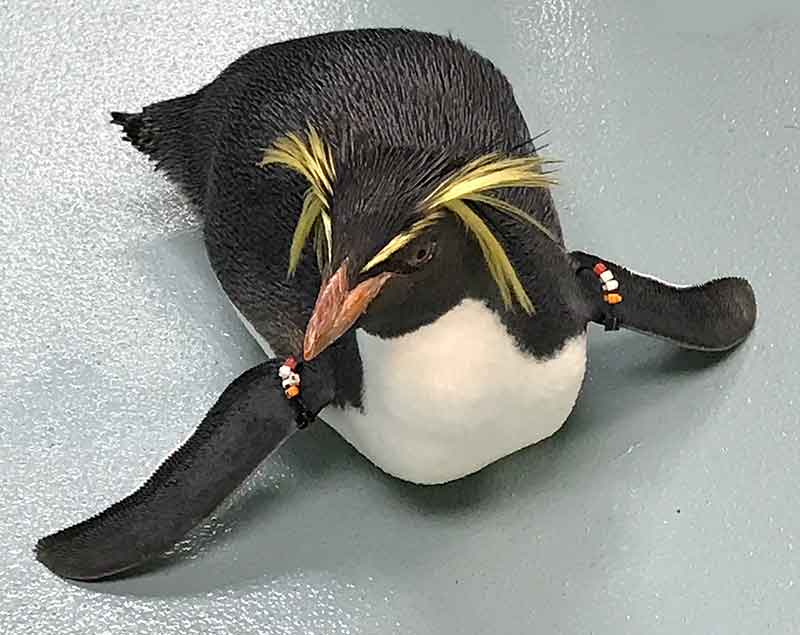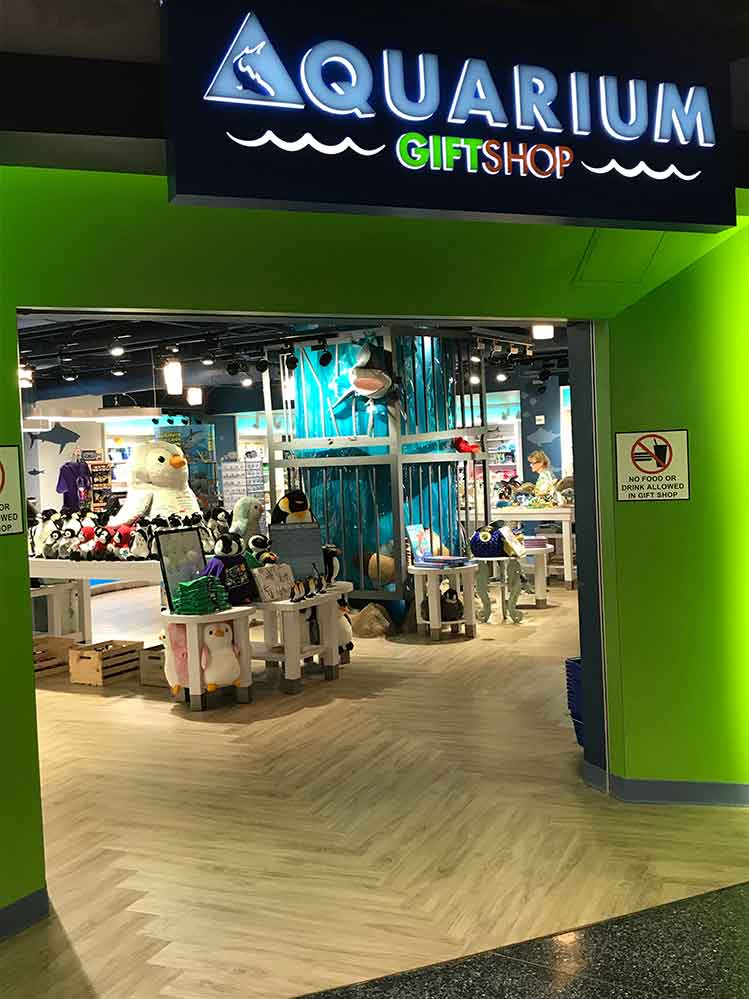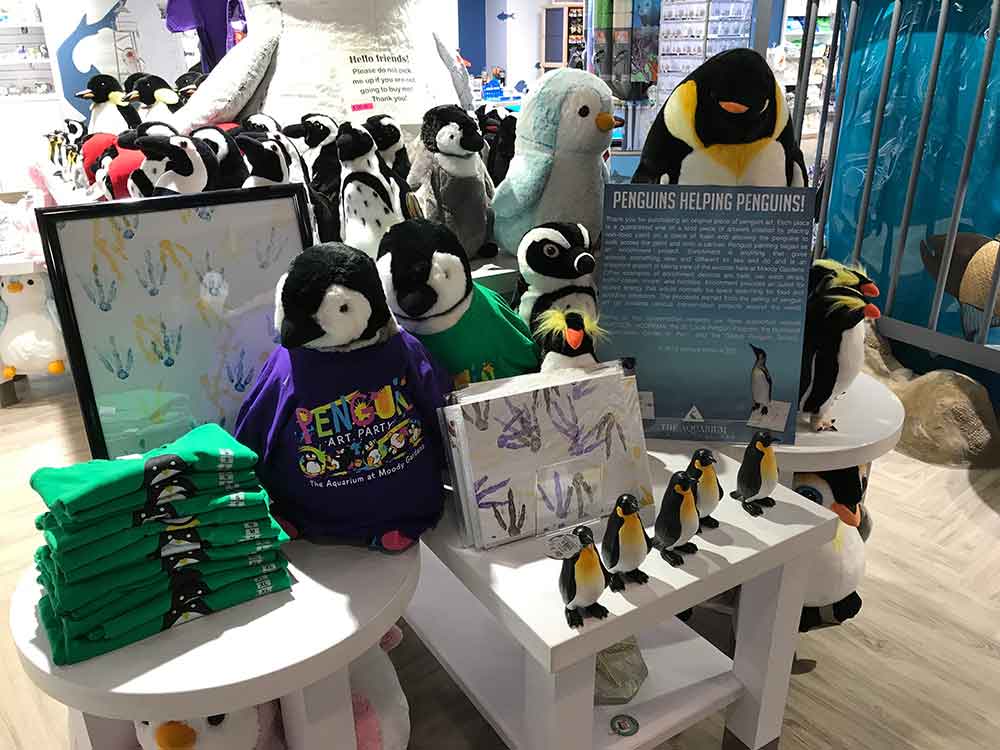 A new pirate shipwreck has been added to the Caribbean exhibit, including a 1 million gallon tank containing sharks, rays and tropical fish swimming around a replica of Jean Lafitte's 19th century rum-runner, The Pride.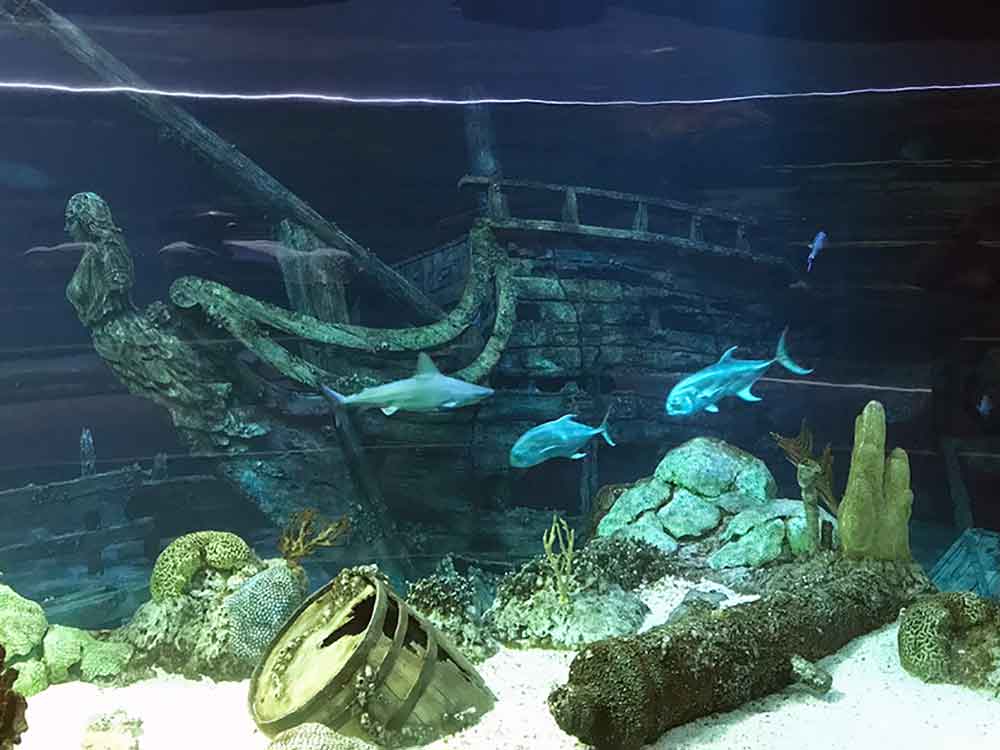 The Mangrove lagoon touch tank, home to stingrays and sharks, is popular with families.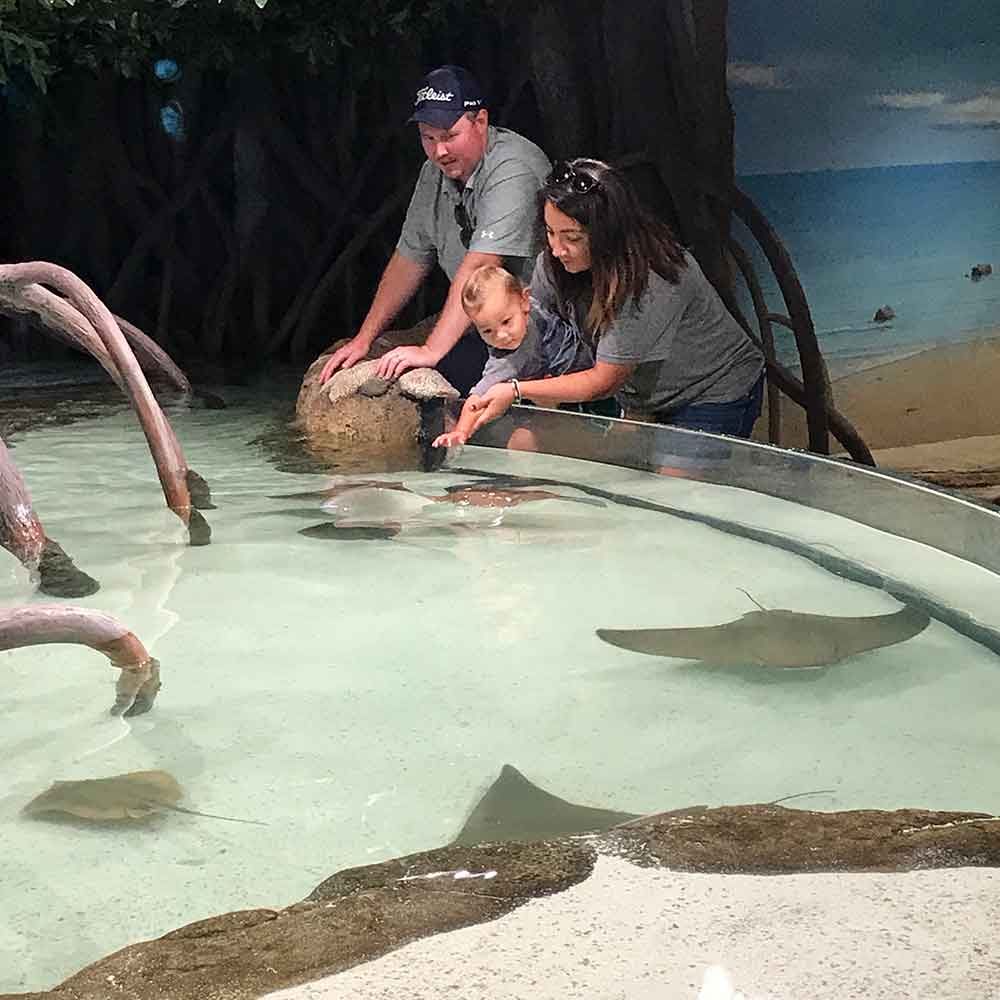 Also new is the Flower Garden Banks exhibit, featuring the unique tropical coral reef system located 115 miles off the of banks within the Northwest Gulf of Mexico.
Have a marine biologist in the making in your family? Those interested in a more in-depth look at the workings of the Aquarium can arrange observing staff in the conservation lab and ask questions as they work in the nursery, perform aquarium water quality tests, grow algae as a food source and other daily functions.
Click here for Visitor Information to Moody Gardens attractions, including ticket information, value passes, animal encounters and volunteer information.
All photos © Debbra Dunning Brouillette unless otherwise credited to Moody Gardens. Thanks to Moody Gardens for hosting me on this visit to the amazing attractions that await visitors to Galveston Island, Texas!