It's Launch Day! March 30, 2015
I chose this day, March 30th, as the official launch day for my website, not at random, but because it is my dad's birthday. William R. (Bill) Dunning passed from this life to the next in 1984 at the very young age of 66.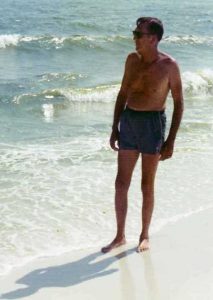 If he were alive, this would be his 97th birthday. In looking back, I'd say my dad had a lot to do with me becoming a tropical girl. Although we sometimes visited other locations, he loved vacationing in Florida with me, my younger sister, and my mom. I've been shaking the sand out of my shoes ever since.
He was stationed in Alaska during WWII and never tolerated the cold after that. He dreamed of spending winters in Florida after retirement, which he didn't live to do. I know he would have loved seeing the photos and hearing about the many tropical trips I've been able to take over the years. He encouraged my writing talent when I was growing up and I know he would have been proud of me for being a published travel writer, and now for launching this website.
Thank you, Daddy, for taking me to the beach…and for introducing me to the tropical world that has become my travel passion. I dedicate this website to you.
---
Thanks also goes to my website consultant, Megan McNames, who was instrumental in helping me get my site to this point. For the part you played in handling all the "backside stuff"—HTML coding, helping me execute the overall look and design, the logo, and all the many things that I had no idea how to do, I thank you.