Memphis beyond Graceland: Sun Studio
While no trip to Memphis would be complete without paying a visit to the home of the King of Rock 'n Roll, this city has a lot to offer beyond Graceland. Of course, much of it is still related to the mark Elvis Presley made after moving with his family to Memphis from his birthplace, Tupelo, Mississippi, at age 12, including where he broke into the music business with his first recordings at Sun Studio.
Sun Studio, 706 Union Ave. (near Beale Street and 15 minutes from Graceland)
Sun Studio is open 7 days a week, 10 a.m.-6:15 p.m. Tours begin every half hour until 5:30. Adult tour price: $14. Children 5-11 admitted free; under age five are not permitted. Free parking behind the studio. In 2003 Sun Studio was officially recognized as a National Historic Landmark tourist attraction.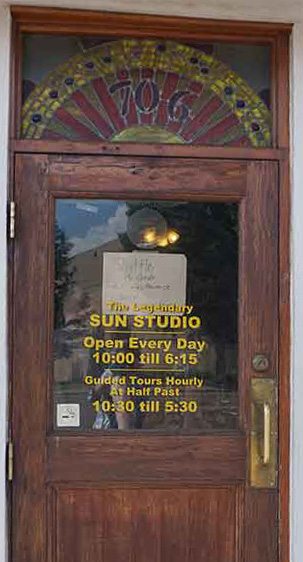 Sun Studio Cafe
While you're waiting for a tour to start, take in all the memorabilia in the café and then stay for lunch or an old-fashioned ice cream soda afterward.



The Sun Studio Tour
Plan an hour to an hour-and-a-half to enjoy the tour, which begins in an upstairs room filled with displays of memorabilia about Elvis and many of the other musicians and artists who began their careers here — Jerry Lee Lewis, B.B. King, Howlin' Wolf, Johnny Cash, Roy Orbison, Charlie Rich and other lesser-known artists. I'll admit it…I'd never heard of Jackie Brenston and his Delta Cats, who recorded "Rocket 88" in 1951, considered to be the first rock 'n roll song.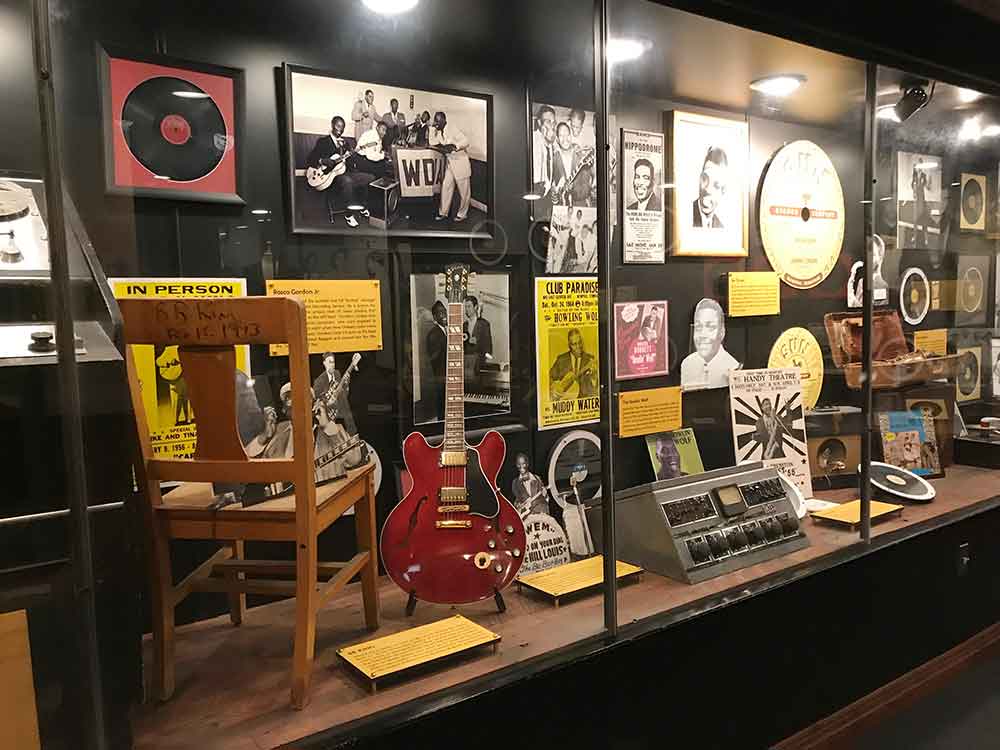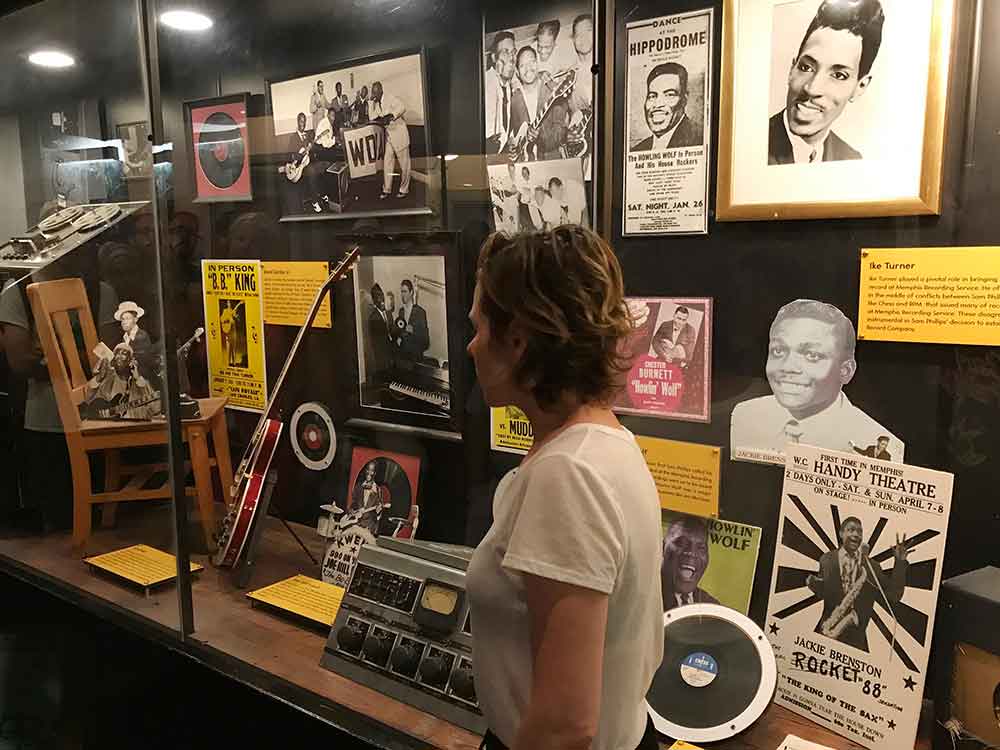 Our entertaining guide, Lahna, shared stories of the studio's beginnings and played bits of music, including one of Elvis' first recordings, "My Happiness." It was 1950 when the legendary Sam Phillips opened the Memphis Recording Service, sharing the building with Sun Records.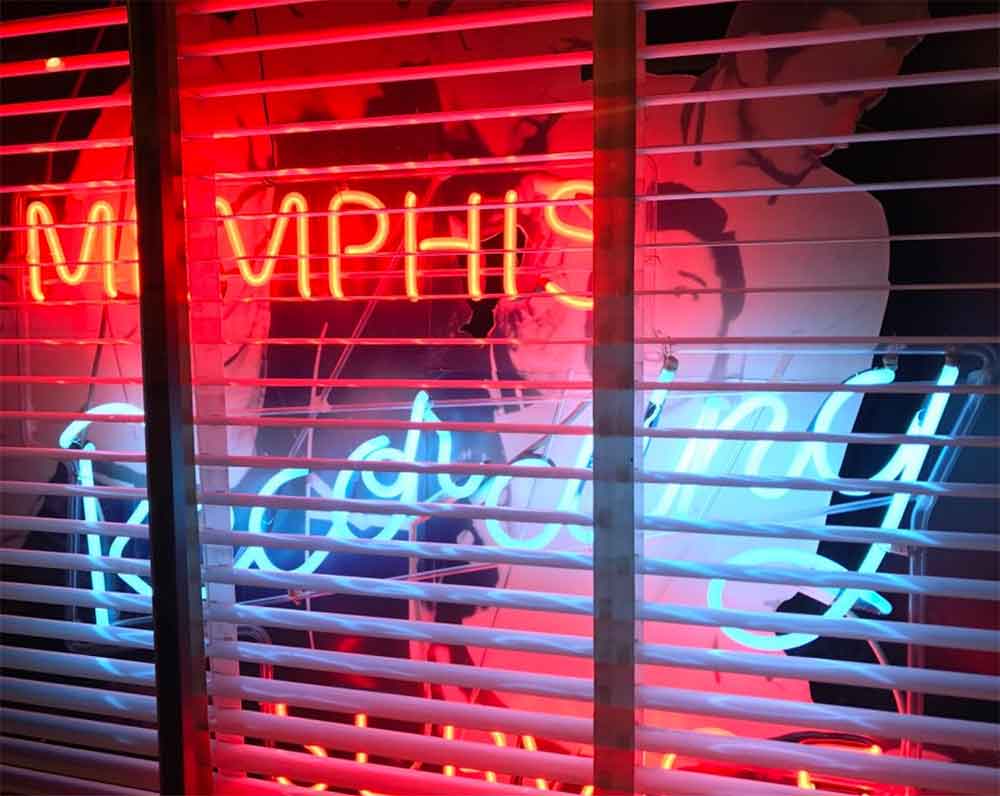 You can see the original broadcast booth where Dewey Phillips played Elvis Presley's first record, 'That's All Right" on his popular radio show on WHBQ.
There is (of course) a case devoted to Elvis memorabilia. I love this photo of a young Elvis with a female pal sitting on a curb somewhere in Memphis…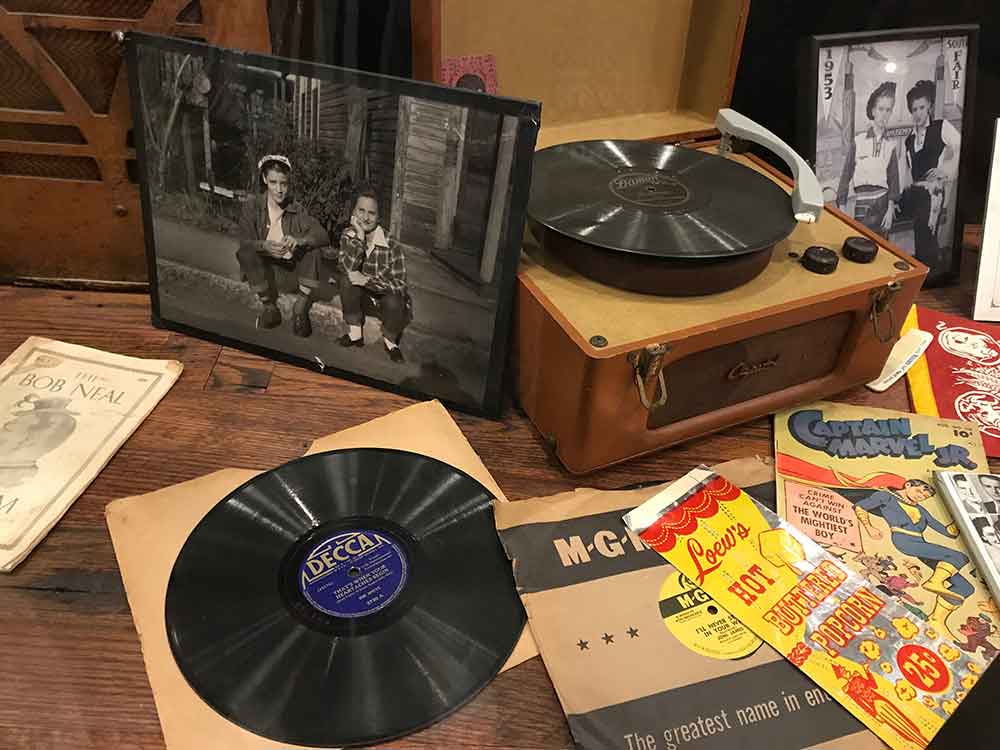 Elvis' Humes High School commencement program and yearbook are included along with other items.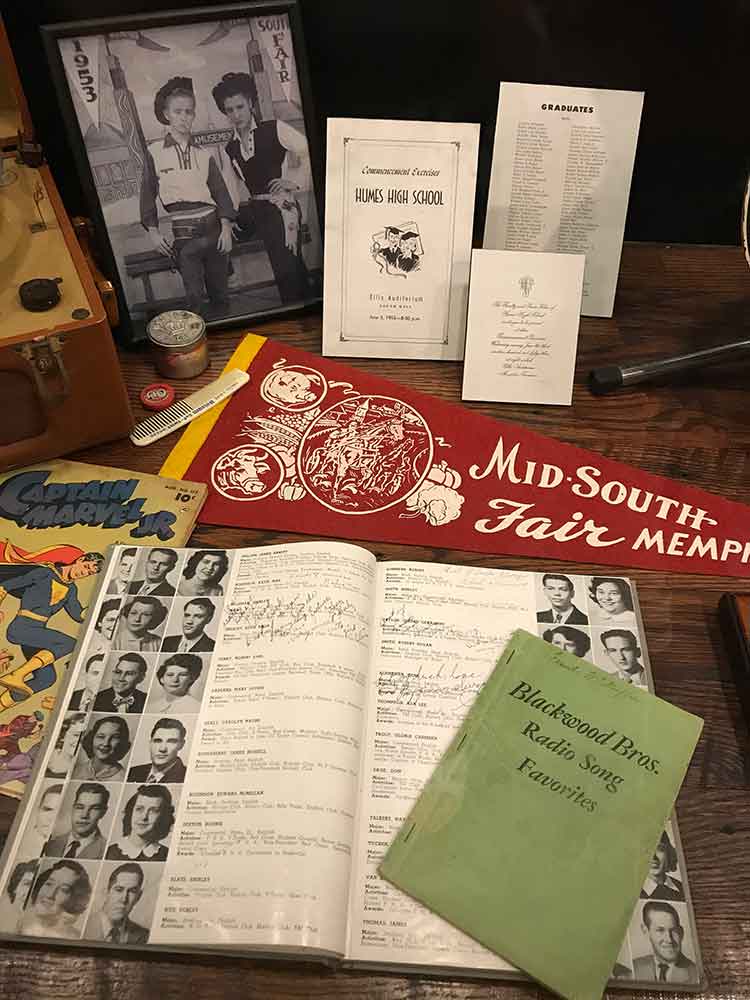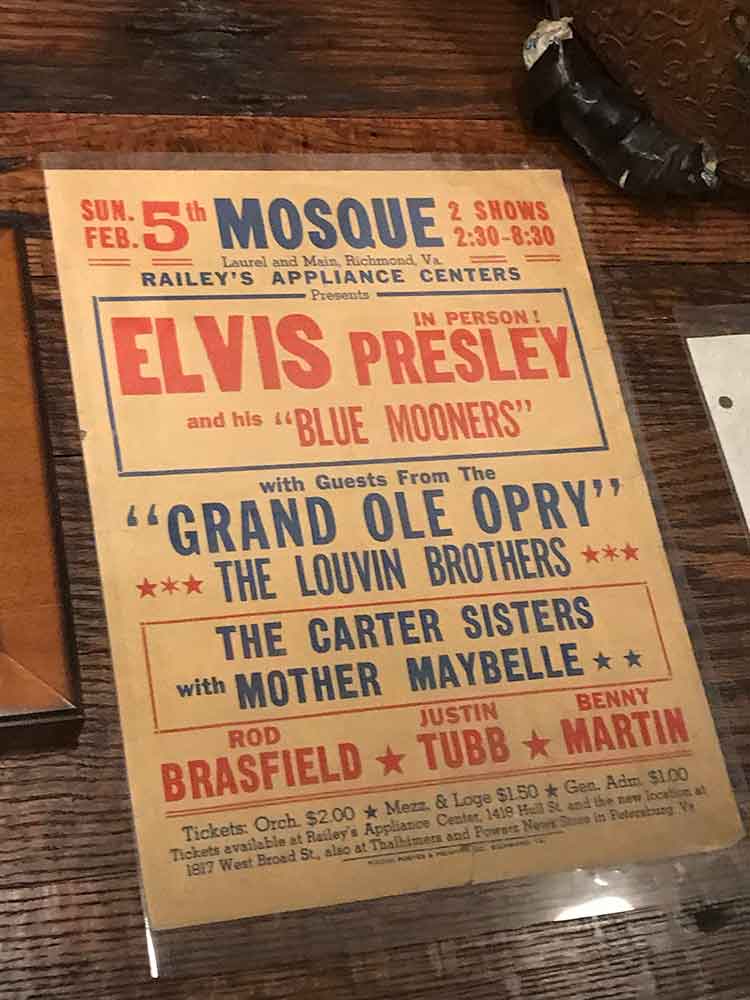 Memorabilia from B.B. King, often called "King of the Blues"  is on display, too. B.B. King's Blues Club  has been a landmark on Beale Street since its 1994 opening.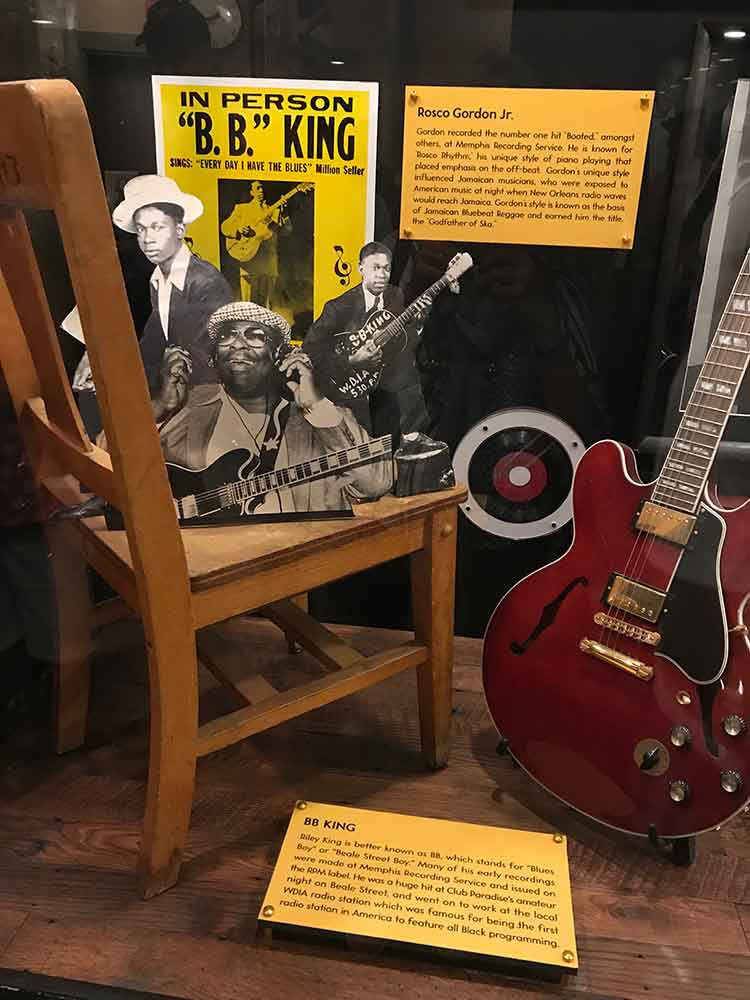 Studio equipment, musical instruments, clothing and other memorabilia fill the display cases, which you'll have time to peruse before being directed to walk down the back staircase to what was the front office of the Memphis Recording Service.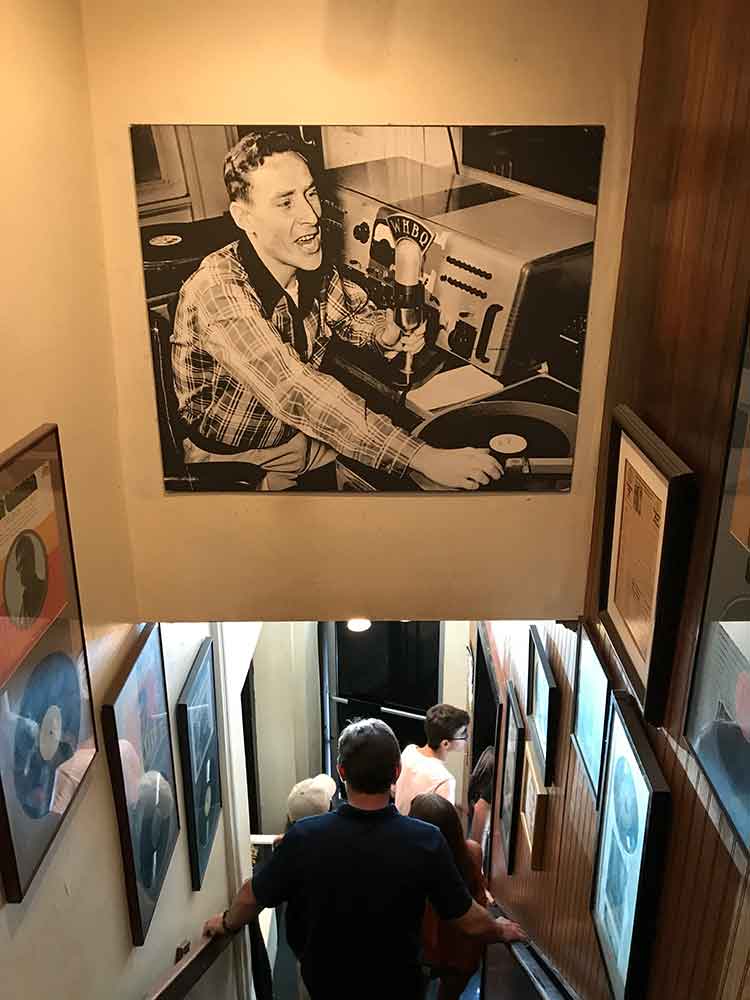 It's here that office manager Marion Keisker, first greeted an 18-year-old Elvis Presley and helped him record two songs, "My Happiness" and "That's When Your Heartaches Begin" for a fee of $3.25. According to accounts of that auspicious day — July 23, 1953 — which has since become part of Elvis lore (Source: Wikipedia): she asked him, "What kind of singer are you?" He said, "I sing all kinds." When she asked, "Who do you sound like?" he said, "I don't sound like nobody."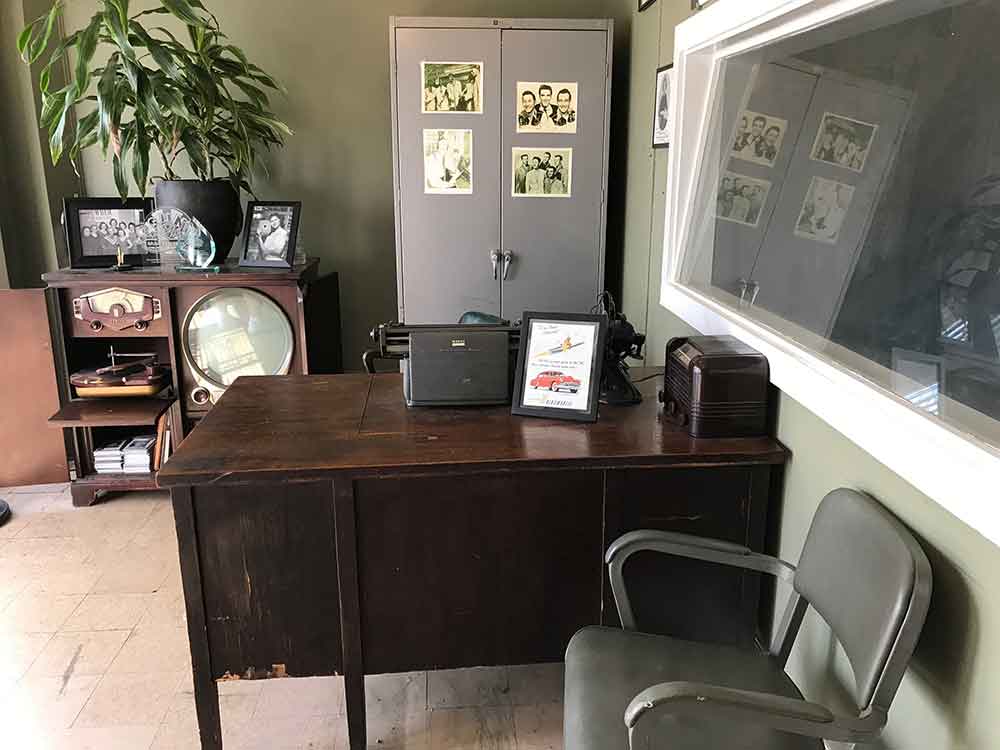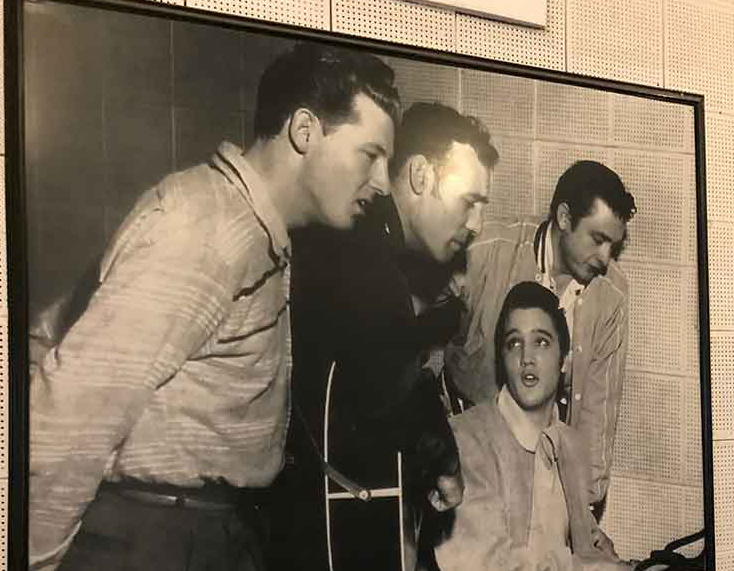 You'll next walk into the room used as the recording studio itself. Prominently displayed is a large photo of the "Million Dollar Quartet," capturing a moment in time from perhaps the most famous impromptu jam session of all time, on December 4, 1956, just three-and-a-half years after Elvis first walked through its doors. While each became stars in their own right, Elvis was the biggest star of the four and is pictured playing piano, surrounded by Jerry Lee Lewis, who had yet to release his first single, Carl Perkins, whose recording of "Blue Suede Shoes" would later be superseded by Elvis' version, and Johnny Cash, who'd had a few country hits by this time and had stopped in to hear Carl Perkins record some new tunes.
Sam Phillips donated the original studio microphone from the control room, the one that Elvis and other music legends had used. Now, visitors (like me!) are allowed to pose with it and have their "Elvis moment" while one of his early songs is played.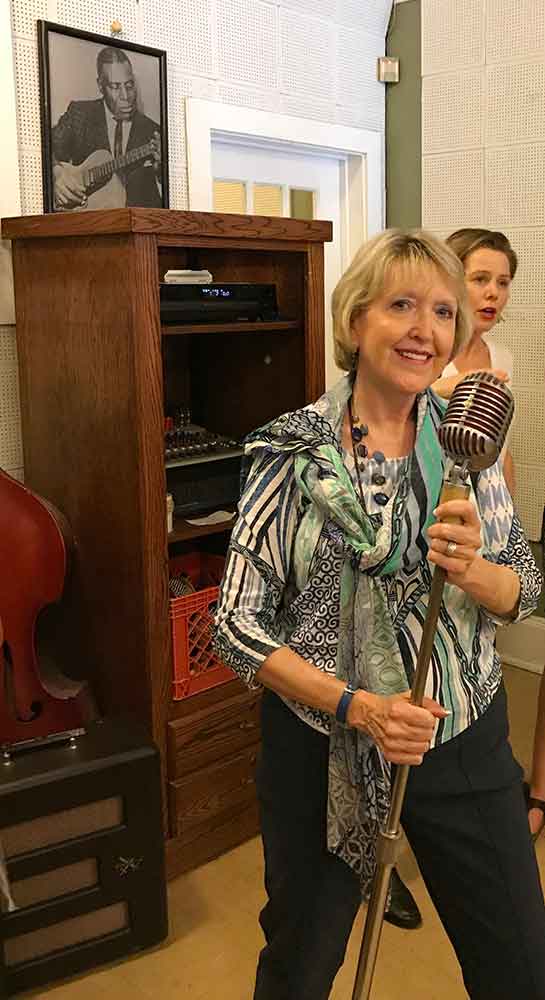 After Sam Phillips moved to a larger location in 1959, the building at 706 Union Avenue was the site of several other businesses for the next 28 years, including a plumbing company, an auto parts store, and a hair salon, but it was converted back to a recording studio and tourist attraction in 1987, 10 years after Elvis' death. Plan your visit and learn more at SunStudio.com!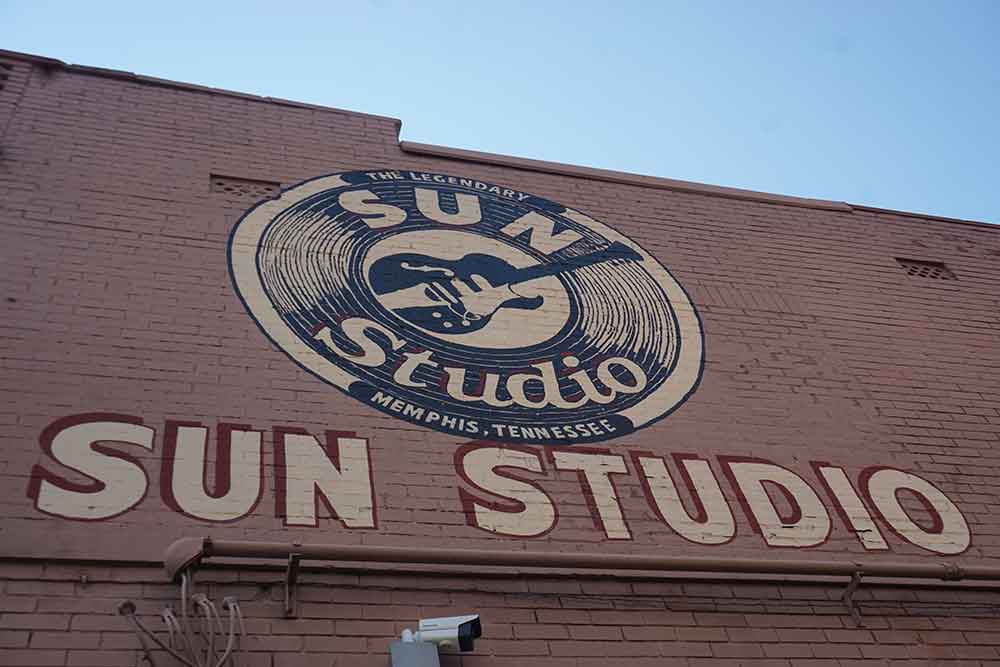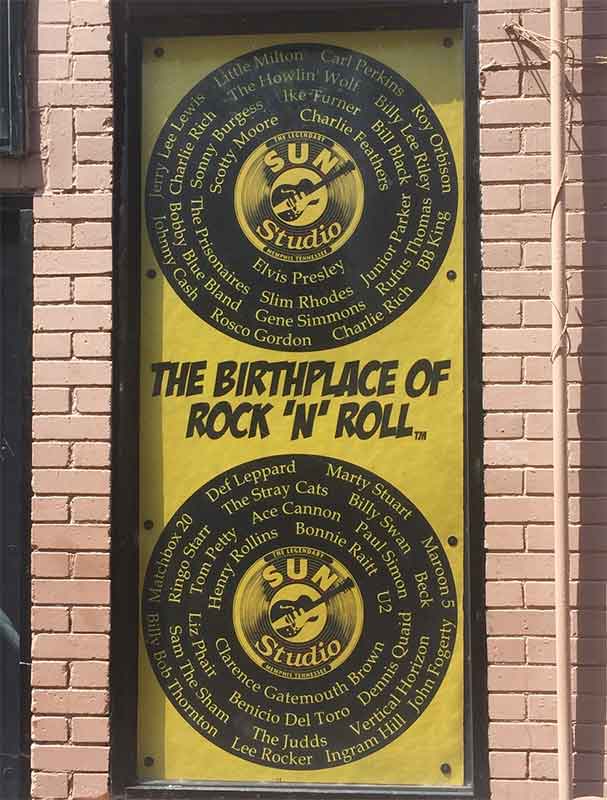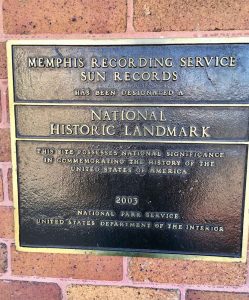 ---
This was my second time to visit Sun Studio. My first visit was in 1993…24 years ago! At the time, for a small fee, you could record an Elvis song and leave with a cassette tape of your performance. I recorded "Can't Help Falling in Love with You," so I guess I can stretch the truth a little and say I am a Sun Records recording artist! Somewhere, packed away in a box, I still have the cassette tape.
---
All photos: © Debbra Dunning Brouillette
Thanks to memphistravel.com (the official destination marketing organization for Memphis, Tennessee & Shelby County) for providing me with passes for this and other Memphis attractions.
Save
Save
Save
Save
Save
Save
Save
Save
Save
Save
Save