Morro Bay, California: Sea otters, sea lions and seagulls, oh my!
While the focal point of Morro Bay, California, is Morro Rock, one of nine extinct volcanic peaks found along the central coast, the sea life in the bay itself is what attracted me most on a recent visit.
Along with a group of fellow travel writers, I boarded Sub Sea Tours' SSV Seaview, a 21-passenger vessel with a viewing room located beneath the surface, for a tour of the calm bay waters. Kevin Winfield, who offered to take us out for what is normally a 45-minute narrated tour, was our able and very entertaining boat captain and guide. A former sport fishing captain, he and his wife have owned the business since 2000.
My main desire was to see and photograph the sea otters, which inhabit the bay in sufficient numbers that Capt. Kevin can provide a fairly certain guarantee that they'll be seen. Soon after we left the dock, they were sighted, floating on their backs, feasting on mussels, crab and other crustaceans found in Morro Bay. Then they would disappear, diving under to seek out the next course of their seafood meal. Later, two were swimming side by side, eating crabs they'd retrieved from the bottom, when seagulls arrived to try to get a piece of the action.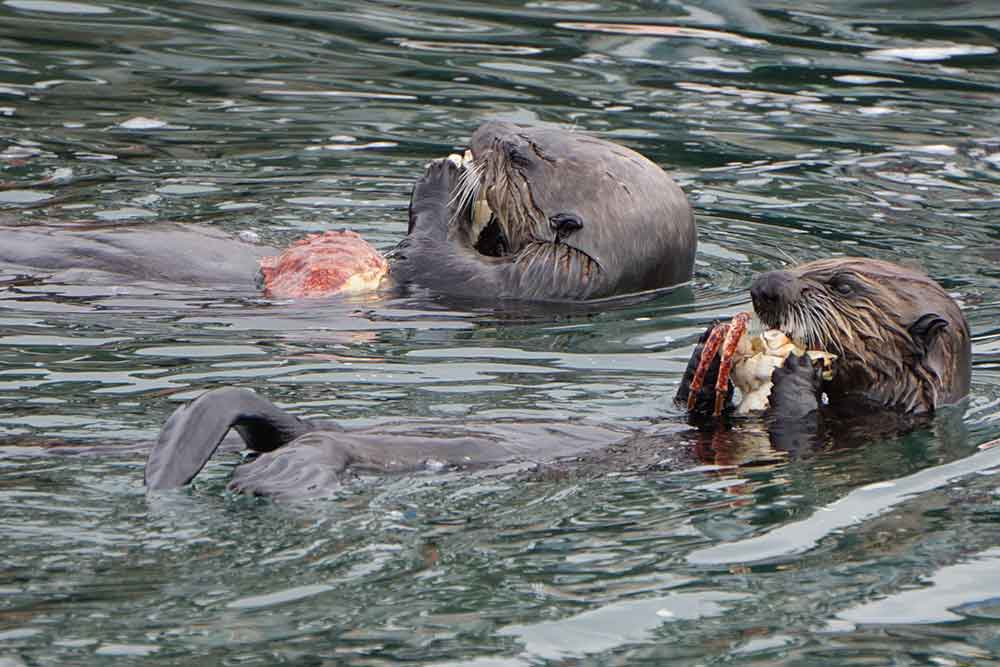 As I and several other shutterbugs aboard zoomed in and captured countless images of their antics, I could see why they are sometimes referred to as "clowns of the sea."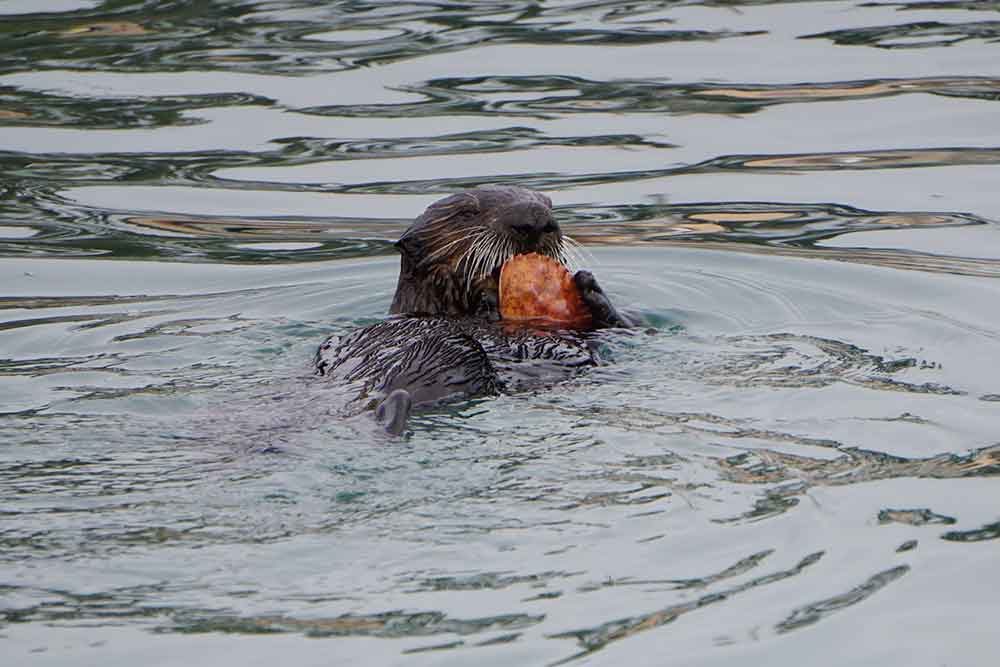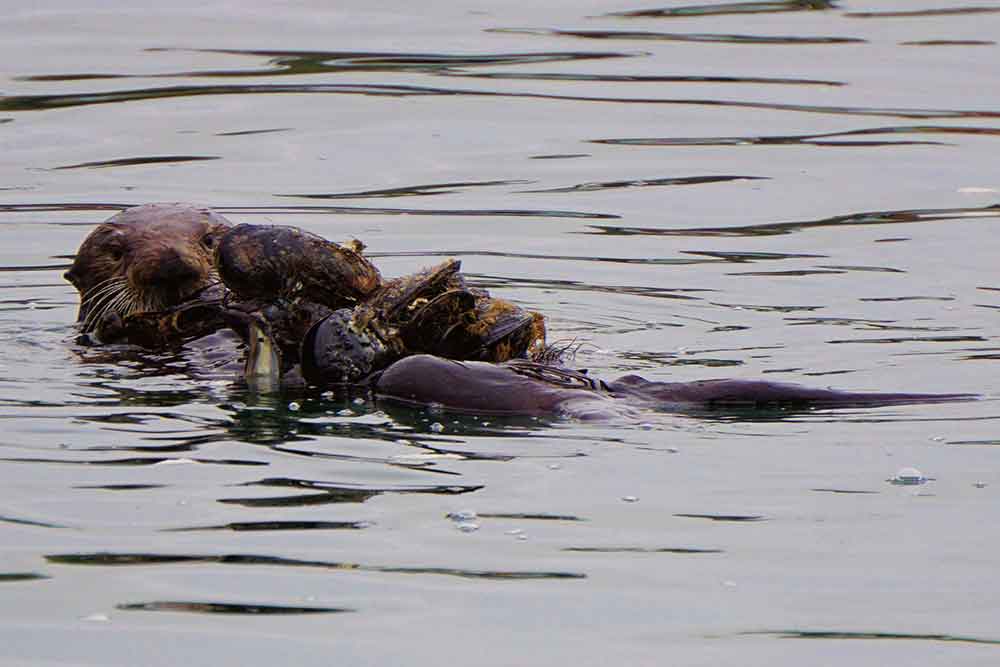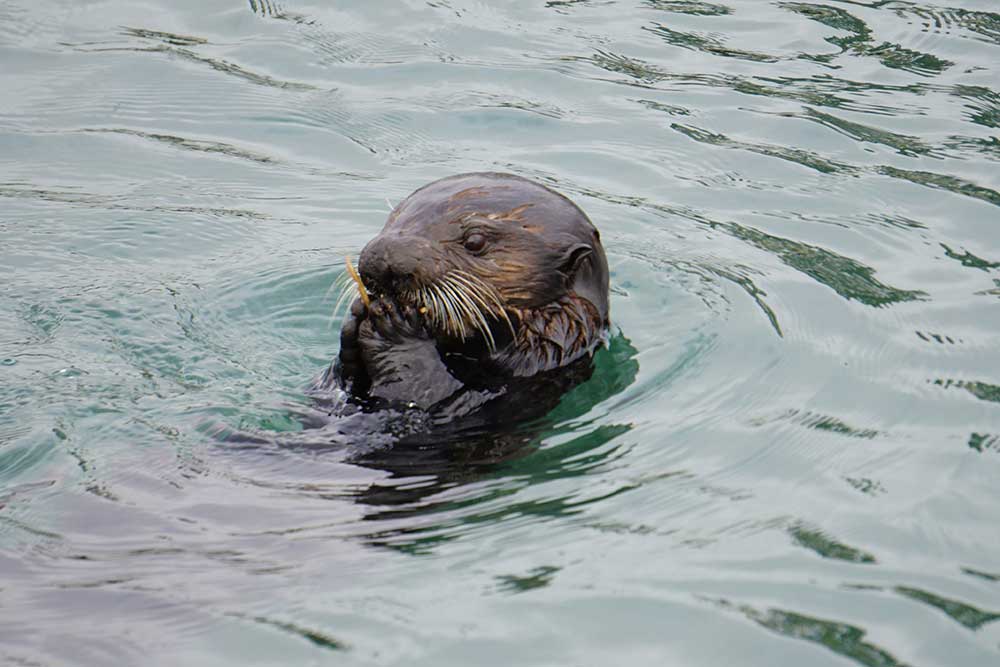 Sea lions were also in abundance in the bay area, sleeping or resting near or on top of each other on a wooden platform in the middle of the bay and on docks near anchored boats and businesses along the water's edge. Their expressions and body positions also entertain and fascinate. I recall being in the water with them in the Galapagos islands where they swirled in and out around us as we snorkeled, and also as we walked among them in large numbers on several beaches there.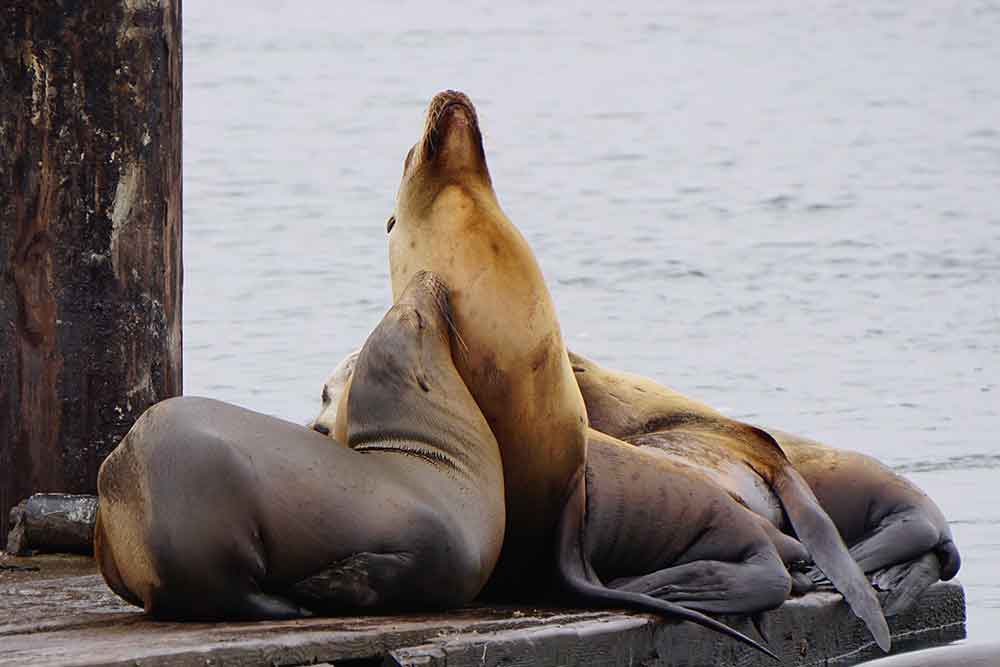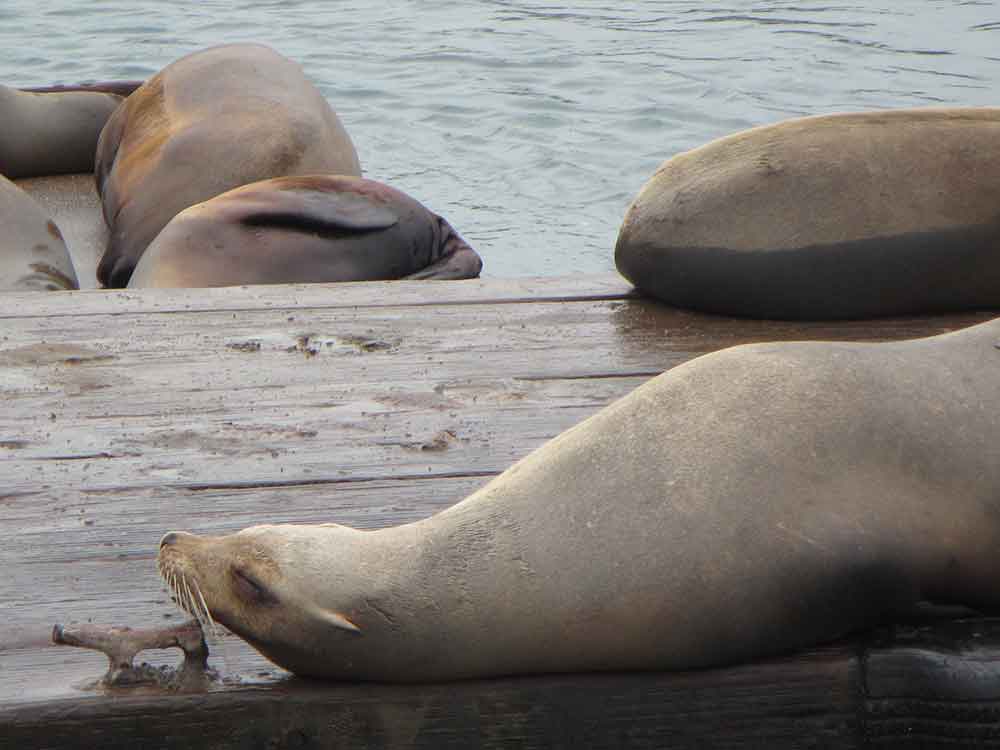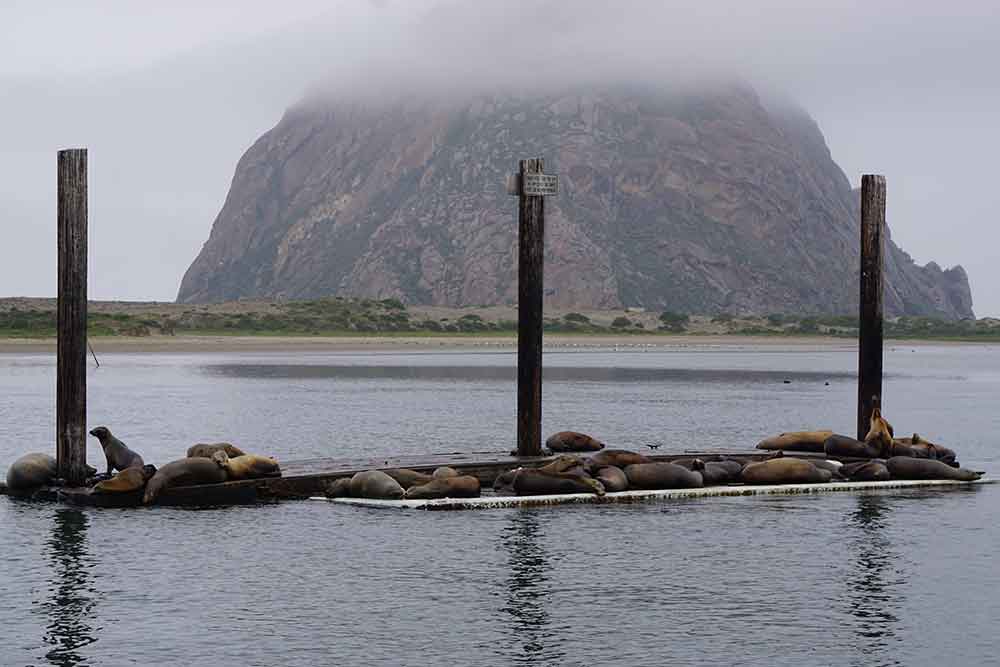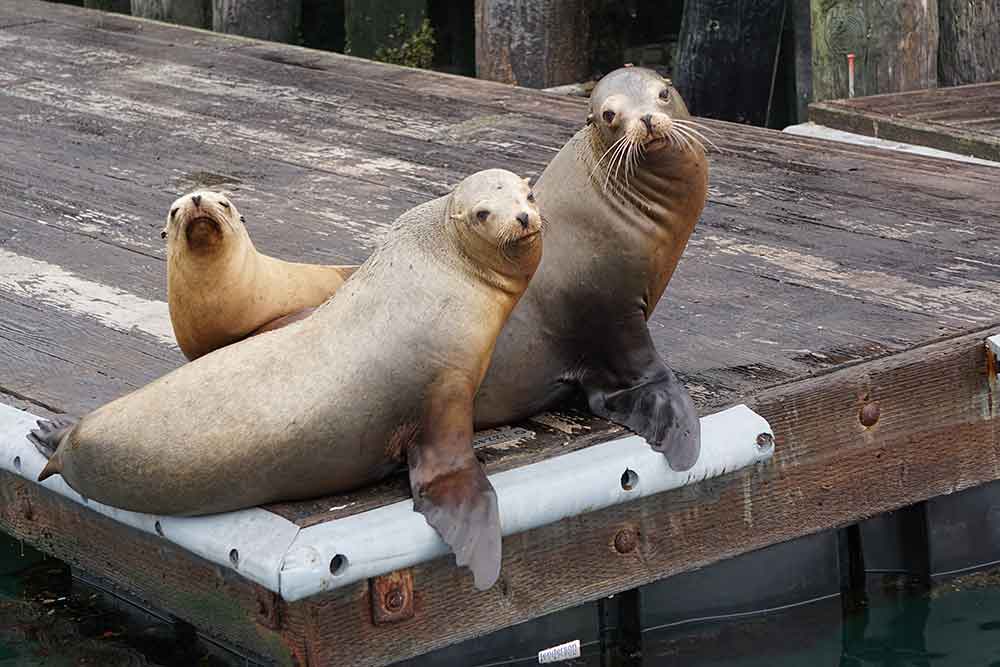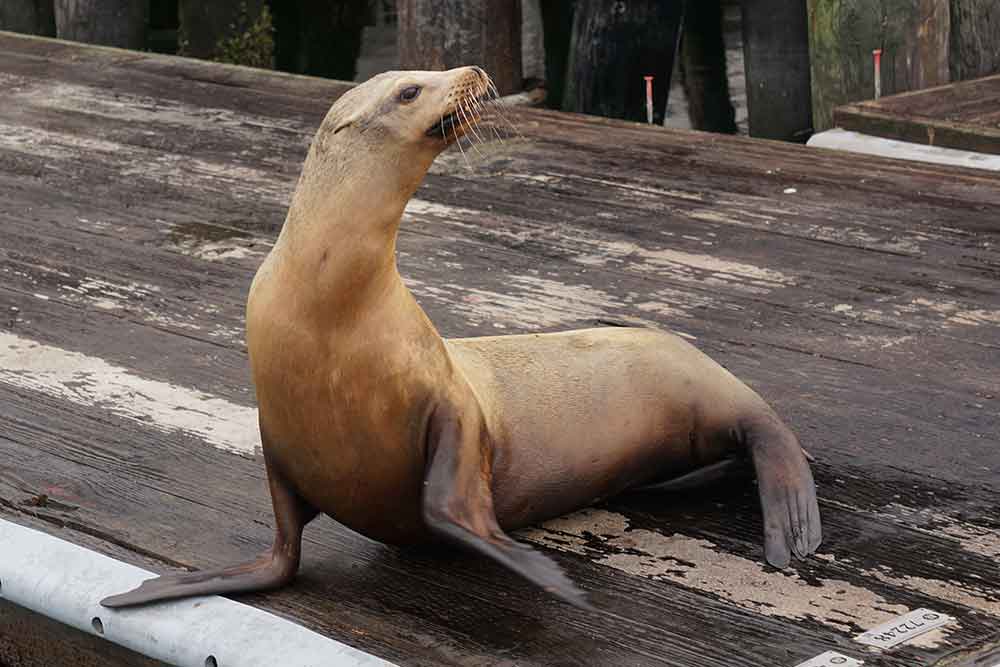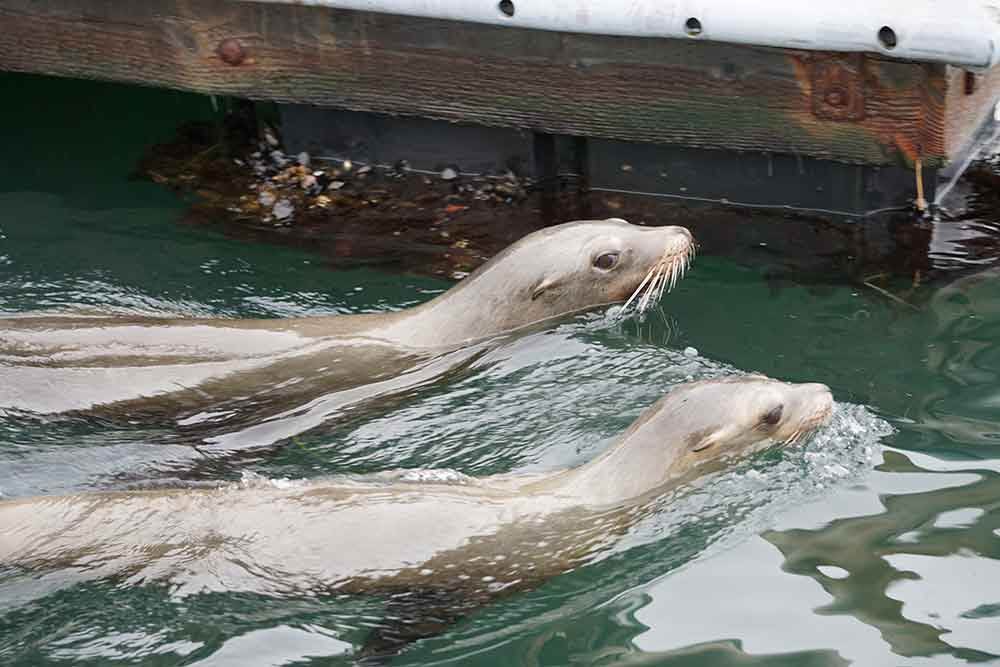 ---
The California sea otter, found from Half Moon Bay to Morro Bay is designated as threatened under the U.S. Endangered Species Act, due to past overhunting for their beautiful fur, among other reasons, including reduced range and population size, vulnerability to oil spills, and oil spill risk from coastal tanker traffic, with current population numbers estimated to be around 2,800.
In contrast, the California sea lion population numbers are near 240,000, making their status listed as of "Least Concern" due to its large and increasing population size. Even so, they are protected by the federal Marine Mammal Protection Act (MMPA), passed in 1972, which outlaws hunting, killing, capture, and harassment of the animal.
---
Sea birds also were captured as they "fished" for their dinner.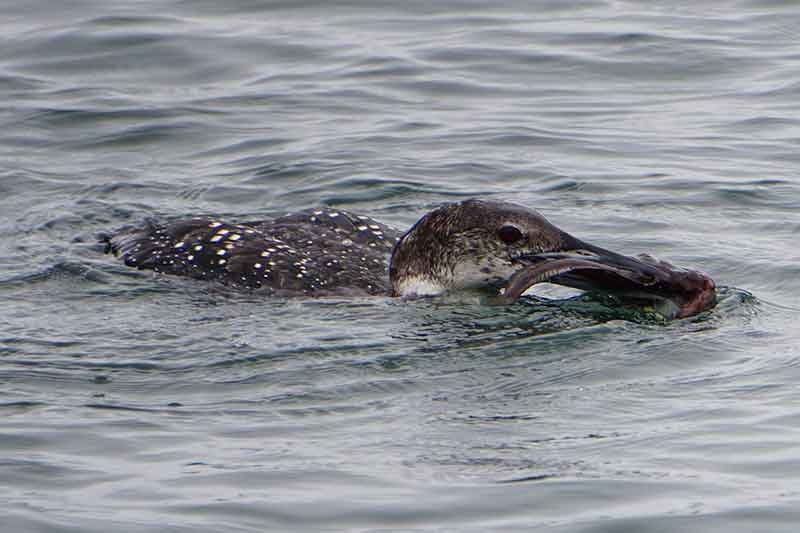 Since the SSV Seaview is Coast Guard approved as a semi-submersible vessel, we checked out the viewing room located beneath the surface, where passengers can see schools of fish and marine life from inside the boat. Food tossed over the side of the boat really brings them close, making this feature especially popular with children, according to Capt. Kevin. But big kids like us had a great time with it, too, especially when "Jaws" made a surprise visit!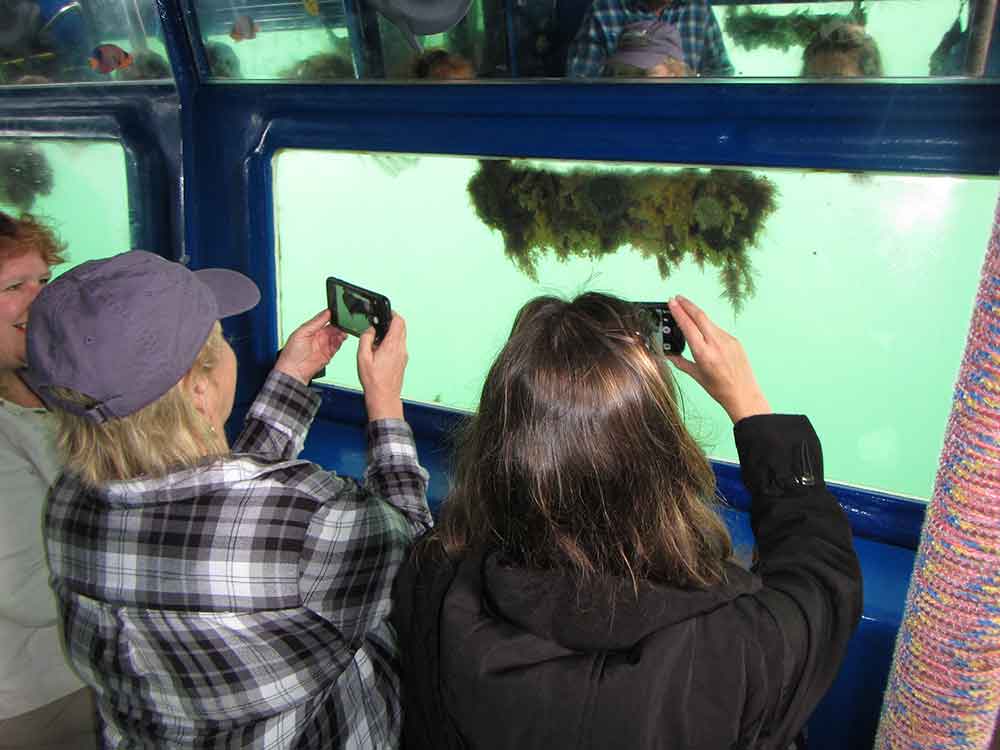 We also reveled in the views from the boat of Morro Rock, where seabirds could be seen perching and roosting. The area surrounding the base of Morro Rock can be visited and hiking trails near it are well used.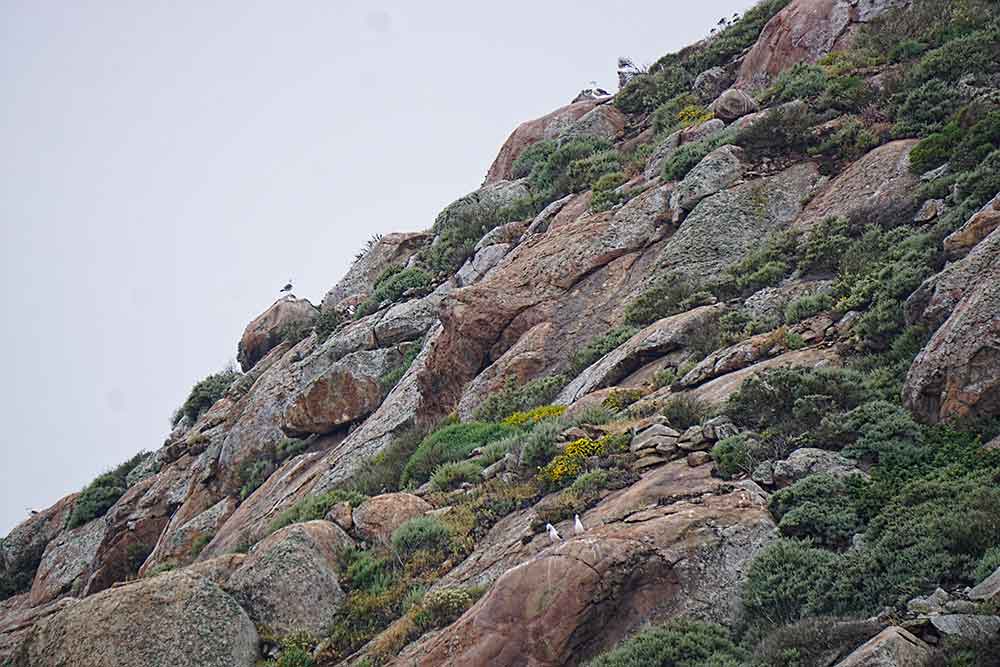 Law forbids climbing on the 581-foot high rock, protected as the Morro Rock State Preserve, and it became national news on the day we arrived. A trespassing climber, who climbed the rock to propose to his girlfriend via Facetime, then got stuck on the way down, was rescued by helicopter. You can read the story here.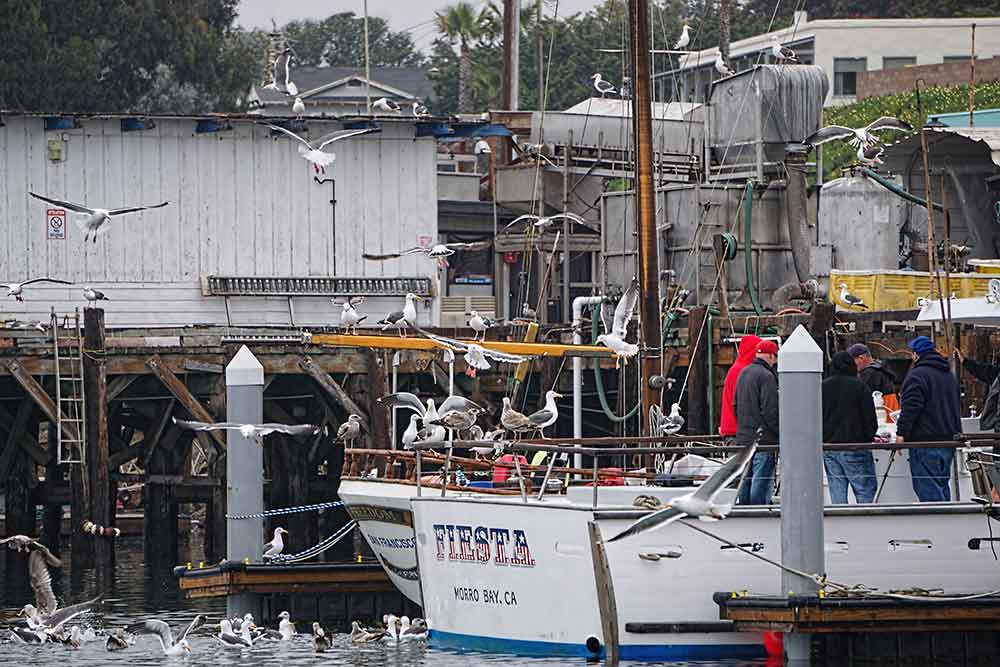 Fishermen could be seen cleaning their catch while the masts of sailboats in the distance reached toward the gray mist that kept the sun hidden for most of our time on the water.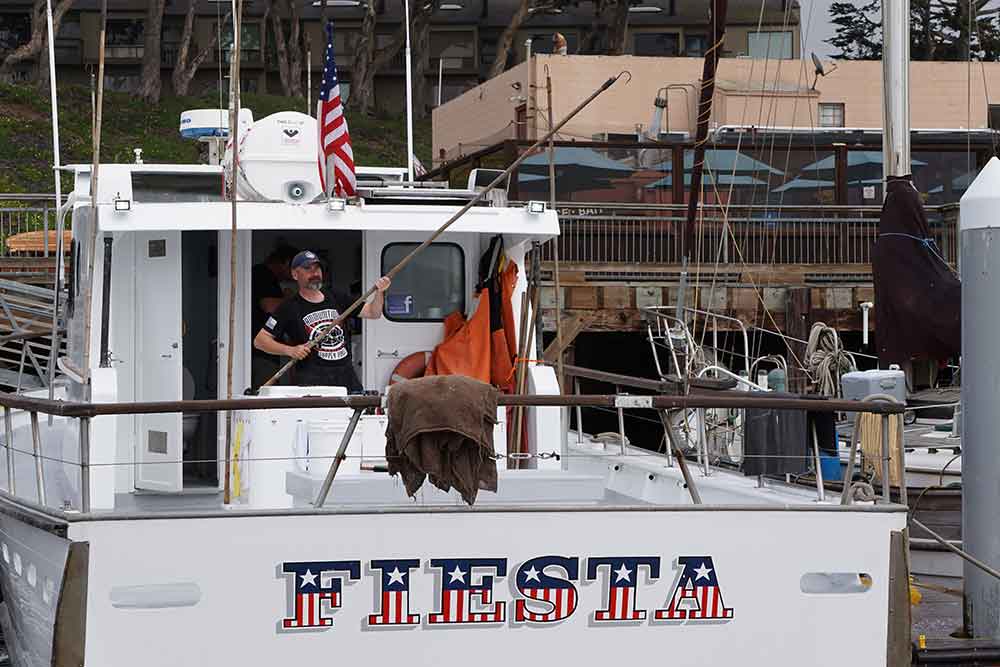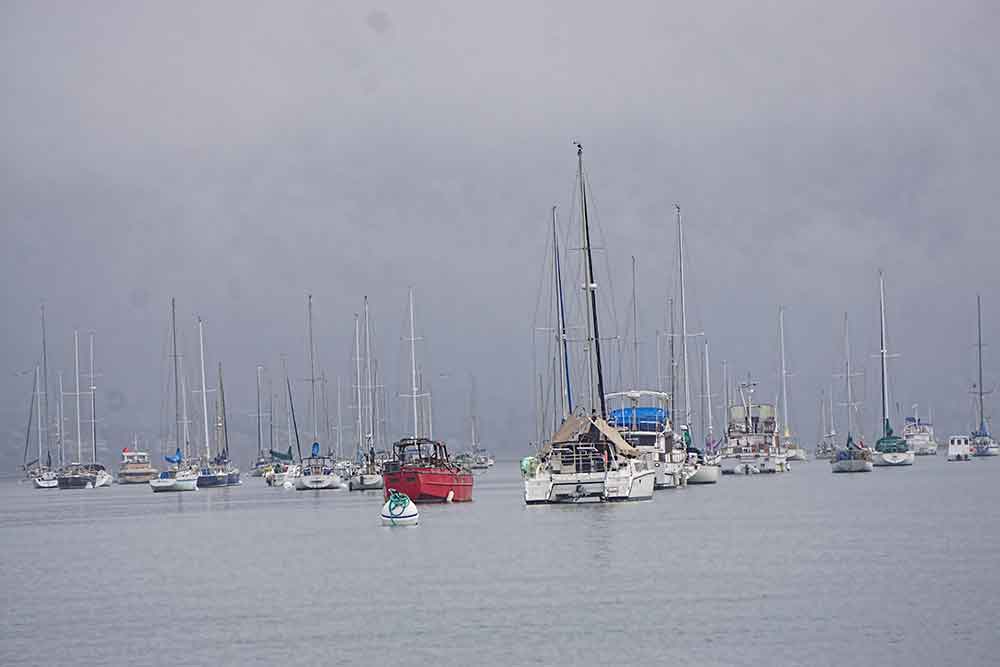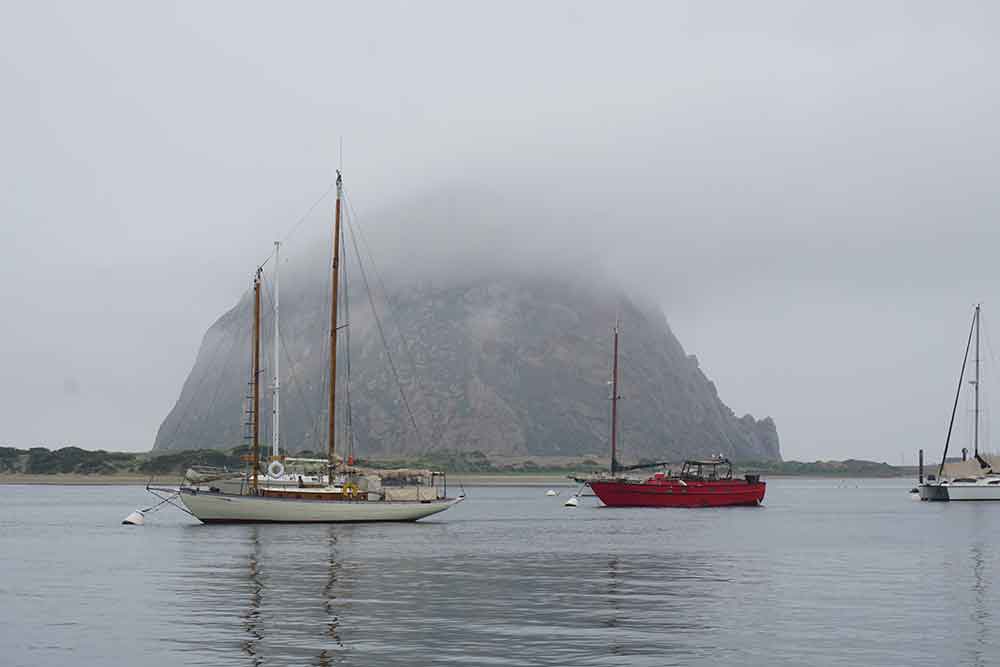 Thanks, Captain Kevin, for an afternoon to remember.

Regular prices for the Sub Sea Boat Tour is $18 for adults, $14 for seniors (65+) and Students, and $10 for children (3-12); 2 and under are free. A Spring Special was going on while we were there, reducing prices by $4.
Sub Sea Tours, located in the harbor area known as the Embarcadero fronting the bay, also offers whale-watching tours in a larger 33-ft. 22-passenger power catamaran, M/V Dos Osos, and rents canoes, kayaks and stand-up paddleboards. Private charter services and ash scattering memorial services are also offered.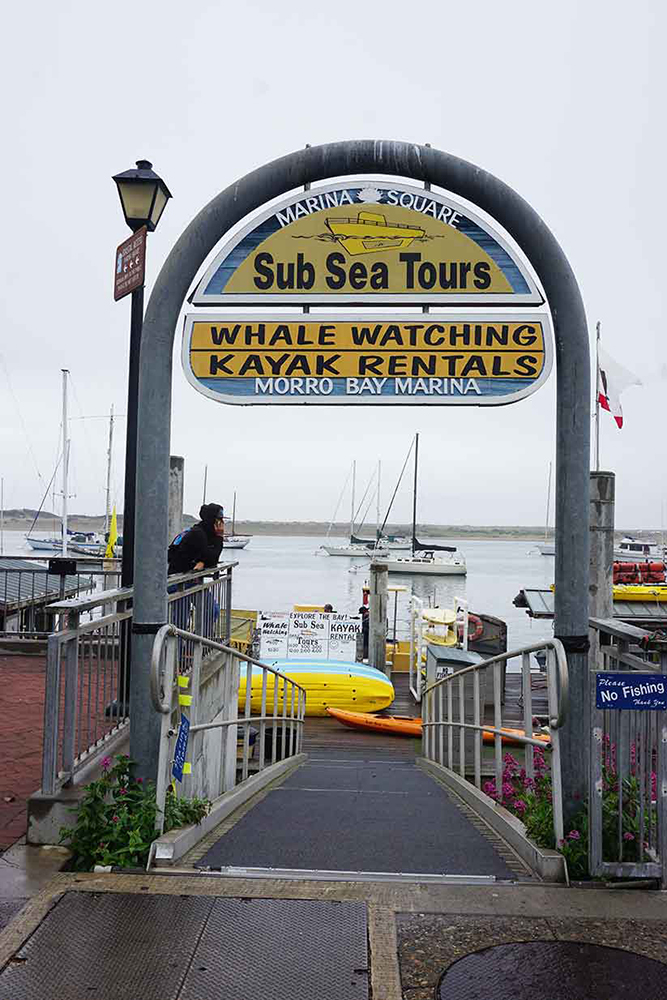 For more information, contact Captain Kevin or one of his staff at (805) 772-9463 or visit the website: subseatours.com