North Carolina's Crystal Coast: Cape Lookout National Seashore and Lighthouse
Wide beaches and wild horses await visitors to North Carolina's Cape Lookout National Seashore, covering more than 50 miles on three undeveloped barrier islands off its central shore.
Access to the national park, which is a part of the Southern Outer Banks, often referred to as the Crystal Coast, is only by commercial ferry or private boat.
Our group boarded the Island Express Ferry — the only ferry authorized by the National Park Service to drop off at Cape Lookout Lighthouse and Shackleford Banks — at the Harkers Island Visitors Center for a 15-20 minute ride. (Rates: $16 Adults/Campers (includes backpack & small carry-on) $5 additional carry-on $9 Children (11 and under) $7 Pets)
This slideshow requires JavaScript.
* Ferry service is also available from the town of Beaufort to the west end of Shackleford Banks.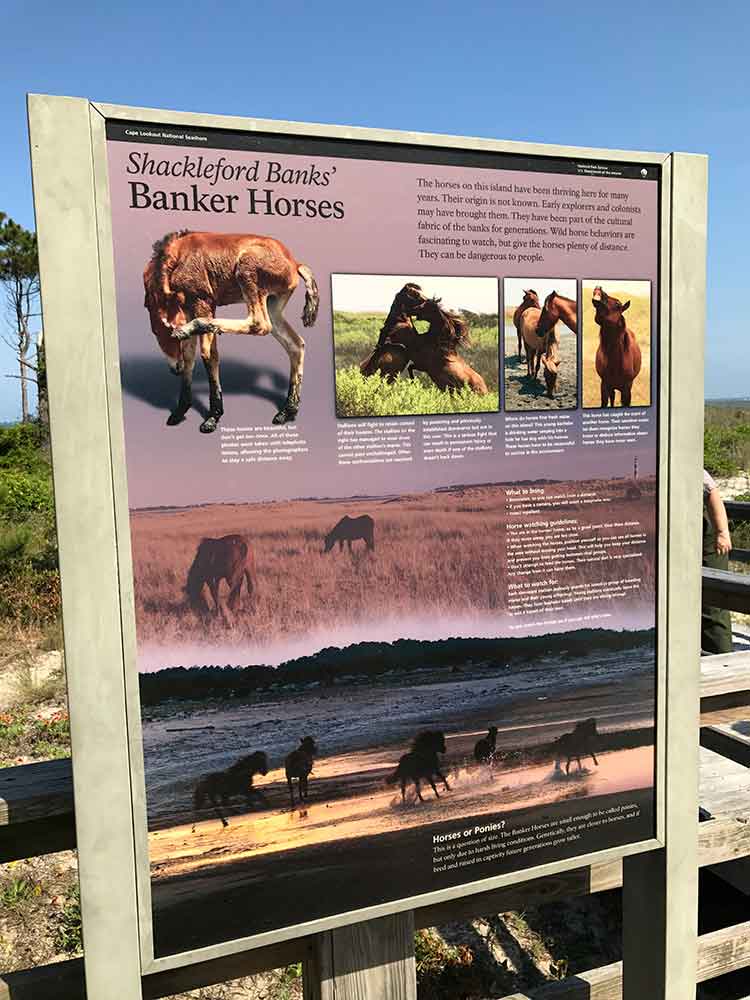 Passengers can elect to disembark at Shackleford Banks, where about 100 wild horses, called Banker horses, have roamed the barrier islands for hundreds of years. Although their origins can't be totally verified, historians believe they were brought to the area by Spanish explorers during the 16th century, as a result of shipwrecks, or by early English colonists. (Read more about their history and characteristics here.)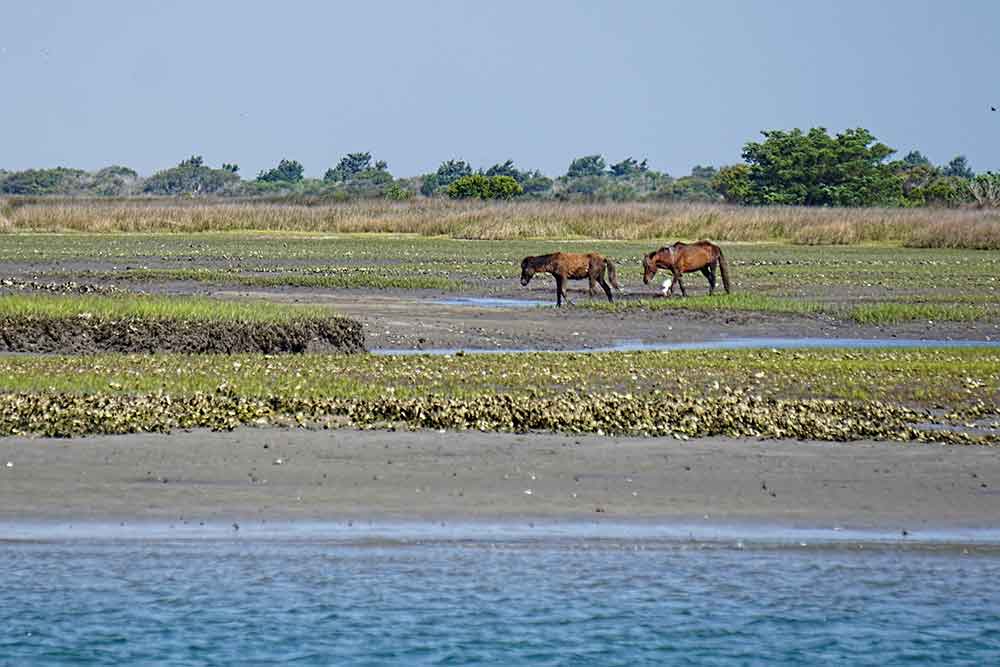 We were only able to see them from afar through our zoom lenses, but I'd love to return to spend an afternoon enjoying the beach and trying to get a closer look at the horses as they graze and interact.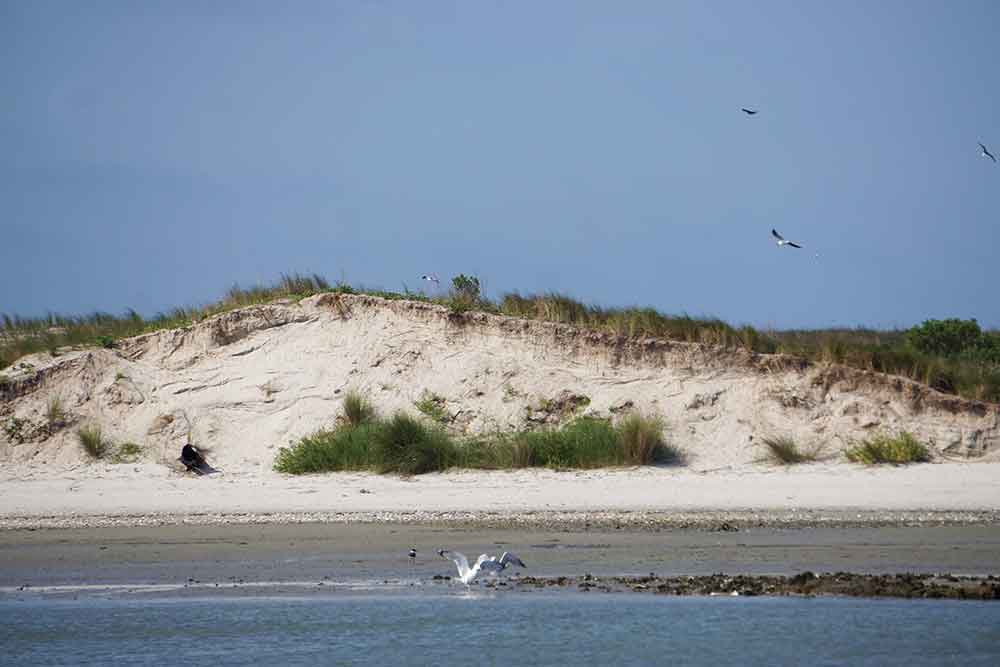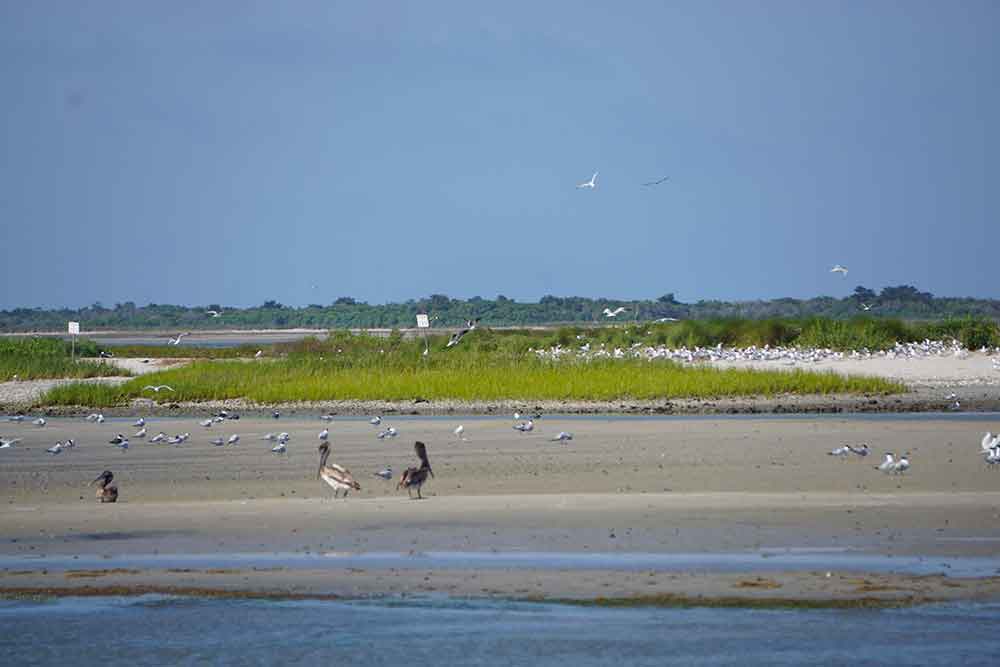 Birders will love visiting this area, too, since more than 250 species of birds have been identified within Cape Lookout National Seashore during various seasons.
Download a brochure listing Birds of Cape Lookout National Seashore here: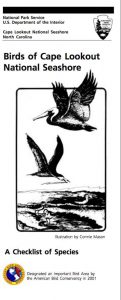 Cape Lookout Bird List Brochure PDF
Our group's point of disembarkation was at the Cape Lookout Lighthouse. It is known as the Diamond Lady for its distinctive black-and-white diamond shaped pattern. We learned from the volunteer who oriented us to the lighthouse's history that its checkered markings show direction: the center of the black diamonds point north-south, while the white diamonds point east-west.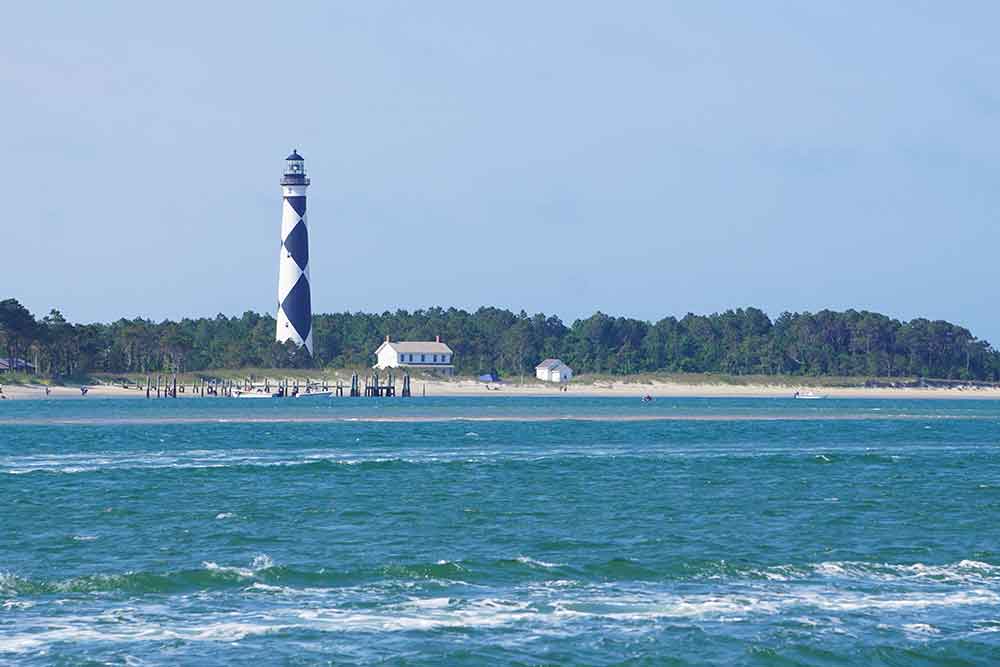 This slideshow requires JavaScript.
The Cape Lookout Lighthouse is 163 feet tall and has been in operation since 1859. It replaced an earlier, shorter lighthouse, built in 1812. Other interesting facts:
The Cape Lookout Lighthouse became fully automated in 1950 and flashes every 15 seconds.
Its light can be seen from at least 12 miles out to sea and up to 19 miles from land.
There are 207 steps to the top of the lighthouse, the equivalent of climbing a 12-story building.
We had a scheduled time (every 15 minutes) to make the climb since only 10 visitors are allowed to be on the top at one time.
Regular admission is $8.00; children are $4.00; Seniors (62 and over) are $4.00. The lighthouse is closed for climbing on Mondays and Tuesdays, but is open other days from the third week in May to the third weekend in September.
The climb is considered to be strenuous. Although I made it with no problem, I was glad there were several landings with windows and a breeze to take brief breaks on the way. The entrance to the top is through an oval-shaped hatch. We were blessed with a sunny, clear day with light winds so conditions were near-perfect to take in spectacular 360° views.
Before the ferry returned to take us back to Harkers Island, we had a little time left to make our way to the beach via a wooden walkway that begins at the Visitor's Center. Beachcombing for shells and other treasures washed to shore is one of my favorite activities, so I was in my element as I strolled along the wide expanse of sand that stretched as far as the eye could see.
I picked up a few intact shells and several broken pieces that had been smoothed by time and tide. Some quahog clam shell pieces with partial purple coloration were identified by the park ranger on duty as the type used by Native Americans to produce shell beads known as wampum, which were then fashioned into belts and pendants. White beads from the whelk shell were also used. Wampum has been called America's first money, a type of currency used to barter commodities.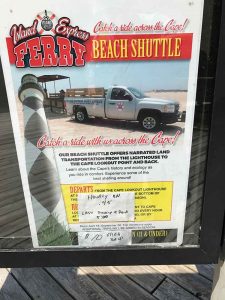 If we'd had more time, I would have loved to have caught the beach shuttle, which departs hourly from the Cape Lookout Lighthouse for transportation to the Cape Lookout Point, a well-known destination for great shelling. Narration to and from the Point provides education about the Cape's history and ecology. Visitors are allowed to collect up to two gallons of uninhabited shells per person, per day for non-commercial use. (Shuttle fee: $10/RT, age 3 and up)
Keep your eyes peeled for North Carolina's state shell, the Scotch bonnet. (This is a Scotch bonnet I found in the past but not in North Carolina.)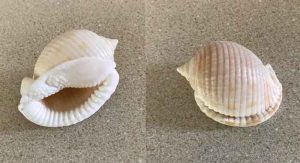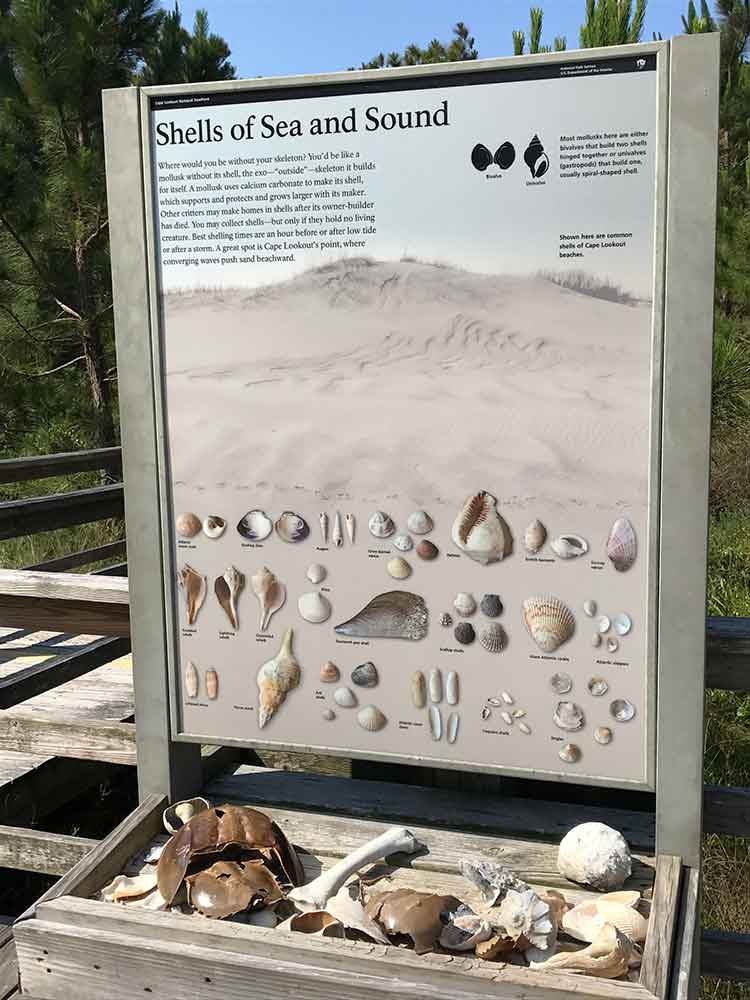 For more information on planning your visit to the Cape Lookout National Seashore, including camping on the beach or staying in one of the rustic, wooden cabins at Long Point and Great Island, visit the National Park Service website.
My recent visit to the Crystal Coast with other travel writers, following the annual conference of the North American Travel Writers Assn. (NATJA) conference in Chapel Hill, North Carolina, was sponsored by Crystal Coast North Carolina.

All photos © Debbra Dunning Brouillette
Save
Save
Save
Save
Save
Save
Save
Save
Save