Product Review: Morning Glamour Satin Pillowcases (CONTEST)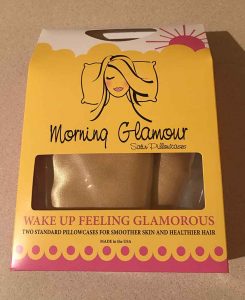 I have slept on satin pillowcases for many years, and have traveled with them for years as well. I often give them as gifts, too, to my travel-loving friends and family members. Sleeping on satin keeps my fine hair from tangling and, as a "side sleeper," it keeps me from waking up with facial creases that take hours to go away. Another benefit I've noticed is that the facial moisturizer I put on at night isn't transferred to the pillowcase, since satin pillowcases aren't absorbent like a cotton one. I am sold on sleeping on satin!
Morning Glamour sent me a two-pack of satin pillowcases to try. One difference I saw immediately is that, instead of having an open end, the pillowcase is designed with a stay-put pocket flap. I hadn't seen that before! Their pillowcases come in singles, doubles and travel sets, which come with a zip-top clear bag that you can store your pillowcase in or use as a make-up bag. The pillowcases come in several colors and patterns. Most are standard-size pillowcases but king-size is available in several colors, too.
•  100% satin charmeuse polyester
•  Fits standard pillow 20″ x 26″
•  Made in the USA
•  Free shipping on all U.S. orders
CONTEST: If you would like to WIN a Travel/Makeup Bag Set of your choice (see the choices at this link, leave a comment below about why you would like to win, and you will be entered in the contest, which ends June 1, 2017. Winner will be contacted with instructions on how to redeem your prize from Morning Glamour.
Save