Why I love islands: flora and fauna
Petunias and geraniums are about as exotic as it gets in Indiana, except for the occasional "hot house" orchid we can buy but must keep indoors so it has a chance to live.
Not so in much of the tropics. Of course, not every island has enough rainfall and terrain for tropical flowers to thrive, but even those with arid, desert-like climates (like Aruba, Bonaire and Curacao) have cactus varieties, plants and trees that are different and interesting.
Wherever I go, the flora and fauna of this world captivates me, both above and below the seas that surround islands and tropical coastal areas. I love traveling to tropical destinations, where tropical flowers of many colors and types grow in abundance without much effort.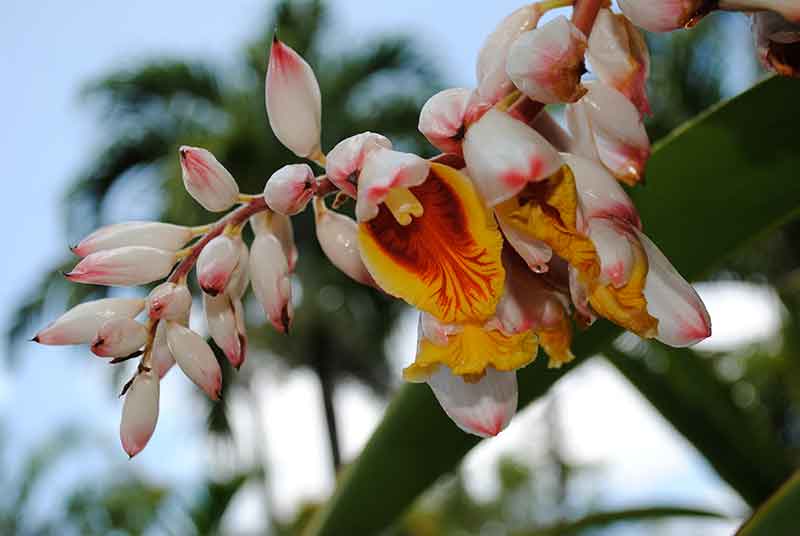 Islands of volcanic origin with rainforest areas are best for viewing tropical flowers and plants. I visited my first botanical gardens outside the U.S. on St. Lucia, and have since visited botanical gardens on other islands that have them: Martinique's Balata Gardens; Kauai's Allerton Gardens; Dominica's Papillote Tropical Gardens; the small but lovely Hijuela del Botánico, in La Orotava, Tenerife, Canary Islands; and the beautiful grounds of Romney Manor on St. Kitts, where the Caribelle Batik Factory is located.
Many resorts filled with carefully planned and cultivated tropical plantings, as well as small plantation inns, like those on Nevis, West Indies, are like walking through botanical gardens without being officially labeled as such. I'll always remember visiting Golden Rock Plantation on an early January trip to Nevis, when large poinsettia bushes (not just the small plants we're used to seeing at Christmas-time) were in full bloom — quite a novelty to my Midwestern eyes.
When it comes to fauna or animal life, tropical destinations have species unique to the region, as well as many species that are also found in waters off the U.S. coasts. As a scuba diver, I've had unforgettable encounters with sea life that I'll be sharing in future posts, like the time I swam next to JoJo, the wild dolphin who still inhabits the waters off Providenciales, Turks & Caicos, or the time I acquired a huge Stingray hickey while preparing to feed them pieces of squid at Stingray City in Grand Cayman! Coming soon…
To see a land mammal, reptile, or even an insect that is either unfamiliar to me, or that I've not previously seen in the wild, is always a thrill. So is being able to interact or have an experience involving animals, such as witnessing a giant leatherback turtle come ashore in Trinidad to lay her eggs in a sandy nest before returning to the sea.
Several examples include the agouti, a large rodent I've sighted in Trinidad and Dominica; a manicou (member of the possom family) in the Grenadines, the mongooses that roam the grounds of St. John's Caneel Bay Resort; the green vervet monkeys I look forward to seeing on visits to St. Kitts and Nevis, and the Antiguan Racer snake, endangered and harmless to humans, found only on Great Bird Island, off the coast of Antigua. I fall asleep to the sound of tiny tree frogs on islands they inhabit and I'm now almost as used to seeing iguanas outside my hotel room or in the palm tree next to my beach chair as seeing squirrels in my yard at home. And I love it!
My 2012 trip to the Galapagos Islands, located 600 miles off the coast of Ecuador, where there are more endemic species than practically anywhere else in the world, tops them all when it comes to animal life. To be able to walk among blue-footed booby birds and waved albatrosses doing their mating dances, to witness a newborn sea lion nursing its mother, to see colorful Sally Lightfoot crabs scuttling across black volcanic rocks, and to see giant land tortoises in their natural habitat, were the most special and unforgettable animal encounters of my life. (Click here to go directly to the Galapagos Island page.)