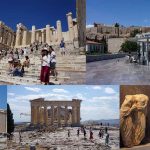 Debbra : November 2, 2016 12:37 am :
Blog
,
Europe
,
Greece
,
Greek Isles
,
History and Culture
,
Home news
,
Homepage
,
slider
,
Uncategorized
,
Windstar - Greek Isles
Thinking of booking a cruise of the Greek Isles that leaves from Athens? If so, you should plan to arrive a day before the ship departs from Piraeus port for a couple of reasons. Most importantly, you don't want to miss the ship, due to unforeseen circumstances, like a flight delay or cancellation. And you don't want to miss experiencing the high points of this amazing ancient city.
more »