Bird-lovers flock to Sanibel's J.N. "Ding" Darling National Wildlife Refuge
While Sanibel Island, Florida, is perhaps best known for its world-class shelling, it is also the location of the J.N. "Ding" Darling National Wildlife Refuge Complex — the largest undeveloped mangrove ecosystem in the U.S.  Covering over 6,400 acres, it attracts over 245 bird species and is famous worldwide for its spectacular migratory bird populations. It is known as one of the top 10 birding spots in the United States.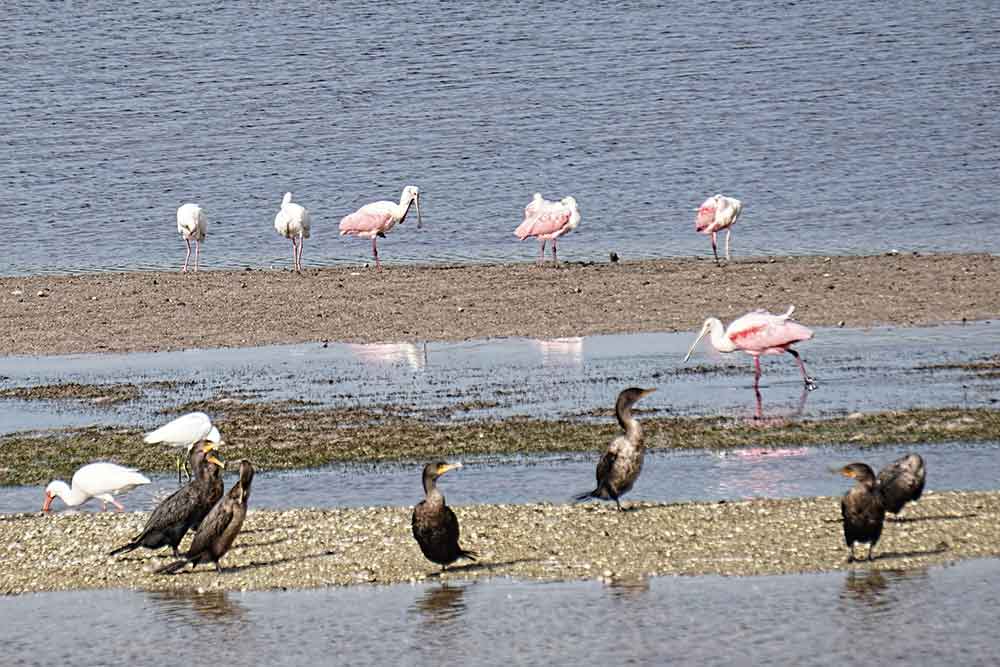 Download a Bird Checklist here.
In addition to birds, other wildlife may be encountered including alligators, raccoons, gopher tortoises, marsh rabbits, and occasionally otters and bobcats. (I actually caught a glimpse of a bobcat just off the highway on our way into Sanibel!)
Plan Your Visit
You will want to start your visit by arriving at the Visitor and Education Center, located on Sanibel-Captiva Road two miles west of Tarpon Bay Road. It's free and is open daily except for most federal holidays. The Center hours are January to April from 9:00 a.m. to 5:00 p.m. and May to December from 9:00 a.m. to 4:00 p.m. Check out the interactive exhibits and information on Jay Norwood "Ding" Darling, for whom the Refuge is named, along with a hands-on area for children.licans, tram tour,
Tram Tour
We booked a naturalist-guided tram tour ($13 adult, $8 child) for an hour-and-a-half tour through the refuge. The tram meanders down the four mile long Wildlife Drive, slowing down in places to view migratory bird species including roseate spoonbills, white ibis, blue herons, egrets, pelicans, and others feeding on the tidal mudflats.
On Your Own
If you prefer to explore the refuge by driving, walking or biking down Wildlife Drive, you can do so for $5 per vehicle, $1 per pedestrian or bicycle.  Closed every Friday and open all holidays unless it falls on a Friday.
See opening/closing times here.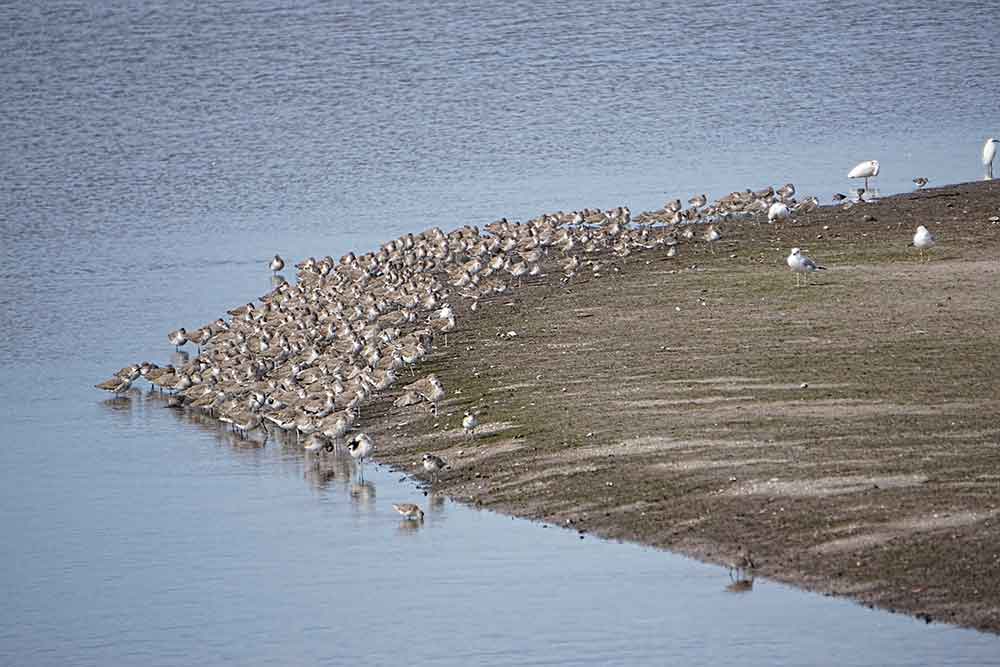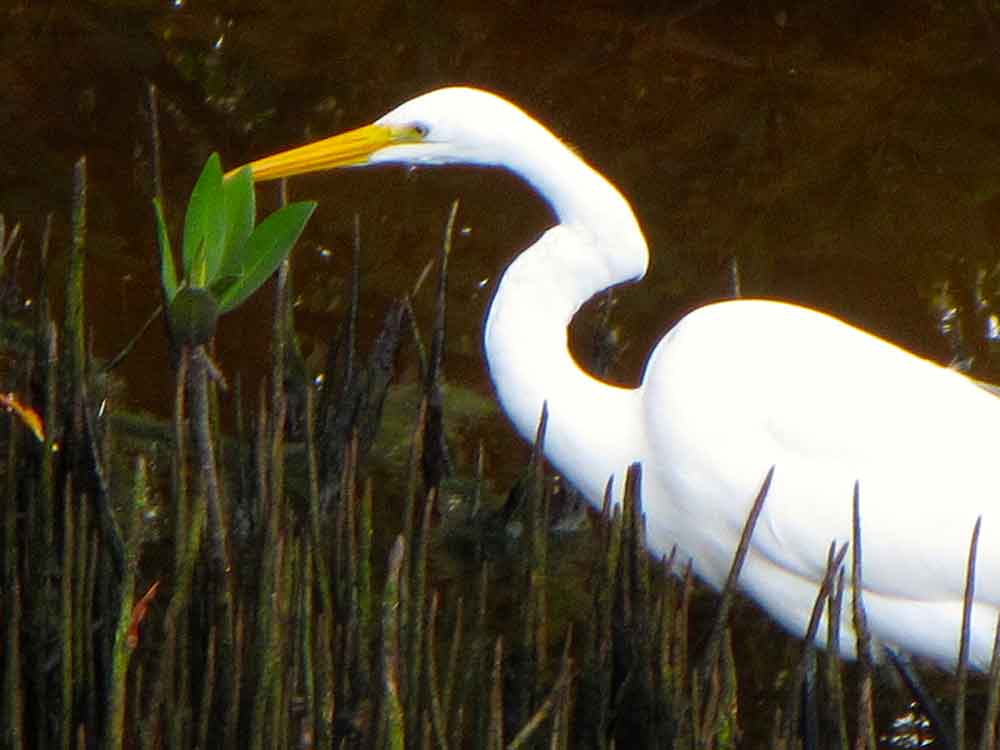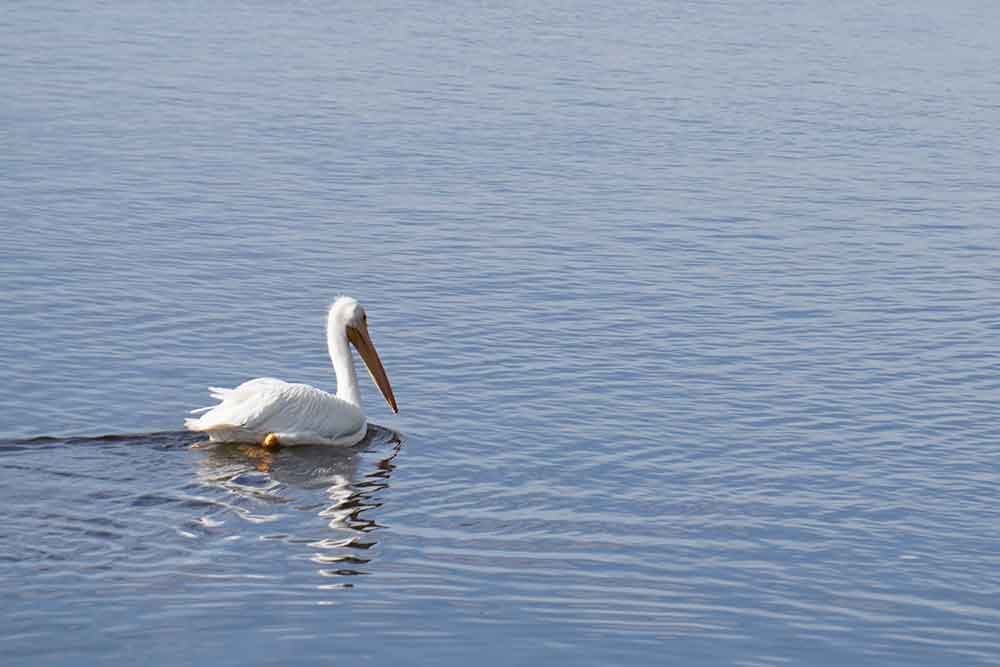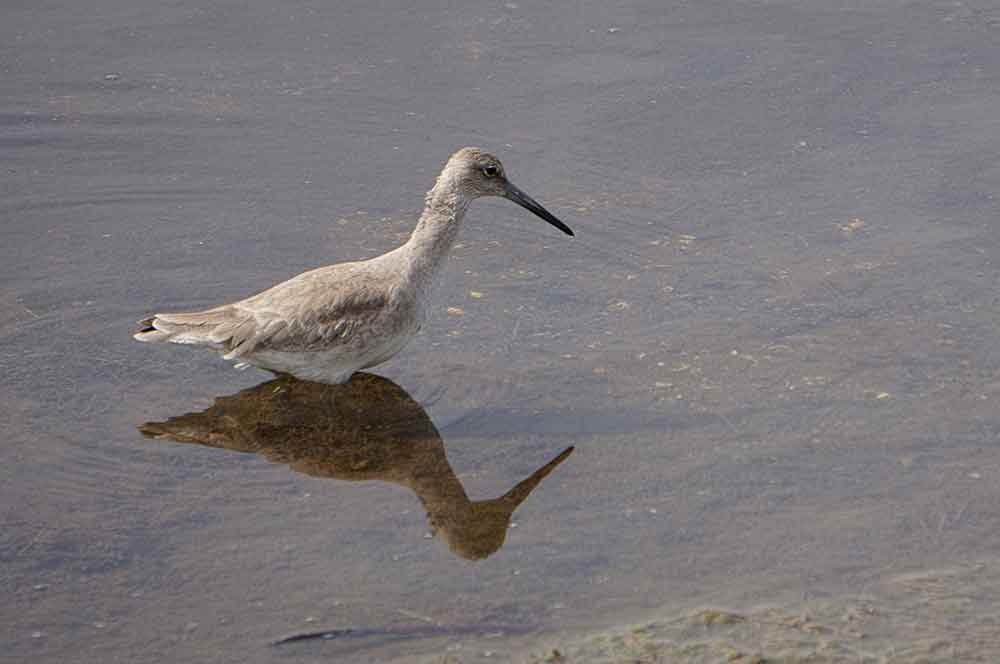 On Alligator Curve, we got a close-up look at two alligators.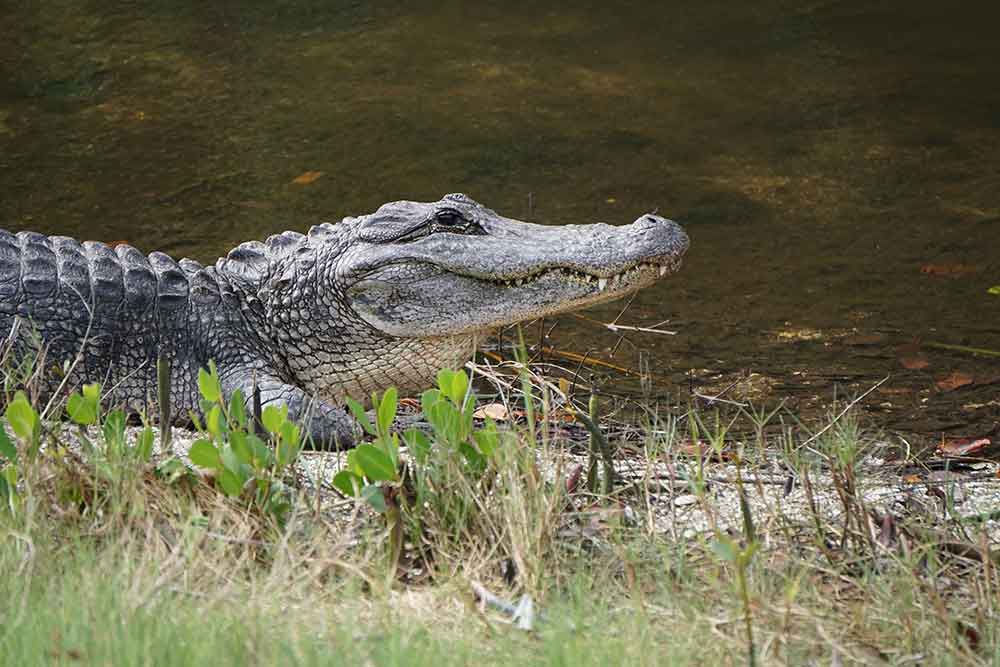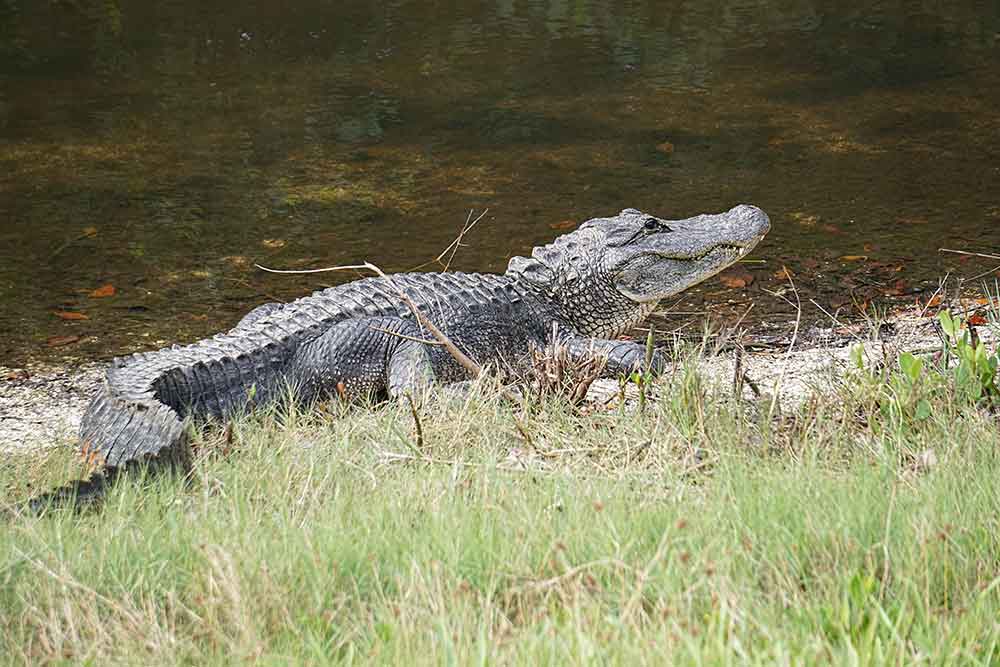 The Refuge was created in 1945 after President Harry S. Truman signed an Executive Order blocking the sale of environmentally valuable land to developers on Sanibel Island. In 1967, it was named for Jay Norwood "Ding" Darling, a political cartoonist and conservationist who was instrumental in the effort to keep the land from being developed.
Download the Discover Ding Game App
Before you arrive to the Refuge, you may wish to download the free Discover Ding Game App. A nature trivia game will activate once you are on the Wildlife Drive. Available for iPhone and Android. Search "Discover Nature Apps" in your app store, then load "Discover Ding."
Tarpon Bay Explorers Nature & Sea Life Cruises
The following evening, we booked one of Tarpon Bay Explorers Nature & Sea Life Cruises to watch hundreds of birds come in to roost for the night. (In addition to the Nature & Sea Life cruises, Tarpon Bay Explorers offers guided kayak and canoe tours, guided fishing excursions and rentals of everything from kayaks and canoes to pontoon boats and stand-up paddleboards.)
Before boarding the cruise, we got to know some of Sanibel's marine life during a naturalist-led interactive presentation at Tarpon Bay's touch tank and aquarium display.
Our Evening Cruise ($30 adult, $18 child) was timed to be on the water in time to witness a magnificent sunset as we motored through the Rookery Islands.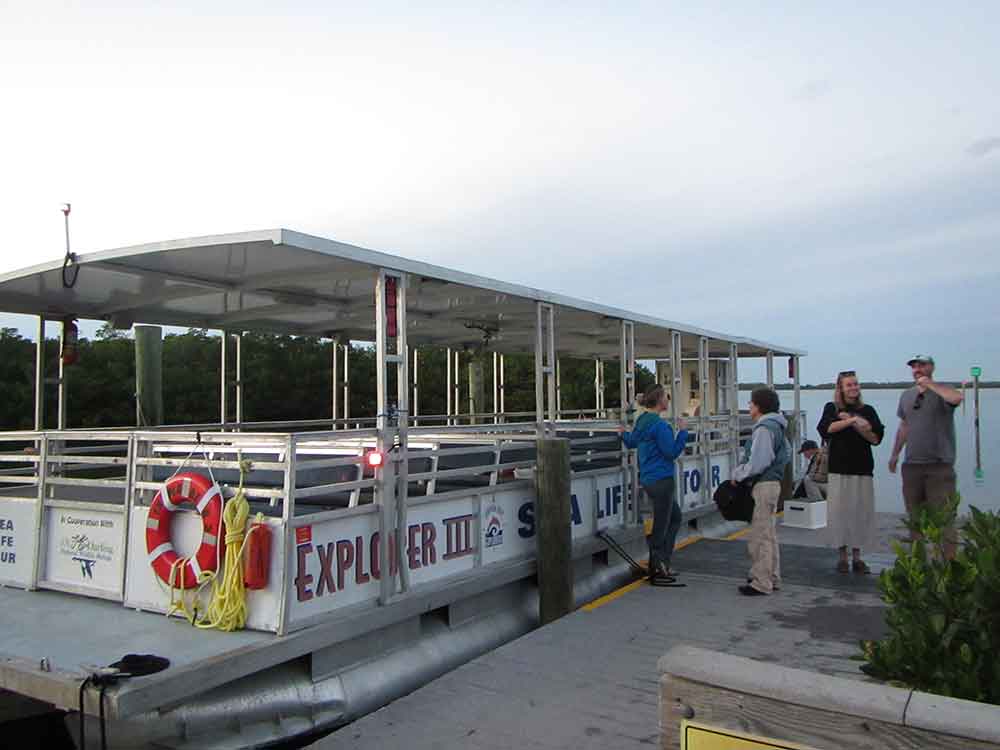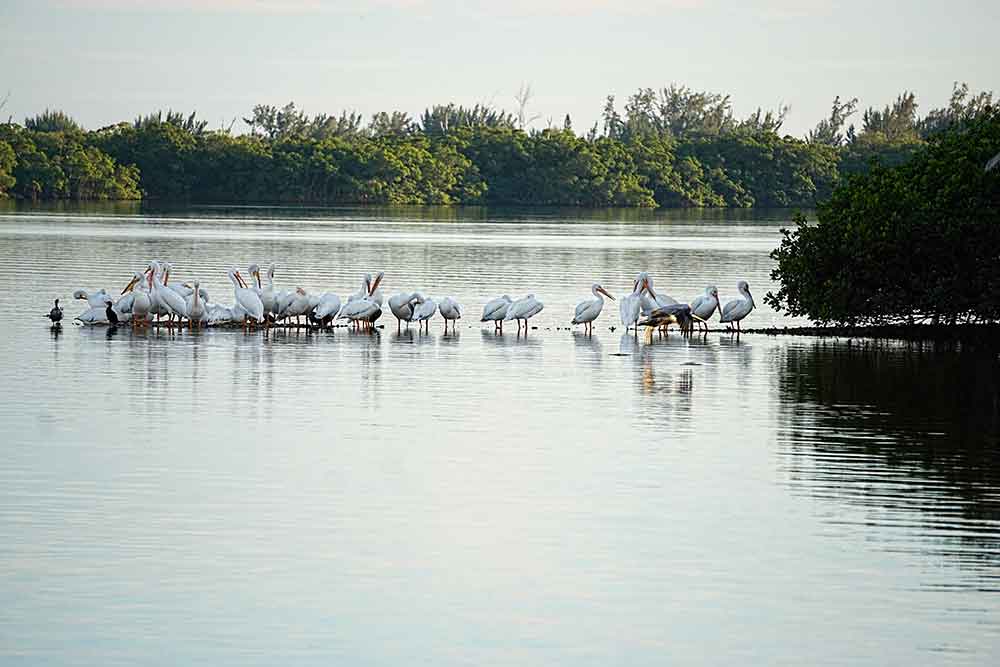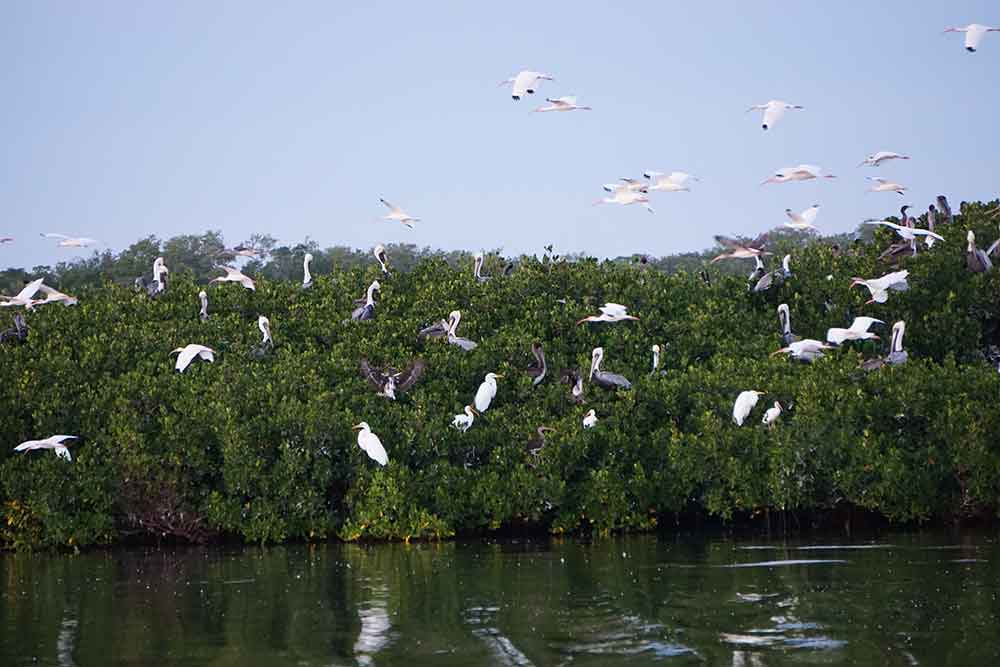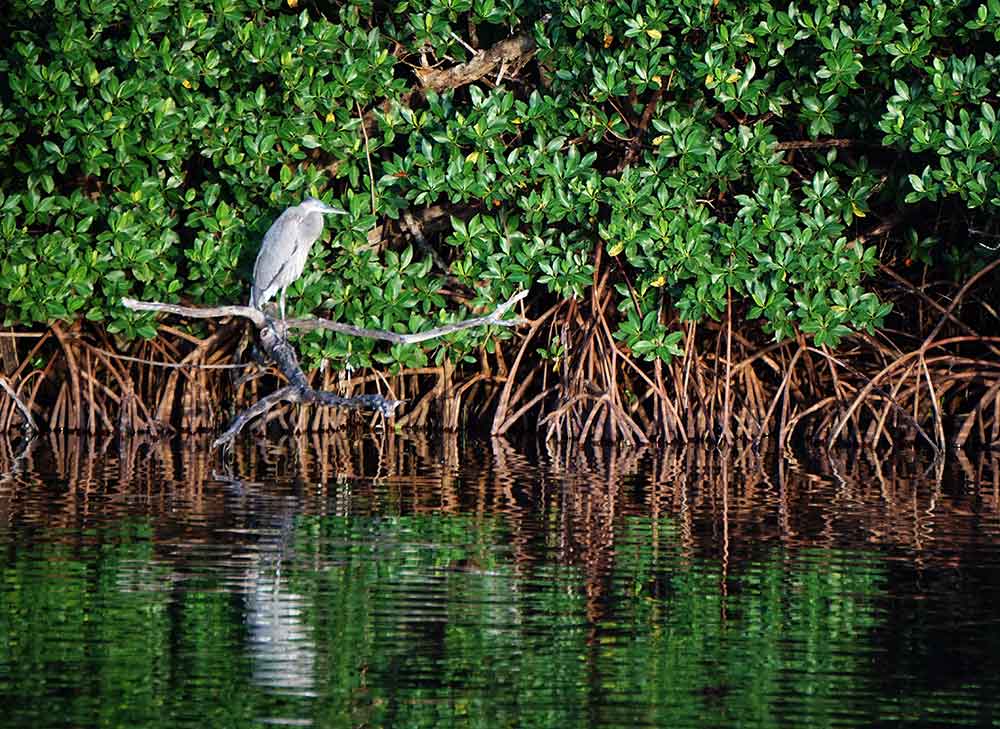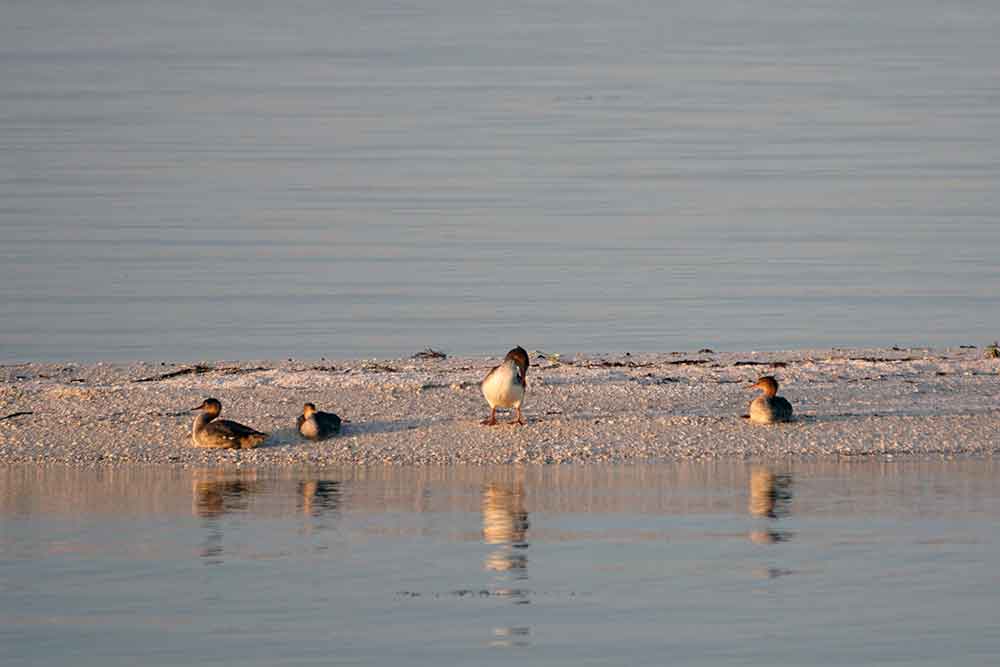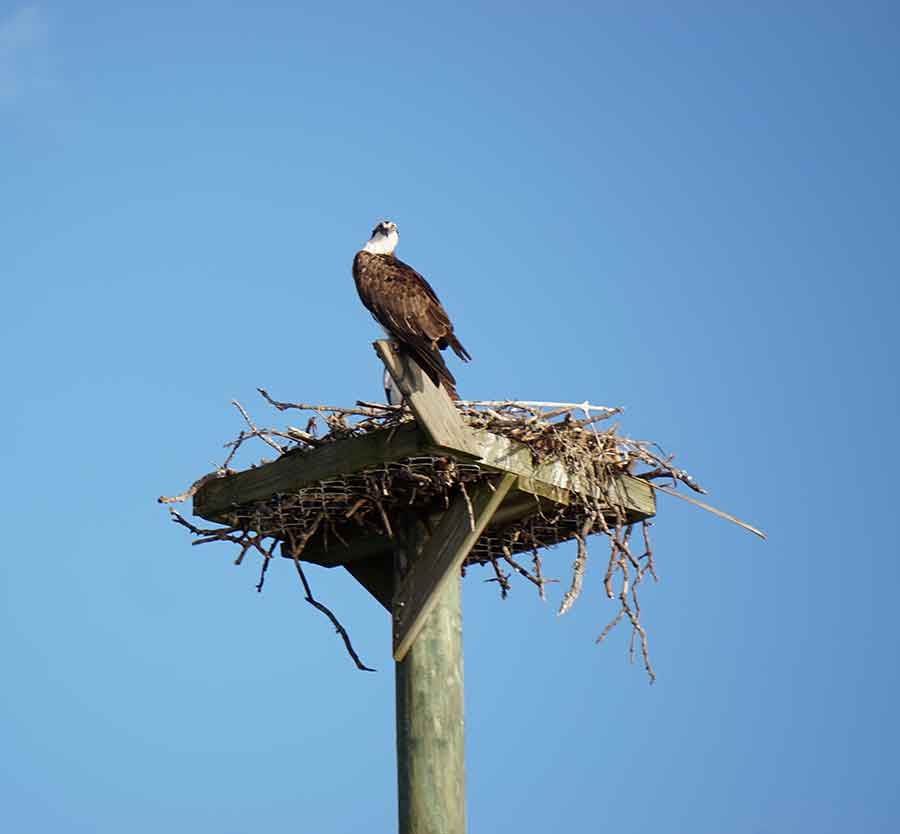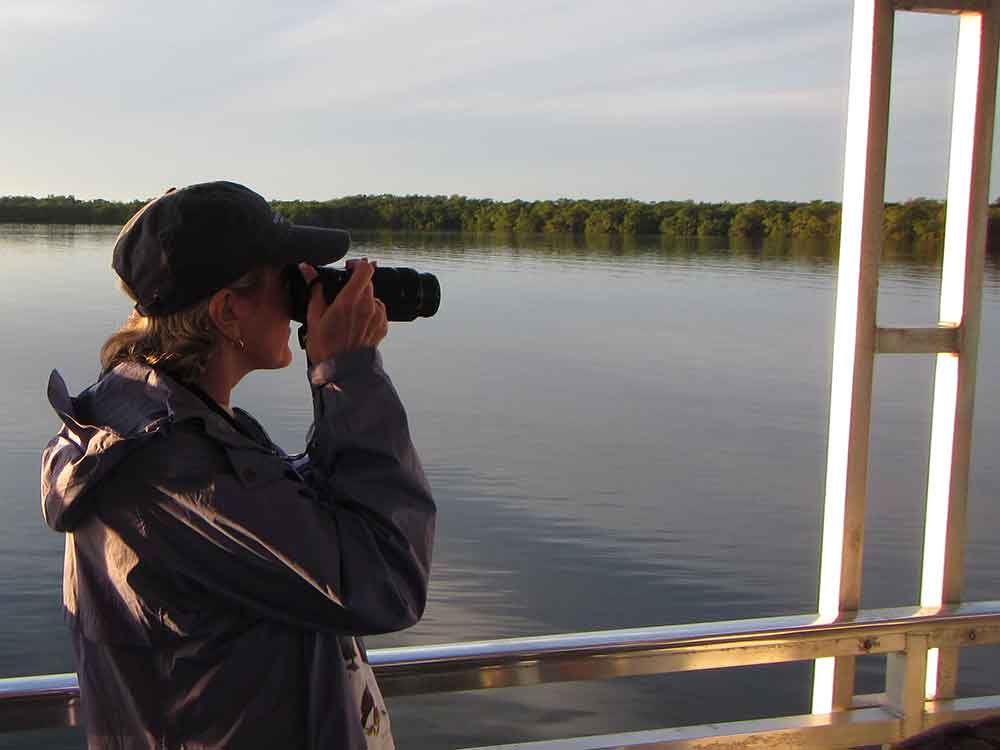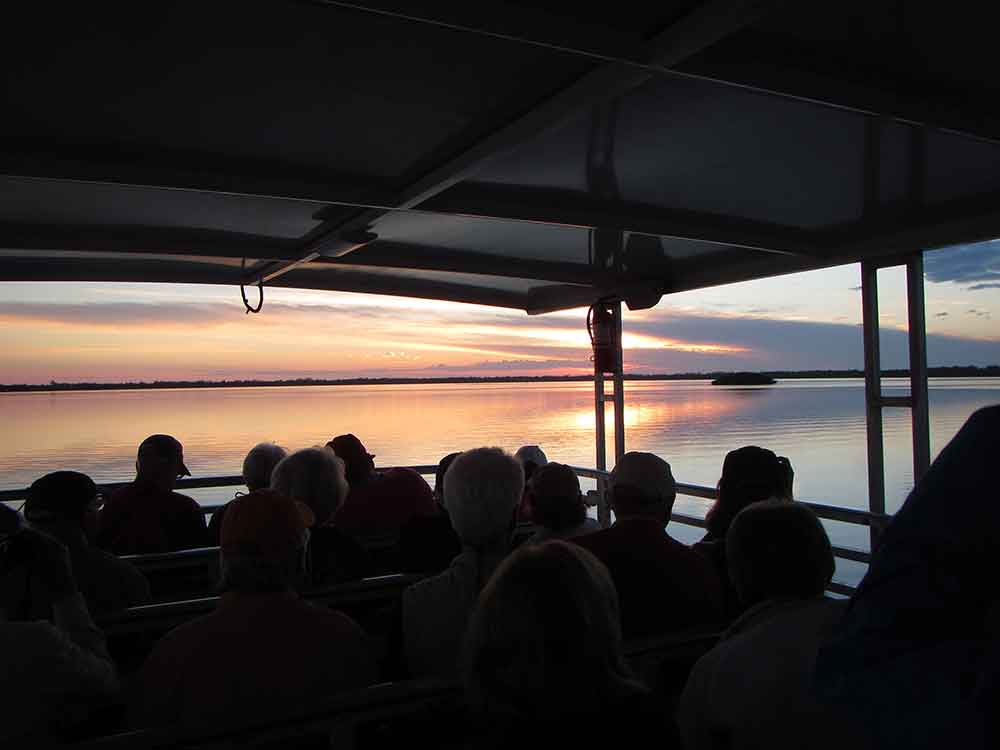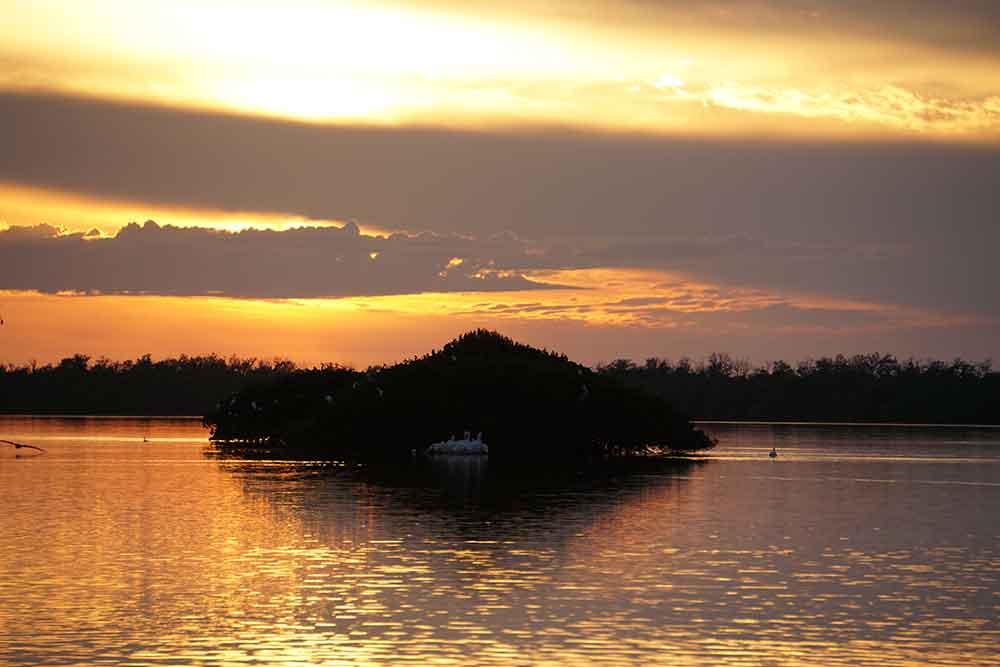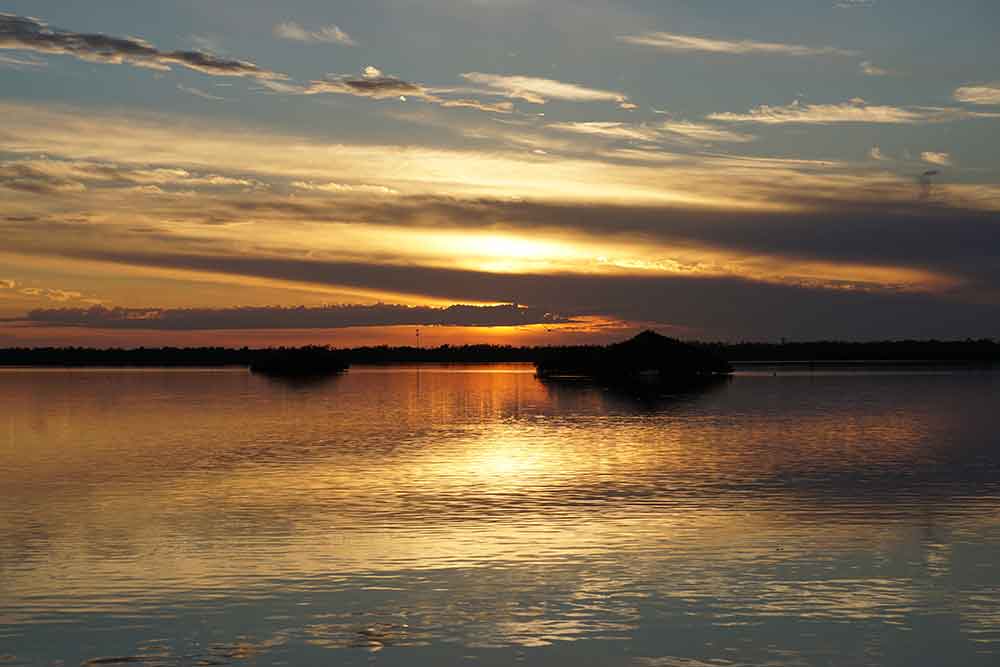 We also saw manatees and dolphins surface at a distance as we cruised through this peaceful setting at sunset.