Serendipity in Santorini: A Day to Remember
Serendipity: the occurrence and development of events by chance in a happy or beneficial way.
What were the chances… "You're going to Santorini when?" My husband and I had booked our Windstar cruise of the Greek Isles and two weeks before we were to leave, I found out that a couple from my hometown — very good friends that I'd known most of my life — were going to be staying on Santorini the same week we would be visiting from our ship.
To be rendezvousing on a tiny Greek island thousands of miles away from our Indiana homes in different parts of the state seemed incredulous, a totally unplanned and serendipitous event, and one we needed to make the most of.
I'd planned to book a shore excursion from the ship of this most recognizable of all the Greek islands but since our friends couldn't join us on a Windstar-sponsored tour, I began searching for a private tour that we could go on together. TripAdvisor pointed me to Private Santorini Tours and I was immediately intrigued by the Grand Circle Tour described on the company's website, although we ended up with a customized tour that also incorporated a one-hour photo shoot.
My husband, Stephen, and I left our cruise ship, Windstar's Star Pride, after breakfast on the first tender boat and took a three-minute tram ride from the shore to the top, arriving in the main town of Fira.
After meeting Angelo, our driver, we met up with our friends, Linda and Marc, who were staying on the island at Suites of the Gods, and then were on our way.
We stopped several times for photo opportunities before arriving in the picturesque and most often photographed town of Oia to meet the photographer, Kristo, owner of StudioKristo.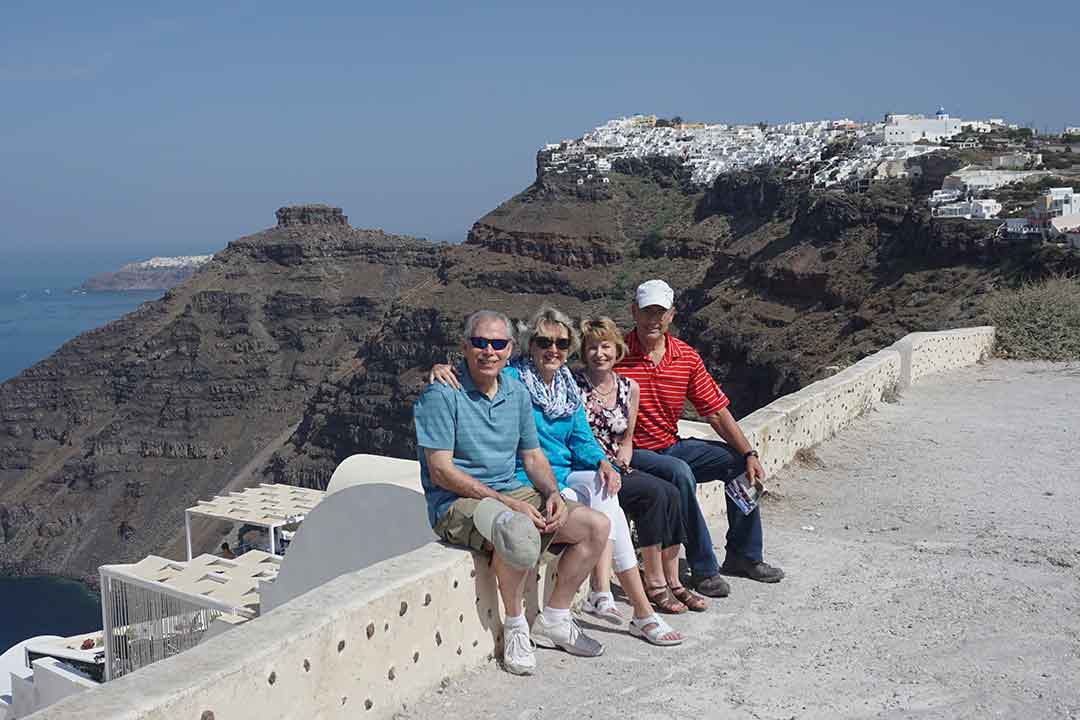 The blue-domed churches and white-washed buildings built into the cliffs provided the perfect backdrops for our photos in Oia (pronounced "EE-ah").
SLIDESHOW OF OUR PHOTO SHOOT – Take a moment to watch!
This slideshow requires JavaScript.
Next, we traveled through the countryside to reach Santorini's highest point, over 1800 feet, the site of the Profitis Ilias Monastery, dedicated to the prophet Elijah, which dates back to 1711.
Our lunch stop was at Forty One Restaurant and Bar, formerly the site of a tomato factory, overlooking the black sand beach.
After our driver delivered us back to the town of Fira, where we began our tour of the island a little over five hours earlier, we spent time strolling through the streets, stopping here and there along the way to do some shopping before finding the perfect small taverna to enjoy an early dinner and toast to the special day we had been able to experience together.
Although we wished we could stay to watch the sun set over the caldera, we reluctantly said our goodbyes and took the tram back down to the shore where Windstar's tender boat was waiting to return us to our ship in time to set sail for our next port of call.
Also on the blog: Ah, Athens! Must-see sites: Acropolis and Acropolis Museum
Save
Save
Save
Save
Save
Save
Save
Save
Save
Save
Save
Save
Save
Save
Save
Save
Save
Save