Visiting Graceland and Elvis Presley's Memphis™ entertainment complex
---
It had been 15 years since I entered the gates of Graceland in Memphis, Tennessee. This year, 2017, the 40th anniversary of Elvis Presley's passing on August 16, 1977, the timing was right to return.
It was my fifth time to visit Graceland and other sights in the southern city that has become synonymous with the King of Rock & Roll. Three times I'd visited during Elvis Week, the annual observance held each August. Thousands of fans come from around the world to attend special events throughout the week, including concerts, fan club gatherings, and special appearances, including the Candlelight Vigil the evening of August 15th.
I'll never forget the one time I was able to be among the throng of fans who patiently wait their turn to pass through the famed gates of Graceland, walk up the driveway to the Meditation Garden with candle in hand, passing by the graves, and then make their way back out to the street as Elvis music plays in the background. I still stay in touch with Heather, an Elvis fan from England, who was among the international visitors who traveled a long way to pay their respects to the King of Rock 'n Roll that year… 1998!
---
Elvis Week 2017 – August 11-19. 2017
This year's Elvis Week marks the 40th anniversary since Elvis' passing. Over 75,000 fans from around the world attended the 35th anniversary in 2012 and this year's attendance is expected to be the biggest ever. Click here for a schedule: Elvis Week 2017 events
---
In contrast, my husband was a first-timer. Stephen, who wasn't much of an Elvis fan in his earlier years, nonetheless has the distinction of being at his last concert, on June 26, 1977, at Market Square Arena in Indianapolis.
My relationship with Elvis goes back a long way… I still have several 45rpm records, including "That's All Right," "Blue Suede Shoes" and "Tutti Frutti," that my Mom says I played over and over and danced to when I was a little girl.
Elvis and I "broke up" for a while during my teen years, when the Beatles and others who were a part of the British Invasion wooed me away from my first love, but I never totally got over him. I watched his movies, bought some of his records, and renewed my infatuation when I watched the '68 Comeback Special and saw Elvis in that black leather suit, and later watched 1973's "Elvis Presley – Aloha from Hawaii" concert special, the first program to ever be beamed around the world by satellite.
He played a concert in Evansville, Indiana, near my hometown, in 1972, when I was living and working in Panama City Beach, Florida, the summer between my junior and senior year of college. I was heartbroken I had to miss it, but I was given a second chance when he returned in 1976. I still have the ticket stubs.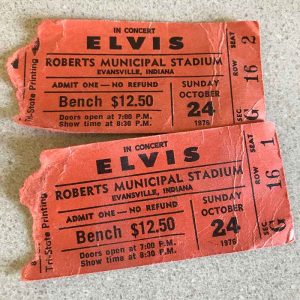 October 24, 1976, Roberts Stadium, Evansville, Indiana, Bench Seats, $12.50.
I never dreamed that less than 10 months later, on August 16, 1977 (the day after my birthday), he would be gone, his amazing voice and presence silenced forever.
I remember well the moment I heard the news on TV that his life had ended at the age of 42 while he was at home in Graceland, the 10,226 square foot mansion he purchased on March 25, 1957, for $102,500.
Elvis added to the square footage over the years (it now totals more than 17,500 square feet) with the construction of a trophy room, originally used by Elvis and his friends to race slot cars. and the racquetball building. It was there that he played piano and sang gospel songs and "Blue Eyes Cryin' in the Rain" with his cousin, Billy Smith, on the night he died.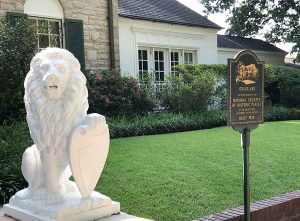 Graceland mansion, which has become the second most visited home in America (the White House is #1), welcomes well over 600,000 visitors every year. First opening its doors for tours on June 7, 1982, it was named to the National Register of Historic Places in 1991 and was designated a National Historic Landmark in 2006.
Every time I have visited, there have been changes in either the number of rooms open to the public or the way Elvis's jumpsuits and memorabilia were displayed. I remember the first time I visited, the kitchen and the downstairs bedroom used by his parents were not part of the tour. On a later visit, costumes and gold records were in the racquetball building.
This time, before boarding the bus that took us across the street and up the driveway to the mansion, we had our photo taken in front of a backdrop of the Graceland gates. After you return, you'll return your iPad and headphones and file by the area where your photos are waiting to be purchased. Yes, they're expensive, but hey, it's a lasting memory of your time at Graceland, right? We purchased ours (see below), which came with a bonus download of Elvis stock images.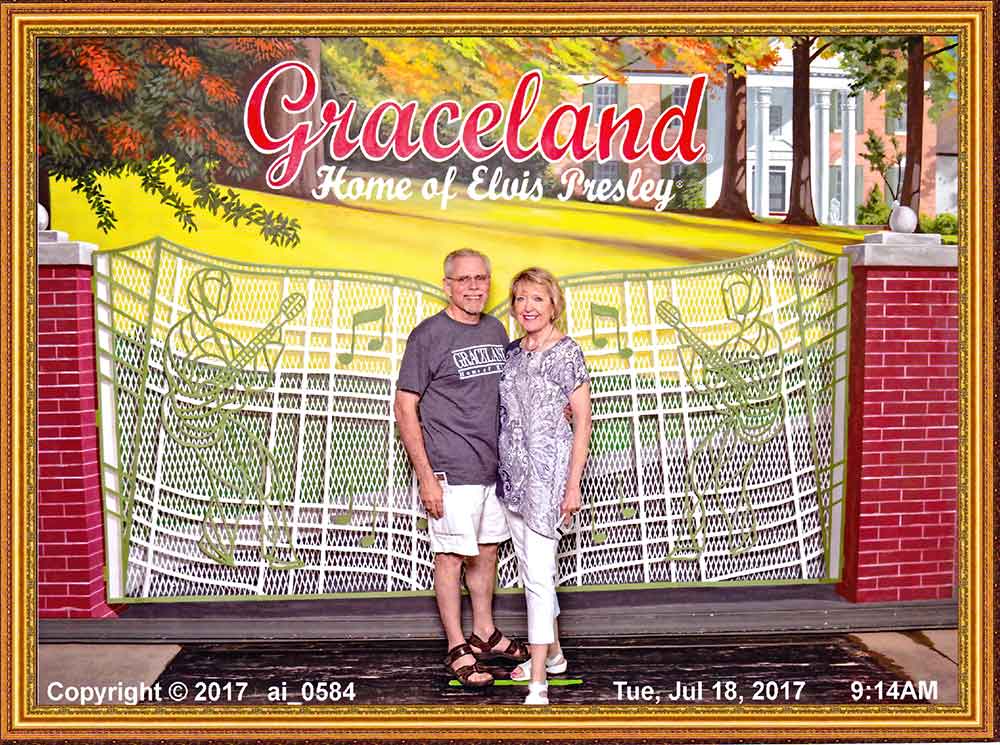 Next we were given a headset along with an iPad containing a new interactive multimedia audio tour, narrated by actor John Stamos, an Elvis fan himself, which allowed us to proceed through the rooms at our own pace as we listened to historical tidbits about each area.

SLIDESHOW: Here are photos of rooms within the home and the grounds from my recent visit on July 18, 2017:

This slideshow requires JavaScript.
Elvis Presley's Memphis™ Entertainment Complex
With the March 2017 opening of the new Elvis Presley's Memphis™, the $45 million, 200,000 square-foot, state-of-the-art entertainment complex across the street from Graceland Mansion, immersion in his life and career continues far beyond what has ever been seen before.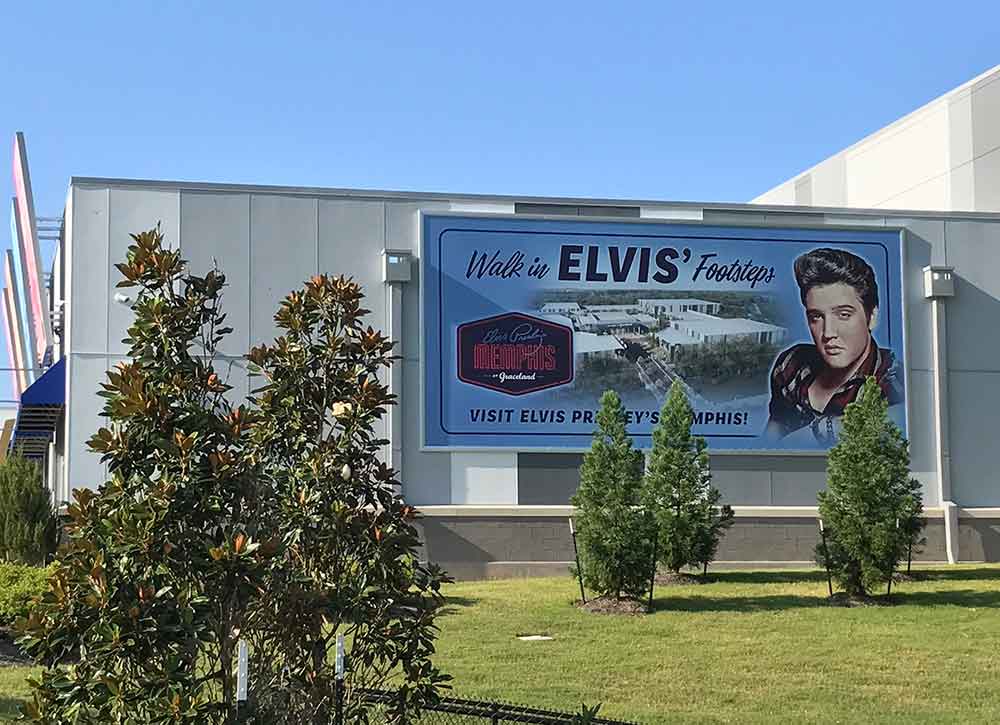 Separate parts of the 200,000 square foot complex include museums and special exhibits covering his career as an entertainer — the gold and platinum records, his jumpsuits, and memorabilia from his movies. Elvis' early years in Tupelo, his military service, and items brought out of the archives that had never been seen before are here, too.
SLIDESHOW of my photos from Elvis Presley's Memphis Entertainment Complex:
This slideshow requires JavaScript.
The Automobile Museum is a favorite stop for many, including his Pink Cadillac, Stutz Blackhawk, 1956 Cadillac Eldorado, Dino Ferrari, Mercedes Benz limousine, and Rolls Royce sedans. Motorcycles, dune buggies, and even a John Deer tractor used at Graceland are on display in another area.
We stopped in to Gladys' Diner for lunch — the cheeseburgers and fries were great — and if that doesn't appeal, you can order up one of Elvis' favorites, a peanut butter and banana sandwich. Other eateries include Vernon's Smokehouse, a full service restaurant specializing in barbeque and down home Southern cooking, a grab & go coffee shop, and an ice cream shop.
There are several gift shops in the complex, where you can find t-shirts, hats, mugs, magnets, music and more.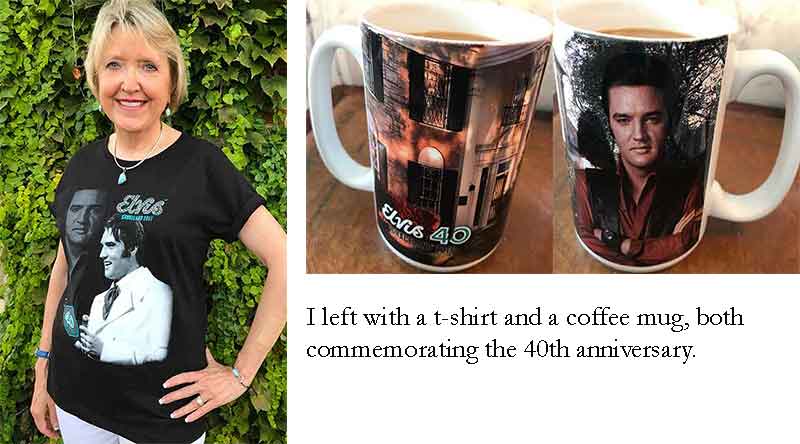 I'm a huge fan of Elvis Radio on Sirius XM so I was thrilled to be able to stop in to the radio station before we left the Elvis Presley's Memphis complex. The day we were there, Big Jim Sykes was on air and graciously spent a few minutes with us.
Ready to plan your visit?
Get information on Tickets and Tour Options, find out hours and more at Graceland.com. My personal recommendation is to plan on three to five (3-5) hours to see everything… and more if you plan on having a meal at one of the restaurants at the Elvis Presley's Memphis complex.
Tip: Arrive early to beat the crowds. (If you're there during Elvis Week, you won't beat the crowds, so join them and enjoy! I hope to make it back during Elvis Week sometime in the future.)
Graceland Live Cam
Until you can get to Memphis and see Graceland for yourself, click on this Graceland LiveCam link to be taken to the livestream. (Below is only a screenshot.)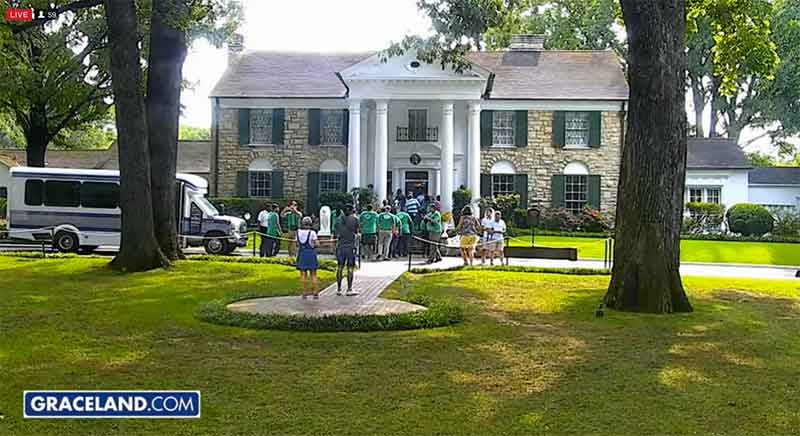 Where to stay?
We stayed at the new Guesthouse at Graceland, a 450-room luxury hotel located a short walk from Graceland and the Elvis Presley's Memphis complex. It is the best place to stay to have the full-on Elvis experience!
Read my post all about the hotel on GettingOnTravel.com, a fresh take on luxury for travelers over 50. (It applies if you're under 50, too, of course!)
Here is the link to my post: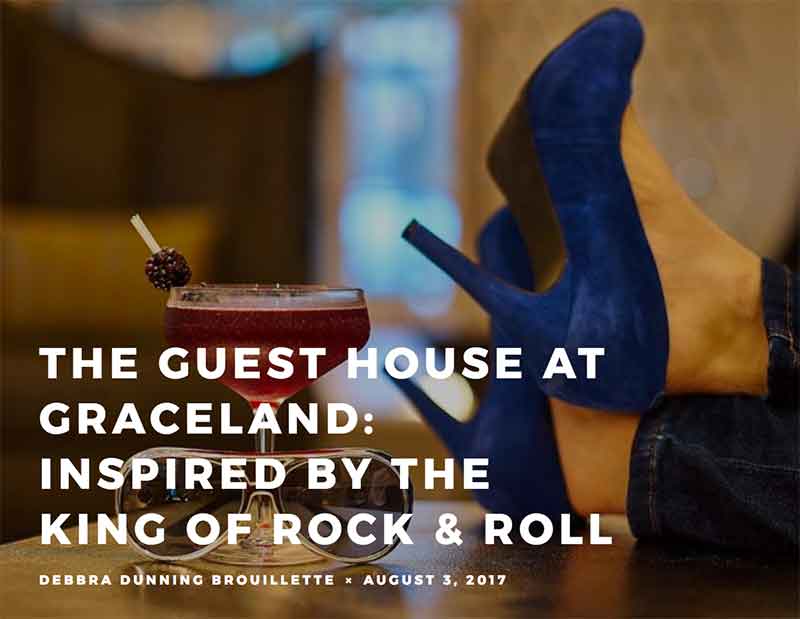 "Thank you… thank you very much!"
All photos are © Debbra Dunning Brouillette unless otherwise credited to Graceland.
(Click on any photo to begin a slideshow of all photos in this post not part of the two Slideshows.)
Thanks to Graceland/Elvis Presley Enterprises for providing me with tickets to Graceland and Elvis Presley's Memphis.
Save
Save
Save
Save
Save
Save
Save
Save
Save
Save
Save
Save
Save
Save
Save
Save
Save
Save
Save
Save
Save
Save
Save
Save
Save
Save
Save
Save
Save